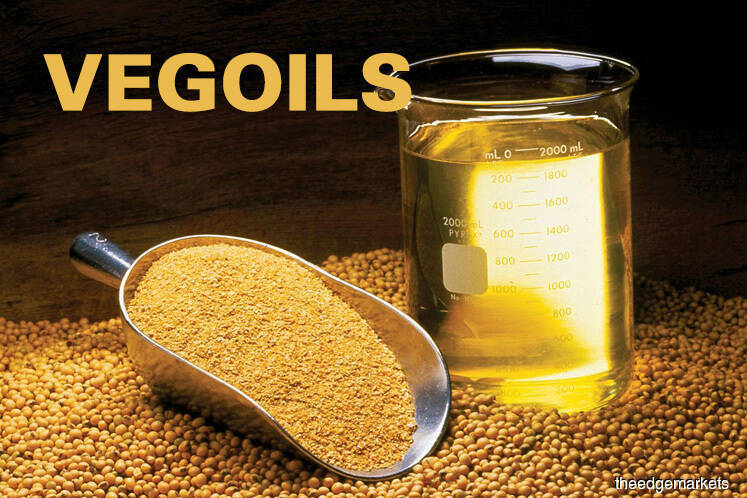 KUALA LUMPUR (Jan 17): Malaysian palm oil futures edged lower in a range-bound trading on Thursday ahead of likely price forecasts at an industry event and as crude oil prices fell.     
The benchmark palm oil contract for April delivery on the Bursa Malaysia Derivatives Exchange eased 0.1% to RM2,174 a tonne at noon, heading for a second straight session of losses.
Trading volumes stood at 10,288 lots of 25 tonnes each at the midday break.
"We're not seeing much movement in palm today," said a Kuala Lumpur-based futures trader, adding that the market was likely awaiting price forecasts from an industry conference in Malaysia's administrative capital of Putrajaya on Thursday.  
Another palm oil futures trader added that declines in crude oil prices also weighed on the market.
Palm oil output in Malaysia, the world's second-largest producer, is forecast to rise to 20.3 million tonnes this year, said the director-general of the Malaysian Palm Oil Board at the conference.
Average palm oil prices are also seen rising to over RM2,500 a tonne this year, said another MPOB official.
Oil prices dipped on Thursday as US crude production quickly approached an unprecedented 12 million barrels per day (bpd) just as worries about weakening demand emerge.
Palm oil is affected by crude oil prices, as it is used as feedstock to make biodiesel.
In other related oils, the Chicago March soybean oil contract was last down 0.1% and the May soybean oil contract on the Dalian Commodity Exchange fell 0.7%.
The Dalian January palm oil contract declined 0.5%.
Palm oil prices are impacted by movements in soyoil rates, as they compete for a share in the global vegetable oil market.
Palm oil may fall to RM2,150 per tonne, to fill a gap formed between Jan 15 and Jan 16, said Wang Tao, a Reuters market analyst for commodities and energy technicals.
Palm, soy and crude oil prices at 0632 GMT:
| | | | | | | |
| --- | --- | --- | --- | --- | --- | --- |
| Contract          | Month    | Last  | Change     | Low    | High  | Volume |
| MY PALM OIL       | FEB9     | 2088   | -2.00    | 2085    | 2090     | 208 |
| MY PALM OIL       | MAR9     | 2136   | +0.00    | 2128    | 2138    | 2118 |
| MY PALM OIL       | APR9     | 2171   | -4.00    | 2165    | 2174    | 3748 |
| CHINA PALM OLEIN  | JAN9     | 4200  | -22.00    | 3992    | 4200     | 556 |
| CHINA SOYOIL      | JAN9     | 5170  | +12.00    | 5168    | 5170     | 120 |
| CBOT SOY OIL      | JAN9    | 28.21   | -0.02   | 28.18   | 28.24    | 3125 |
| INDIA PALM OIL    | JAN9   | 545.70   | +1.60  | 544.00   | 546.2     | 150 |
| INDIA SOYOIL      | JAN9   | 762.35   | +0.45   | 760.5  | 764.45    | 3680 |
| NYMEX CRUDE       | FEB9    | 51.93   | -0.38   | 51.80   | 52.36   | 19885 |
Palm oil prices in Malaysian ringgit per tonne
CBOT soy oil in US cents per pound
Dalian soy oil and RBD palm olein in Chinese yuan per tonne
India soy oil in Indian rupee per 10 kg
Crude in US dollars per barrel