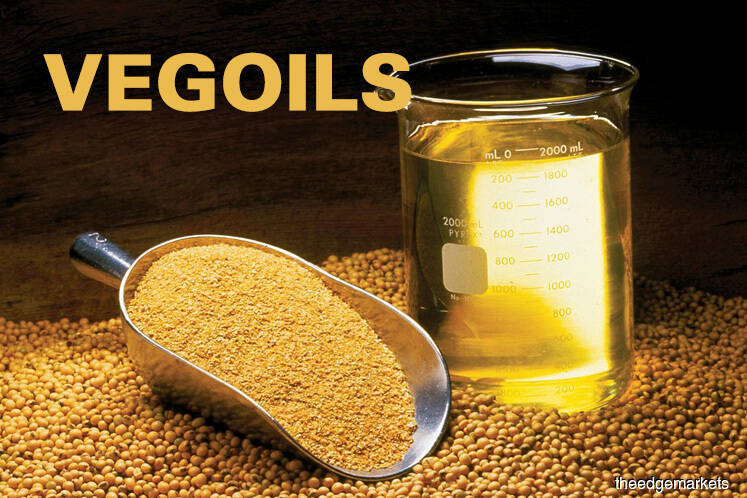 KUALA LUMPUR (Jan 9): Malaysian palm oil futures rose at the midday break on Wednesday, in line for a second day of gains, as traders forecast declining production in the coming months and improving export data.  
The benchmark palm oil contract for March delivery on the Bursa Malaysia Derivatives Exchange rose 0.2% to RM2,183 (US$530.76) a tonne at noon.
It had climbed to RM2,197, a near three week high, in its previous trading session.     
Trading volumes stood at 12,660 lots of 25 tonnes each during the first half of trade.
Palm prices were up on a seasonal basis, a Singapore-based trader said. "During January-March, production always goes down and prices go up," he said.
Expectations of monthly export gains were also supportive of the market, as demand in December was "quite low", said another trader.  
Palm oil shipments from Malaysia, the world's second largest producer and exporter, edged up from the previous month to between 1.2 million tonnes (MT) and 1.3 MT in December, according to cargo surveyor data.
Cargo surveyors are expected to release export data for the Jan 1-10 period on Thursday after 0300 GMT.
Exports are also expected to rise following India's decision to reduce import taxes on Southeast Asian palm oil.
India, the world's largest edible oil importer, had previously raised import duties on edible oils last year to support local prices.
In other related oils, the Chicago March soybean oil contract rose 0.4%, while the March soybean oil contract on the Dalian Commodity Exchange edged up 0.04%.
Meanwhile, the Dalian January palm oil contract fell 0.1%.
Palm oil prices are impacted by changes in soyoil prices, as they compete for a share in the global vegetable oil market.  
Palm, soy and crude oil prices at 0518 GMT:
| | | | | | | |
| --- | --- | --- | --- | --- | --- | --- |
| Contract          | Month    | Last  | Change     | Low    | High  | Volume |
| MY PALM OIL       | JAN9        | 0   | +0.00 | 0 | 0 | 0 |
| MY PALM OIL       | FEB9     | 2140   | +1.00    | 2135    | 2152     | 478 |
| MY PALM OIL       | MAR9     | 2183   | +5.00    | 2173    | 2192    | 5793 |
| CHINA PALM OLEIN  | JAN9     | 4268   | -4.00    | 4260    | 4268     | 200 |
| CHINA SOYOIL      | JAN9     | 5060   | -2.00    | 5060    | 5160    | 1916 |
| CBOT SOY OIL      | JAN9    | 28.18   | +0.00  | 0 | 0 | 5 |
| INDIA PALM OIL    | JAN9   | 535.20   | +2.50  | 532.60   | 535.7      | 87 |
| INDIA SOYOIL      | JAN9   | 754.85   | +0.55   | 754.5   | 755.5    | 1350 |
| NYMEX CRUDE       | FEB9    | 50.54   | +0.76   | 49.71   | 50.66   | 57445 |
Palm oil prices in Malaysian ringgit per tonne
CBOT soy oil in US cents per pound
Dalian soy oil and RBD palm olein in Chinese yuan per tonne
India soy oil in Indian rupee per 10 kg
Crude in US dollars per barrel
(US$1 = RM4.1130)
(US$1 = 70.3700 Indian rupees)
(US$1 = 6.8364 Chinese yuan)