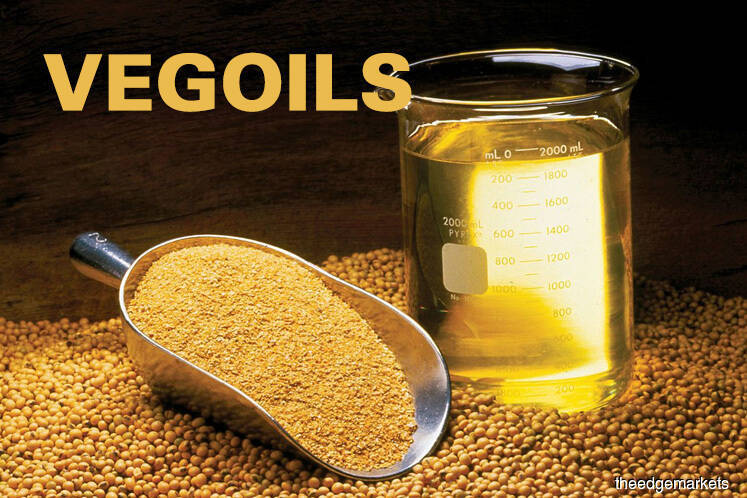 KUALA LUMPUR (Aug 21): Malaysian palm oil futures edged lower on Tuesday evening after three straight sessions of gains, pressured by a stronger ringgit and weaker related edible oils.
The benchmark palm oil contract for November delivery on the Bursa Malaysia Derivatives Exchange was down 0.6% at RM2,241 (US$545.92) a tonne at the end of the trading day.
Trading volumes stood at 53,047 lots of 25 tonnes each at the close of trade.
"The market is lower, tracking weaker soyoil and as the ringgit is firmer," said a futures trader in Kuala Lumpur.
The ringgit was last up 0.1% at 4.0960 per dollar. Gains in the ringgit, the currency of trade for palm oil, typically make the vegetable oil more expensive for foreign buyers, thus limiting demand.
Uncertainties surrounding trade talks between China and the United States have contributed to the bearish trading sentiment in the palm market, said another trader.
US soybean and soyoil prices were down earlier after US President Donald Trump told Reuters on Monday he did not expect much progress from trade talks with China this week in Washington.
In other related oils, the Chicago December soybean oil contract was last up 0.1%, while the January soybean oil contract on China's Dalian Commodity Exchange declined 0.1%.
Meanwhile, the Dalian January palm oil contract edged down 0.04%.
Palm oil prices are impacted by movements of other edible oils, as they compete for a share in the global vegetable oils market.
Palm oil is still targeting a range of RM2,269-2,277 per tonne as it has cleared a resistance at RM2,240, said Wang Tao, a Reuters market analyst for commodities and energy technicals.
Palm, soy and crude oil prices at 1055 GMT
| | | | | | | |
| --- | --- | --- | --- | --- | --- | --- |
| Contract | Month | Last | Change | Low | High | Volume |
| MY PALM OIL | SEP8 | 2205 | -10.00 | 2202 | 2215 | 373 |
| MY PALM OIL | OCT8 | 2221 | -14.00 | 2216 | 2239 | 6174 |
| MY PALM OIL | NOV8 | 2240 | -14.00 | 2236 | 2260 | 19304 |
| CHINA PALM OLEIN | JAN9 | 4948 | +2.00 | 4906 | 4956 | 236304 |
| CHINA SOYOIL | JAN9 | 5884 | -4.00 | 5848 | 5896 | 325684 |
| CBOT SOY OIL | DEC8 | 28.91 | +0.04 | 28.61 | 28.94 | 4693 |
| INDIA PALM OIL | AUG8 | 601.80 | -2.20 | 601.20 | 603.7 | 550 |
| INDIA SOYOIL | SEP8 | 741.05 | -1.60 | 740 | 742.4 | 5360 |
| NYMEX CRUDE | SEP8 | 66.95 | +0.52 | 66.52 | 66.98 | 1285 |
Palm oil prices in Malaysian ringgit per tonne
CBOT soy oil in US cents per pound
Dalian soy oil and RBD palm olein in Chinese yuan per tonne
India soy oil in Indian rupee per 10 kg
Crude in US dollars per barrel
(US$1 = RM4.1050)
(US$1 = 70.0900 Indian rupees)
(US$1 = 6.8740 Chinese yuan)