This article first appeared in The Edge Financial Daily, on July 27, 2018.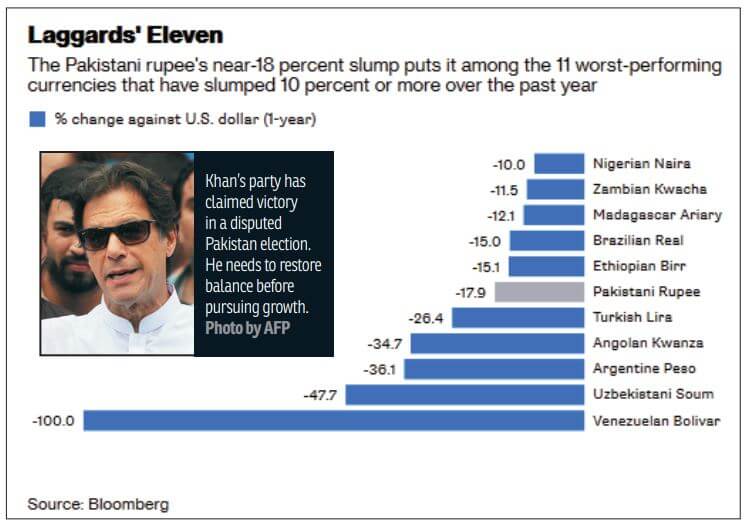 WHERE does Pakistan go from here?
With his party taking pole position in yesterday's violence-riddled elections, cricketer-turned-politician Imran Khan (who has declared victory) is set to become the nation's 19th elected prime minister with the support of coalition partners.
None of the 18 before him managed to complete their five-year term. When they have not staged coups, powerful generals have pulled strings from behind, tripping up civilian governments.
The consensus opinion is that Khan has the army's support. Assuming that is true — and remains so for some time — there is a window of opportunity for him to stabilise the economy. Steadying a shaky ship will mean deliberately cutting the engine. A chance to play for growth will come, but not soon.
The immediate priority has to be to correct imbalances. A full-year current-account deficit of 5.7% of gross domestic product (GDP) is not exactly a shallow hole, and there is no guarantee that an 18% drop in the rupee in the past year will do much to fill it.
For instance, a devalued currency ought to boost Pakistani textile exports, which did grow 9% in the fiscal year that ended June 30.
However, because of water shortages and flagging crop yields, cotton prices in Pakistan are also rising, crimping exporters' competitive advantage.
Primary yarn margins this week were half of their average during the last fiscal year,
A temporary fix would be to increase imports of raw cotton, although any tax or duty breaks would perhaps have to be balanced fiscally by raising hard-currency funds via a global bond issue or an IMF bailout.
The new prime minister will probably have to do both.
Once it starts to stabilise, a weak currency should embolden global investors to buy Pakistani stocks (see chart — Laggards' Eleven). The Karachi stock exchange's KSE-30 Index is trading at 8 times forward 12-month earnings, close to a five-year low.
Here, too, exporters are better bets. For companies focused on domestic demand, a revival in profitability is still a ways off.
Pak Suzuki Motor Co's 35% drop in first-half 2018 earnings, despite a 22% jump in sales volumes, shows the challenge of being able to pass on increases in imported raw-material costs to consumers.
With the central bank raising rates by 175 basis points to 7.5% this year, and looking set to do more, strong investment demand may also taper.
That is just as well. Firms like DG Khan Cement Co are boosting capacity because of a construction boom triggered by the US$62 billion (RM251.72 billion) China-Pakistan Economic Corridor.
To prevent the marquee project from sucking Pakistan into a debt trap, Khan needs an urgent dialogue with Beijing.
Cheaper financing for the transport and power-generation corridor — as well as better pacing of machinery imports — needs to be on the agenda.
Otherwise, paying for US$15 billion of annual imports from China with just US$1.5 billion in exports going the other way will keep the balance of payments precarious.
Khan's detractors say the vote was rigged. The former cricketer's supporters, however, see him as a welcome disruptor of the musical chairs of dynasty rule between the Bhutto and Sharif families — with the army in charge of the music.
The incoming prime minister is also seen as soft on Islamic militancy, something that will be watched with more than a little trepidation in the West as well as in neighbouring India, preparing for its own general election next year. Relations will remain fraught.
In between managing Beijing, New Delhi, Washington and the army headquarters in Rawalpindi, Khan will have to prepare the economy for lift-off.
After all, if he does prevent the China-backed corridor from becoming a debt millstone, Pakistan could in a few years be reaping the benefits of faster connectivity from transport projects such as the Karachi-Lahore-Peshawar railway.
With a chronic power crunch fading away, productivity boosts will also come from a doubling of energy-generation capacity.
As China looks to source more goods from belt-and-road countries, its biggest ally in the region has a shot at export-led prosperity.
It is all very well for Khan to speak of turning Pakistan into a welfare state. It cannot be done with the Iinternational Monetary Fund's (or Beijing's) largess or fund-raising from gimmicky concessions to tax cheats.
The fine-tuning Khan has to strive for is of government finances. Given that less than 1% of the nation's 200 million people pay taxes, this might be the trickiest balance to achieve. — Bloomberg