This article first appeared in The Edge Financial Daily, on March 9, 2018.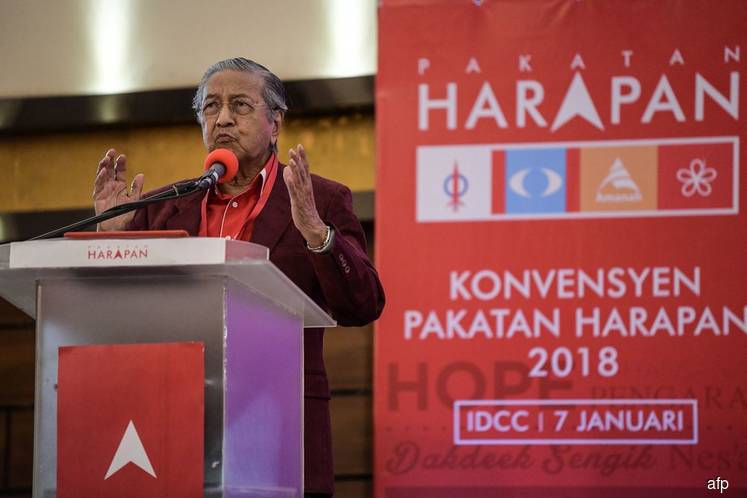 KUALA LUMPUR: The opposition Pakatan Harapan coalition unveiled a broad-ranging manifesto yesterday, which seeks to win the support of key groups of voters, including low-income earners and the rural populace.
The manifesto — dubbed the "Book of Hope" — highlighted corruption and institutional reforms, improving living standards, stimulating economic growth, promoting inclusiveness, and a promise to decentralise federal authority over Sabah and Sarawak.
It also introduced a pledge to fulfil "10 promises in 100 days" if it succeeds in taking over as the federal government. The 14th general election must be held by Aug 24.
Promises with direct implications for the rakyat include a pledge to abolish the goods and services tax; introduce a targeted petrol subsidy; abolish the loans of Felda settlers; introduce an Employees Provident Fund contribution scheme for housewives; implement equal minimum wage across sectors; and allow deferred payment of National Higher Education Fund Corp loans for those with a monthly salary below RM4,000 and repeal the existing blacklist system; and to provide monetary assistance for the B40 group to access basic health treatment at registered private medical institutions.   
Looking at the bigger picture, Pakatan Harapan also vouched to set up Royal Commissions of Inquiry to investigate institutions such as 1MDB, Felda, Mara and Lembaga Tabung Haji and to restructure their managements; set up a special cabinet committee to return the rights of Sabah and Sarawak under the 1963 Malaysian Agreement; and to conduct detailed reviews of mega projects in Malaysia with foreign participation.
Lastly, Pakatan Harapan has confirmed that if it takes over Putrajaya, the prime minister and chief ministers will be limited for two terms.