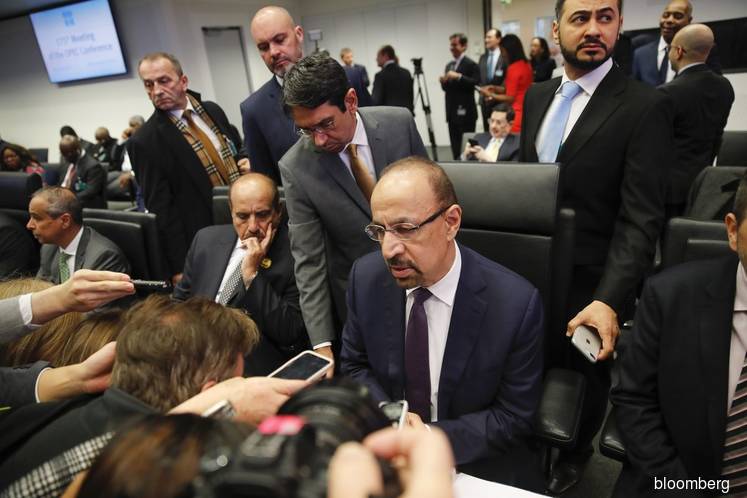 LONDON (Dec 7): OPEC crunch talks were deadlocked on Friday as Iran was said to reject a symbolic oil-output cut as part of a wider deal with the cartel and its allies.
An agreement remained elusive as the Persian Gulf state insisted on an exemption from production curbs, one delegate said. It stuck in its heels despite attempts by non-OPEC producer Russia to broker a deal, with Energy Minister Alexander Novak shuttling between meetings with the Iranian and Saudi delegations at the organization's secretariat in Vienna.
Discussions in the Austrian capital, now in their second day after talks on Thursday failed to produce an agreement, center on a proposed output reduction from OPEC and its allies of about 1 million barrels a day, with OPEC itself shouldering 650,000 barrels of the burden, delegates said. The size of the overall cut still isn't finalized, one delegate said.
The lack of a deal so far shows how the Organization of Petroleum Exporting Countries is under pressure from forces re-drawing the global oil map, leaving it increasingly dependent on the support of non-member Russia while also subject to vociferous opposition from U.S. President Donald Trump. In a striking development, the U.S. revealed that it turned into a net exporter of petroleum for the first time in 75 years last week thanks to the shale boom.
Brent oil rose as much as 1.7% to US$61.10 a barrel in London on Friday, as Russia attempted to broker a deal. On Thursday, the global benchmark crude slumped 2.4%.
Iran Refusal
Iran, which said earlier it sees no possibility of agreeing to curb its production amid U.S. sanctions, has emerged as a key obstacle to securing a deal among the so-called OPEC+ alliance. And despite Russia's efforts to clinch an agreement, its own contribution to cuts has also been a point of contention.
"Not everybody is ready to cut equally," Saudi Energy Minister Khalid Al-Falih told reporters in Vienna. "Russia is not ready for a substantial cut."
Russia, which initially sought a 100,000 to 150,000-barrel-a-day reduction as part of a new deal, may agree to a slightly larger cut depending on OPEC's decision on its own output, a delegate said Friday. Moscow insists its cut should be gradual and reconsidered after the first quarter since the market may shift, the delegate said.
Russia Sway
Russia's Novak is due to meet his counterparts in the OPEC+ coalition at a formal meeting later on Friday. If Moscow decides to make a sizable cut, the cartel would follow up.
Much has changed for OPEC since 2016, when Russia and Saudi Arabia ended their historic animosity and started to manage the market together. The alliance has transformed the cartel into a duopoly in which the Kremlin is asserting its power.
"OPEC, or more precisely Saudi Arabia, has been the head honcho of the oil world for nearly six decades; yet these days it seems unable to make a decision without Russia's blessing, let alone without risking the wrath of the U.S. president," said Stephen Brennock, an analyst at PVM Oil Associates in London.
Elusive Agreement
An OPEC+ cut of about 1 million barrels a day is in line with the Saudi minister's preference for a moderate reduction that wouldn't "shock the market." The kingdom is under economic pressure after a collapse in oil prices last month, yet it's seeking to walk a fine line between preventing a surplus next year and appeasing President Trump.
While Middle Eastern producers need high oil revenues to pay for government spending, sensitivities are different in Russia, which is running a budget surplus and benefits from a weak ruble that mitigates the effect of lower crude prices in dollars. The government is concerned about the impact of higher prices on consumers, stoking discontent with economic policy, according to one Kremlin official.
The size of Russia's contribution to any OPEC+ curbs has remained undefined through this week's talks in Vienna. In private conversations earlier in the week, delegates said that Saudi Arabia had favored a Russian cut of about 300,000 barrels a day.
OPEC ministers were also discussing whether to exempt Libya and Venezuela from making cuts, another delegate said. Nigeria said that while it hadn't applied for an exemption, it could only manage a small reduction.
Before Thursday's meeting, Al-Falih said that "if everybody is not willing to join and contribute equally, we will wait until they are" and he was prepared for the consequences of no deal. Following six hours of talks that day, he said he wasn't confident an agreement could be reached.
Beyond its internal disputes, OPEC is also contending with opposition from the U.S. president, who's taken to using his Twitter account to berate the group's policies and sees low oil prices as key to sustaining America's economic growth.
While ministers met on Wednesday, Trump tweeted that the "world does not want to see, or need, higher oil prices!" Thursday's inconclusive talks could end up giving the president what he wants.
"The risk of OPEC+ not being able to agree on a deal was always very high and this will now pressurize prices significantly lower," said Amrita Sen, chief oil analyst at consultant Energy Aspects Ltd. "There is no anchor for the market."