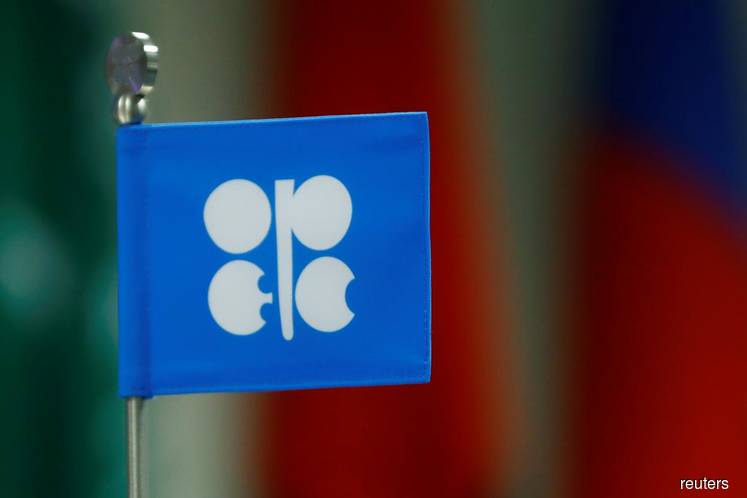 LONDON/CAIRO (Dec 6): OPEC ministers discussed cutting their oil output by about 1 million barrels a day, a proposal that would go a little further than Saudi Arabia's suggestion of a reduction that wouldn't shock the market.
Under pressure after a collapse in oil prices last month, the kingdom is seeking to walk a fine line between preventing a surplus and appeasing U.S. President Donald Trump.
In one proposal being considered at talks on Thursday, OPEC could cut its own output by 900,000 to 1 million barrels a day and then seek further curbs from non-OPEC partners, one delegate said, asking not to be named as an agreement hasn't yet been reached. Ministers are studying participation levels for such a proposal before potentially putting it to key ally Russia, the delegate said.
That would be a more bullish outcome than Saudi Energy Minister Khalid Al-Falih had hinted at early in the day, when he said a reduction of about 1 million barrels a day from the entire OPEC+ coalition should be adequate and "certainly we don't want to shock the market."
The summit in Vienna wasn't the only story on Thursday. As ministers sat down at the headquarters of the Organization of Petroleum Exporting Countries, Russian Oil Minister Alexander Novak flew to St. Petersburg to meet President Vladimir Putin to decide on their country's contribution. If the group's most important ally in the OPEC+ alliance decides to make a sizable cut, the cartel will follow up.
No Deal?
After four hours of discussions in the Austrian capital, ministers were still poring over proposals and one delegate said it's possible the group won't announce a deal on Thursday. Al-Falih had earlier said that "if everybody is not willing to join and contribute equally, we will wait until they are."
Oil in London tumbled as much as 5.2% to US$58.36 a barrel, before paring losses to US$60.34 at 2:50 p.m. local time. Equity markets also declined as concern resurfaced that trade tensions between the U.S. and China are far from resolved.
Saudi Arabia, OPEC's de facto leader, has made clear that it won't shoulder the burden of trimming production alone. Its cooperation with Russia shows how much OPEC has changed since 2016 when the two countries ended their historic animosity and started to manage the market together. The alliance has transformed OPEC into a duopoly in which Russia, which isn't a formal member of the cartel but part of the production-cuts alliance, is asserting its power.
Russia Concern
While Middle Eastern producers are desperate to reverse the recent slump in prices to pay for government spending, sensitivities are different in Russia, where the government is running a budget surplus and a weak ruble mitigates the impact of lower prices. The government is concerned about the impact of higher prices on Russian consumers, stoking discontent with economic policy, according to one Kremlin official.
A day of preliminary talks in Vienna on Wednesday concluded with a panel led by Saudi Arabia and Russia recommending an output reduction lasting six months, but the committee didn't discuss how big any cuts should be. Al-Falih said Thursday his preference was for curbs extending into the third quarter.
The group may agree on a formal cut of under a million barrels a day, Nigeria's oil minister, Emmanuel Kachikwu, said in a television interview on Thursday morning.
OPEC is also contending with vociferous opposition from the U.S. president, who's taken to using his Twitter account to berate the group's policies and sees low oil prices as key to sustaining America's economic growth.
While ministers met in OPEC's Vienna headquarters on Wednesday, Trump tweeted that the "world does not want to see, or need, higher oil prices!"
"I'm cautiously optimistic that a deal gets done, but the devil will be in the detail," said Mohammad Darwazah, a director at Medley Global Advisers. "How OPEC communicates this to the market may be just as important as what gets done."
Sharing the Burden
Although Russia, the largest producer in the OPEC+ group, has agreed to a cut in principle, the eventual size of their contribution remains undefined and will be key to putting together the final deal.
In private conversations earlier this week, OPEC delegates said that Saudi Arabia had favored a Russian cut of about 300,000 barrels a day, but Moscow was seeking a smaller reduction of about 150,000, said people familiar with those talks. Those differences persisted after Wednesday's meeting, OPEC delegates said.
Iran is currently subject to U.S. sanctions and as such won't participate in any curbs, the country's Oil Minister Bijan Zanganeh said. OPEC ministers are also discussing whether to exempt Libya and Venezuela from making production cuts, a delegate said Thursday.
The last time the OPEC+ group agreed to curtail output, in late 2016, it settled on a combined 1.8 million-barrel-a-day reduction. In preparatory meetings ahead of this week's summit, delegates had said a cut of as much as 1.3 million barrels a day next year is needed as demand growth slows and U.S. shale production surges.
Resolving the group's internal differences and convincing a skeptical oil market that they're serious about preventing a new supply glut in 2019 would require ministers to conclude weeks of debate and settle on a final figure.
"Some countries will struggle because their economies are very constrained" and Nigeria itself could only manage a small cut, Kachikwu said.