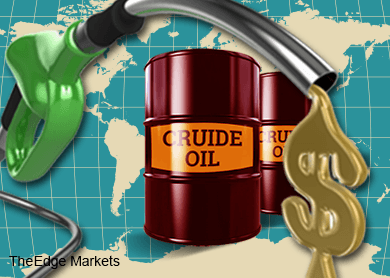 KUALA LUMPUR (Feb 4): Oil prices would stay low in the next two years, averaging at US$53 per barrel in 2015, before picking up by US$4 to US$5 in 2016, said the director of development prospects at World Bank, Ayhan Kose, citing ample supply of the commodity versus demand.
Nevertheless, Ayhan viewed the protracted low oil prices as a positive shock, "For every 30% supply-driven decline, it would add 0.5% to global GDP [gross domestic product]."
In a presentation on global oil prices, Ayhan said despite the Asia-Pacific region exhibiting slower growth, it still grows the fastest if compared with other regions in the world.
However, he noted the slump of oil prices has caused the volatility in the global financial and commodity markets.
Concurring with consensus, Ayhan reasoned the sharp drop of oil prices to a near six-year low, was on the back of a glut; coupled with the decision made by the Organization of the Petroleum Exporting Countries (OPEC) to retain its market share by not cutting down its oil production.
"The demand is also lower than predicted," he added.
Ayhan said the unusually steep decline in oil prices since the second half of 2014, could significantly reduce inflationary pressures and improve the current account and fiscal balances in oil-importing countries.
"Lower oil prices will lead to sizeable real income shifts from oil-exporting to oil-importing developing countries," he said.
"For both [oil] exporters and importers, low oil prices present an opportunity to undertake reforms that can increase fiscal resources and help broader environmental objectives," he said.
In its global economic prospects (GEP) report, World Bank has opined that developing countries should see an uptick in growth this year, underpinned by soft oil prices, a stronger U.S. economy, continued low global interest rates, and receding domestic headwinds in several large emerging markets.
It projected the world economy to expand by 3% this year (2014 estimate: 2.6%), and to further grow by 3.3% in 2016 and 3.2% in 2017.
"Developing countries grew by 4.4% in 2014, and are expected to edge up to 4.8% in 2015, strengthening to 5.3% and 5.4%, in 2016 and 2017 respectively," it said.
On the U.S. economy, Ayhan said, "The U.S. will continue exhibiting robust growth in 2015."
He was certain the US government would increase its interest rates by September this year, if not in June.
On the outlook of global growth, Ayhan noted the risks to the outlook remain tilted to the downside, due to weak global trade and possibility of financial market volatility.
He also cautioned low oil prices would strain the balance sheets of oil-producing countries, and that there would also be a prolonged period of stagnation or deflation in the Euro Area and Japan.