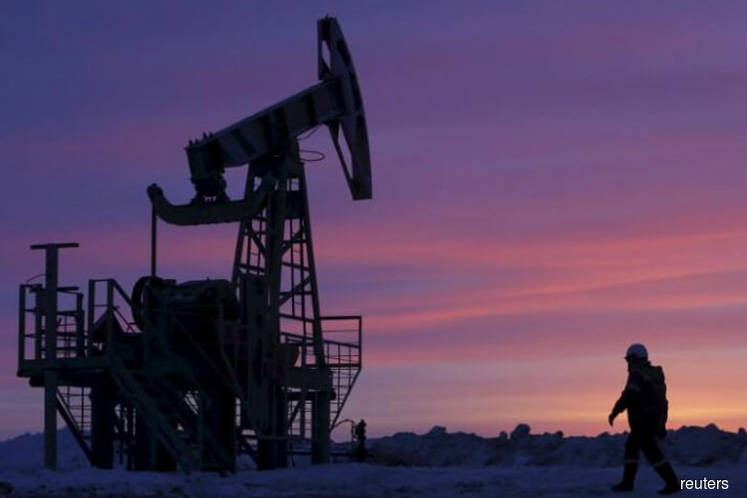 SINGAPORE (Nov 23): Oil prices renewed their fall on Friday, pressured by concerns that producers are churning out more oil than the world needs amid a bleak economic outlook.
Markets were offered some support by an expectation that the Organization of the Petroleum Exporting Countries (OPEC) producer group will start withholding supply in 2019 to rein in any glut.
US West Texas Intermediate (WTI) crude futures slumped by around 2.5% from their last close, down US$1.34 to US$53.29 per barrel at 0333 GMT.
International benchmark Brent crude oil futures were at US$61.82 per barrel, down 78 cents, or 1.3% amid thin trading due to a holiday in Japan.
The divergence between US and international crude comes as surging North American supply is clogging the system and depressing prices there, while global markets are somewhat tighter — in part because of reduced exports from Iran due to newly imposed US sanctions.
Overall, however, global oil supply has surged this year, with the top-three producers of the United States, Russia and Saudi Arabia pumping out more than a third of global consumption, which stands around 100 million barrels per day (bpd).
High production comes as the demand outlook weakens on the back of a global economic slowdown.
Oil prices have plunged by around 30% since their last peaks in early October, as global production started to exceed consumption in the fourth quarter of this year, ending a period of undersupply that started in the first quarter of 2017, according to data in Refinitiv Eikon.
Adjusting to lower demand, top crude exporter Saudi Arabia said that it may reduce supply.
"We will not sell oil that customers don't need," Saudi Energy Minister Khalid al-Falih said.
Saudi Arabia is pushing OPEC to cut oil supply by as much as 1.4 million bpd to prevent a supply glut.
The group officially meets on Dec 6 to discuss its supply policy.
US bank Morgan Stanley said it saw "a far greater probability that OPEC reaches an agreement to balance the market in 2019" than not, adding that this would likely support oil prices "in the high-US$50s, at least near term.