This article first appeared in The Edge Malaysia Weekly, on May 21, 2018 - May 27, 2018.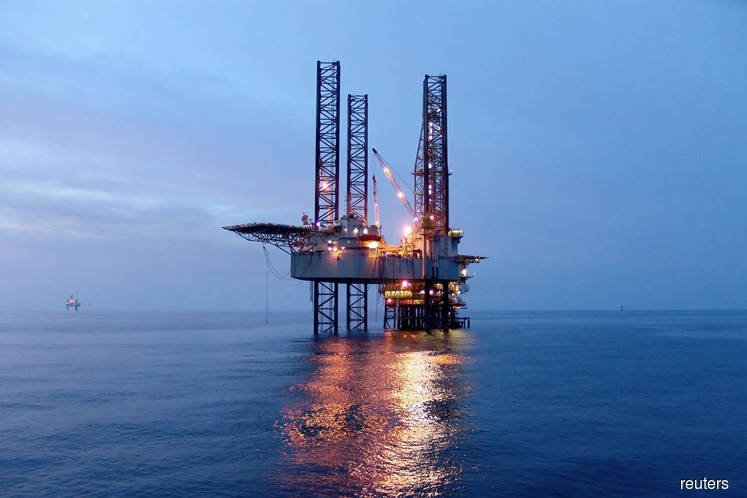 THE prices of several oil and gas (O&G) stocks on Bursa Malaysia have rallied since the beginning of the year as crude oil continued to climb towards US$70 per barrel at the time.
Apart from the recovery in oil prices, investors found another good reason to look at O&G stocks again — uncertainty over the construction, e-government IT and even export-oriented companies.
Affin Hwang Capital analyst Tan Jianyuan tells The Edge that there has certainly been a shift in equity participation in O&G stocks, which had disappeared off the radar screen after crude oil prices started to crumble from the fourth quarter of 2014.
"Based on our monitoring, investors have been looking again at O&G counters, which were kind of forgotten amid the excitement in other segments like construction," he says.
However, the outlook for the construction sector has been cloudy of late as the new government has made it clear that it will review all ongoing mega projects in the country.
"The rebound in oil prices, although largely due to geopolitical factors, has been positive for the O&G sector," Tan adds.
Notable gainers include Sapura Energy Bhd, which climbed 85% from an all-time low of 41 sen on March 14 to close at 76 sen last Friday, and Dialog Group Bhd, which closed at an all-time high of RM3.40.
Wah Seong Corp Bhd rose 11% from May 14 to RM1.58 last Friday while floating production storage and offloading (FPSO) player, EA Technique (M) Bhd, jumped 24% from May 14 to 42 sen.
Among politically linked players, Petra Energy Bhd plunged 44% from 63 sen on May 8 to 35 sen last Friday while Destini Group Bhd declined 44% from 43 sen on May 8 to 24 sen on May 18.
In contrast, Yinson Holdings Bhd, which is linked to Tan Sri Mokhzani Mahathir, rose 5% from RM4.09 on May 8 to RM4.31 last Friday.
Too early to be O&G bulls
While the current sentiment on crude oil prices is positive, there has not been a significant increase in national oil company Petroliam Nasional Bhd's (Petronas) capital expenditure (capex) for upstream activities.
In March, Petronas upstream CEO Datuk Mohd Anuar Taib said out of the total capex of RM55 billion for this year, the group has allocated RM26 billion for the upstream sector — about half the RM48.7 billion spent in 2015.
This means there may not be a notable growth in upstream exploration and production activity and hence no big jump in the number of contracts for local players, which are involved mostly in supporting services.
In a recent note, ratings agency Moody's Investor Service says national oil companies worldwide are on a cost-cutting spree despite the rise in crude prices, a path already taken by non-state-sponsored oil companies.
Tan points out that though Petronas did not increase its upstream capex by much, domestic O&G contracts in 2017 were up 35% from the previous year.
"I'm still optimistic that 2018 will see an improvement in contract value and Petronas will roll out more contracts compared with last year. There are also some big contracts in the pipeline that are not related to Petronas. So there is potential for higher contract flow this year," he says.
He adds that Affin Hwang Capital prefers petrochemical companies and FPSO players that have long-term charters in hand. The research house's top three picks in the sector are Petronas Chemicals Group Bhd, Serba Dinamik Bhd and Bumi Armada Bhd.
Hong Leong Investment Bank analyst Yip Kah Ming, however, is not very optimistic. He believes there will be fewer contracts from Petronas this year as the group has indicated its intention to cut costs.
"Petronas has already said that it is cutting costs and investing more in downstream operations. I expect the upstream allocation to remain flattish over the next one to two years. I'm still not bullish on most of the O&G counters," he says.
Yip points out that most of the O&G counters are not directly linked to crude prices as the companies are service providers that rely on jobs. The only counters that are directly benefiting from the increase in crude prices are Sapura Energy, Hibiscus Petroleum Bhd and Reach Energy Bhd, he says.
Yip also feels the upward trend in the price of oil is not sustainable as it is being supported by external events and supply still exceeds demand.
"The recent surge in oil price has been solely due to geopolitical events, so I don't think it is sustainable. The Opec (Organization of the Petroleum Exporting Countries) meeting next month could also see the start of discussions on whether to keep cutting production, which will determine crude prices going forward," he says.
"If they maintain production cuts, they would forego a lot of oil revenue. They have already achieved their target, seeing as crude prices have shot up from US$40 per barrel to US$80 per barrel. They will need to stop cutting eventually."
At press time, Brent crude was trading at US$79.74 per barrel, almost double its low of US$44.82 per barrel in June 2017, while WTI crude was trading at US$71.63 per barrel.
The rebound in crude prices has been attributed mainly to geopolitical events such as the decision of the US to exit its nuclear deal with Iran, which could mean more sanctions on the oil producer as well as more conflicts in Iraq, Libya, Syria and Yemen.
There is also the production cap for Opec and non-Opec members, such as Russia, which has been in place in the past year and a half, playing an important part in supporting prices.
Earlier this month, Saudi Arabia — the nation spearheading Opec's production cut initiative — hinted at increasing its oil output to offset a potential shortage in supply that could arise from new sanctions on Iran.
It said it will work with major producers and consumers within and outside Opec to limit the impact of a supply shortage, adding that it is committed to supporting the stability of oil markets.
Save by subscribing to us for your print and/or digital copy.
P/S: The Edge is also available on Apple's AppStore and Androids' Google Play.