This article first appeared in Capital, The Edge Malaysia Weekly, on November 13, 2017 - November 19, 2017.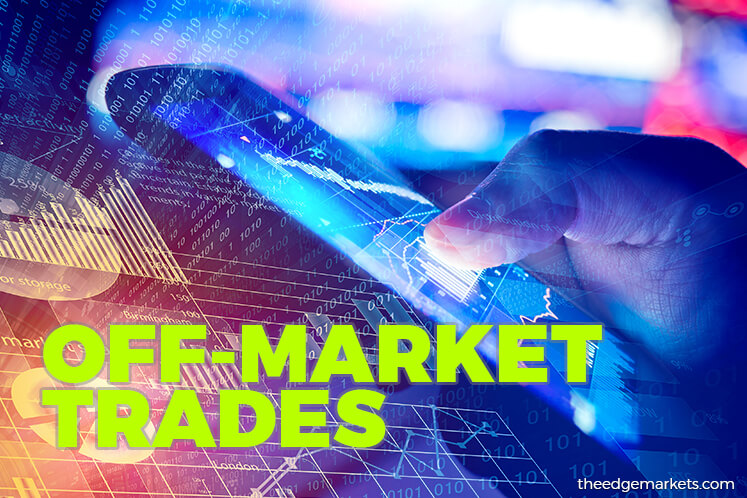 SAPURA Energy Bhd saw 342.87 million shares change hands via direct transactions on Nov 2. The shares were sold at RM1.42 apiece, a four-sen discount to their closing price that day. The 5.72% block fetched RM486.87 million in total.
At the time of writing, no new substantial shareholder has emerged. Bursa Malaysia filings show that Khasera Baru Ltd, a vehicle of Tan Sri Mokhzani Mahathir, sold a total of 384.97 million shares on Nov 7 and ceased to be a substantial shareholder.
Last Wednesday, Sapura Energy closed at RM1.48, giving it a market capitalisation of RM8.87 billion. It is down 8.6% from the start of this month.
Meanwhile, Atlan Holdings Bhd saw 7.85 million shares traded off market in three direct transactions on Nov 3 and Nov 6. The shares, equivalent to a 3.09% block, were priced at RM4.30 apiece or RM33.76 million in total.
The selling price is at a discount to Atlan's closing price of RM4.37 on Nov 3 and RM4.40 on Nov 6. Last Thursday, the counter ended at RM4.45, down 9% year to date and giving the company a market capitalisation of RM1.13 billion.
The diversified group, with businesses ranging from auto component manufacturing to property investment, is majority controlled by non-executive chairman Datuk Seri Adam Sani Abdullah with a 51.35% stake, while Berjaya Corp Bhd is its second largest shareholder with 23.89% equity interest, according to its latest annual report.
On Nov 2, IT firm Diversified Gateway Solutions Bhd (DGSB) saw two off-market transactions of 135 million shares each at five sen per share. The two transactions saw a 19.91% stake pass to Insas Bhd via its wholly-owned subsidiary Insas Technology Bhd, making it the second largest shareholder in DGSB.
On the same day, DGSB's largest shareholder Omesti Bhd sold 290 million shares, paring its stake to 22.06%. Last Wednesday, DGSB closed at seven sen per share, up 150% over the past year. Insas Bhd executive deputy chairman and CEO Datuk Seri Thong Kok Khee is deemed interested in Insas Bhd's stake in DGSB. Thong is also a non-executive director of Omesti.
Over at Eduspec Holdings Bhd, the company saw 30.08 million shares or a roughly 3% stake sold in a single direct transaction on Nov 3. The shares were priced at half a sen each, a steep 96.7% discount to their closing price of 15 sen that day.
At the time of writing, no new substantial shareholder has emerged in the education services provider. Apart from Affin Hwang Multi-Asset Fund, which emerged with 6.89% equity interest last October via a private placement exercise, and Victory Solutions (M) Sdn Bhd — one of the vehicles of Eduspec founder Lim Een Hong — that sold 30.08 million shares in June, none of the other five shareholders with a more than 3% stake had traded their shares in the past year.
Lim stepped down as chairman last September and was replaced by Datuk Wee Hoe Soon @ Gooi Hoe Soon. Lim remains the CEO of Eduspec.
At CME Group Bhd, Best Birdsnest Sdn Bhd acquired 80.57 million shares or 16.61% equity interest in a single off-market deal at five sen apiece on Nov 6. The price is a discount to its closing price of six sen that day.
The seller was Ikram Mulia Holdings Sdn Bhd, the vehicle of executive director Tunku Nizamuddin Tunku Shahabuddin. The firefighting and specialist vehicle manufacturer had been loss-making over the past two financial years up to Dec 31 last year.
On Nov 7, Zecon Bhd saw five million shares or a 3.82% block change hands in a single direct transaction at 70 sen apiece or RM3.5 million in total. The price is a 6% discount to the counter's closing price of 74.5 sen that day.
Last Wednesday, Zecon closed at 75.5 sen per share, marking a 37.7% rise over several weeks since hitting a low of 55 sen on Oct 5. Over the past year, it has traded between 54 sen and 77 sen per share.