This article first appeared in Capital, The Edge Malaysia Weekly, on February 26, 2018 - March 04, 2018.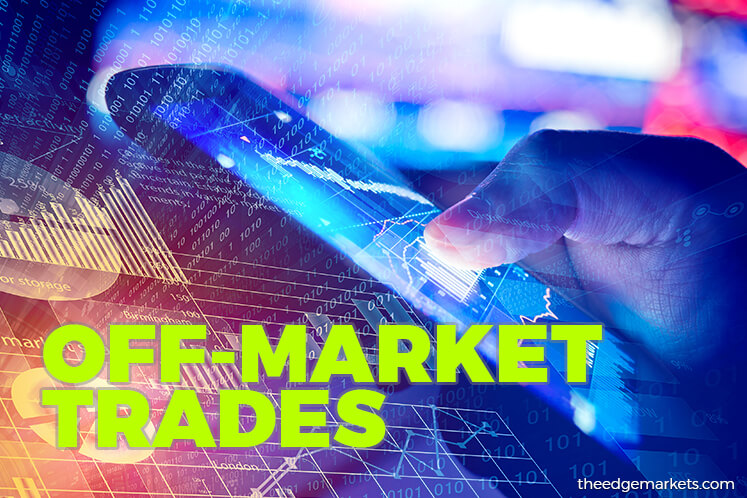 DURING the holiday-shortened week, Destini Bhd saw 20 million shares or a 1.73% stake change hands in direct deals for RM12 million in total. The shares crossed in two blocks — of four million shares on Feb 14 and 16 million shares on Feb 20 — at 60 sen apiece.
According to filings with Bursa Malaysia, managing director Datuk Rozabil Abdul Rahman disposed of four million shares via his vehicle, BPH Capital Sdn Bhd. Then, he acquired 16 million shares from BPH Capital in a left-to-right-hand transaction. Rozabil retains a 4.16% direct stake and a 20.9% indirect stake in the company. Destini's share price closed at 62 sen last Wednesday.
Hartalega Holdings Bhd saw 10 million shares worth RM108 million change hands off market during the week. The shares crossed in three blocks — of eight million shares, one million shares and one million shares — on Feb 14 at RM10.80 apiece. This represents an 8.3% discount to the glove maker's closing price on the open market of RM11.78 that day.
The shares appear to have been disposed of by Kuan Kam Hon's vehicle, Budi Tenggara Sdn Bhd, via a married deal. Kuan retains a 51.03% stake in the company. Hartalega announced that an earlier proposed bonus issue had received approval from Bursa.
PUC Bhd (formerly known as PUC Founder MSC Bhd) saw 27.24 million shares or a 1.82% stake change hands off market for RM7.3 million in total between Feb 14 and 20. The shares crossed in 61 blocks, with prices ranging from 24.5 sen to 28 sen apiece, in line with the group's share price performance on the open market. The stock closed at 27 sen last Wednesday.
SMTrack Bhd saw 5.47 million shares or a 4.03% stake traded off market for RM1.36 million in total on Feb 14 and 20. The shares were transacted in five blocks, of which two (two million shares each) changed hands at 25 sen a share on Feb 20 in direct deals. These transactions appear to have been done at a slightly higher price compared with SMTrack's open-market price of less than 22 sen per share. Last Wednesday, the stock closed at 21 sen a share.
At UMW Oil & Gas Corp Bhd, 50.77 million shares, or a 0.62% stake, were traded off market for a total of RM22.67 million between Feb 14 and 20.
The shares crossed in 26 deals with prices mostly ranging from 31.5 sen to 32.5 sen. However, there were two direct deals of 20 million shares each on Feb 20 done at 48 sen apiece. The stock closed at only 34 sen last Wednesday. Looking back, the group's five-month high was 46 sen per share earlier this year.
S P Setia Bhd saw 17.5 million shares or a 0.47% stake worth RM56.49 million transacted off market between Feb 14 and 20. It is worth noting that two direct deals — of two million shares and eight million shares — were done at RM3.22 per share on Feb 14.
CME Group Bhd saw 5.78 million shares or a 1.19% stake change hands off market for RM289,020 in block trades on Feb 15 and 19.
Save by subscribing to us for your print and/or digital copy.
P/S: The Edge is also available on Apple's AppStore and Androids' Google Play.