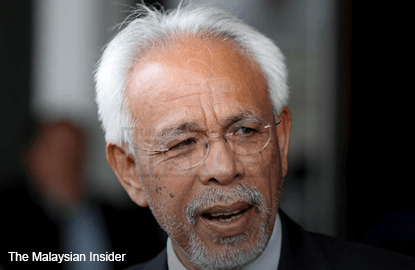 KUALA LUMPUR (Feb 29): Johor Baru MP Tan Sri Shahrir Abdul Samad said today there was nothing unusual in the Umno Supreme Council's decision to unanimously suspend Tan Sri Muhyiddin Yassin as deputy president.
Shahrir, who is also chairman of the Barisan Nasional Backbenchers' Club said prior to Muhyiddin's suspension on Friday, there were other party members who have been either sacked or even expelled from Umno.
"Former prime minister Tun Dr Mahathir Mohamad was sacked by then party president the late Tunku Abdul Rahman after he openly criticised the latter during the 1964 general elections.
"Nevertheless, there were cases where members who are not in the good books of their leaders prefer to keep a distance or remain low profile so as to not disrupt the party's operation," he said, after officiating a "gotong-royong" event at Taman Seri Intan on Saturday.
Also present at the function were Johor Baru City Council mayor A. Rahim Nin and state Umno officials. On hand to welcome the entourage were Taman Seri Intan residents' committee officials.
Shahrir also said that dissatisfied party members should voice out their differences in closed door discussions or platforms.
"Instead of leaving the party, disgruntled members can always opt for sabbatical leave and keep the party machinery in order.
"Take me for instance. I was once suspended by the Supreme Council without any valid reasons. I accepted the decision and then appealed to the working committee to reinstate my membership.
"Luckily, my petition was accepted and I regained my post as Johor Baru Umno division head," added Shahrir referring to his suspension several years ago when the party was helmed by Dr Mahathir.
Shahrir, however admitted that the unanimous decision to suspend Muhyiddin was very difficult for the party.
"I think it was a very tough decision, considering that Muhyiddin is the party deputy president and also, the 14th General Election is only about two years way.