This article first appeared in The Edge Malaysia Weekly, on December 25, 2017 - December 31, 2017.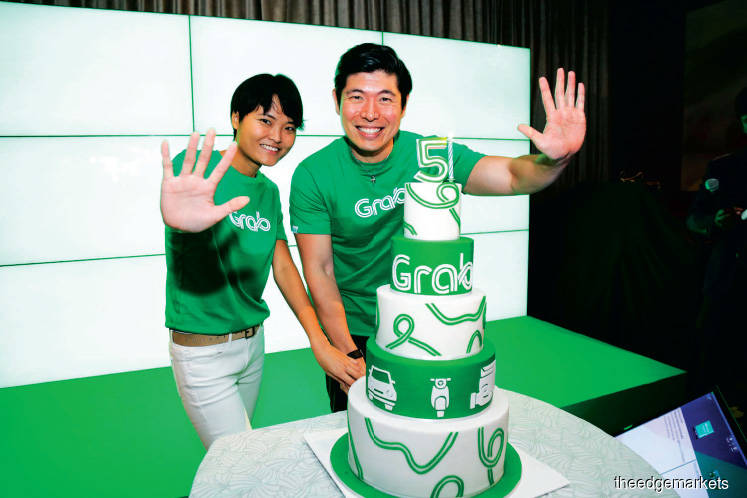 GRAB became the highest value tech start-up in Southeast Asia when it announced on July 24 that it will be raising up to US$2.5 billion (about RM10 billion) from its latest round of fundraising, which includes a confirmed US$2 billion from Japan's Softbank and Chinese ride-hailing giant, Didi Chuxing.
This exercise by Grab shows how unicorn companies like it are able to raise jaw-dropping sums without having to turn to a stock market listing, unlike traditional businesses. A unicorn is a start-up valued at over US$1 billion.
Today, Grab is one of the leading mobile technology companies in Southeast Asia. It uses data and technology to improve transport, payments and logistics across a region of more than 620 million people.
In just five years, Grab co-founders Anthony Tan and Tan Hooi Ling have received a whopping valuation of reportedly US$6 billion for the ride-hailing company, without even reporting any profit yet.
And that's double the valuation the company commanded less than a year ago. When it last raised US$750 million from Softbank in September last year, the company was reportedly valued at US$3 billion.
Anthony Tan
Co-founder and group CEO, Grab
Anthony is the grandson of one of two brothers who founded the Tan Chong Motor Group in Malaysia and Singapore. His wife, Chloe Tan-Tong, is the daughter of Datuk Tong Kooi Ong, chairman of The Edge Media Group.
Grab was started as a taxi-hailing app — then named MyTeksi — in Kuala Lumpur in 2012, before it expanded regionally as it extended its product platform to include private car services (GrabCar), motorcycle taxis (GrabBike), social carpooling (GrabHitch), on-demand carpooling (GrabShare), last mile delivery (GrabExpress) and e-payment (GrabPay).
The company offers services in multiple cities across Singapore, Indonesia, the Philippines, Malaysia, Thailand and Vietnam. Its engineering centres in Beijing, China, Seattle, US and Singapore play a crucial role in driving continuous innovation.
Under Anthony's leadership, the company has expanded into more than 500 cities and towns in seven countries across the region. Grab's core product platform includes commuting solutions for drivers and passengers.
By focusing on a hyperlocal business strategy and building strategic partnerships, Anthony and his team successfully transformed Grab from a taxi booking app to the market leading ride-hailing app that offers a diversified portfolio of transport services in Southeast Asia.
Interestingly, Anthony's roots in the automotive industry run deep, as his great-grandfather was a taxi driver. Before founding Grab, Anthony was the head of supply chain and marketing at Tan Chong Group, where he drove logistics and created brand affinity for the automotive brands under the group.
Anthony graduated with a Bachelor of Arts, with Honours, in Economics and Public Policy from the University of Chicago and has a Master of Business Administration (MBA), also with Honours, from Harvard Business School. It is learnt that he has a hands-on leadership style and travels frequently within Southeast Asia.
It is worth noting that this year, the Malaysian Parliament gave the green light for e-hailing services, thus legalising Grab's and rival Uber's business models.
From 11,000 bookings in 2012, Grab records nearly three million rides daily now — that translates into an average growth of 360% per year — and boasts over 55 million app downloads.
Starting with just 40 cab drivers in Kuala Lumpur, it now has over 1.2 million driver-partners across seven countries.
Tan Hooi Ling
Co-founder and group chief operating officer, Grab
Hooi Ling is the more low-profile co-founder of Grab. She oversees critical pillars of Grab's operations, which are focused on the development of new products and technology, people operations, customer experience and business operations.
She was working at consultancy firm McKinsey & Company when she took six months' leave to launch Grab with Anthony. She then returned to San Francisco to serve out her bond — McKinsey had sponsored her to Harvard Business School, where she met Anthony in 2011 — but kept in constant touch with the Grab team.
As a consultant at McKinsey, Hooi Ling advised global corporations in Southeast Asia, North America, Latin America and Australia.
After McKinsey, she had a brief stint at US tech company Salesforce.com, where she led high priority strategic and operational projects in San Francisco. There, she specialised in corporate strategy, corporate operations, pricing intelligence and monetisation.
Hooi Ling returned to Grab full time in April 2015.
She has a Bachelor of Engineering (Mechanical) from the University of Bath, and an MBA from Harvard Business School.
Save by subscribing to us for your print and/or digital copy.
P/S: The Edge is also available on Apple's AppStore and Androids' Google Play.