This article first appeared in The Edge Malaysia Weekly, on June 11, 2018 - June 17, 2018.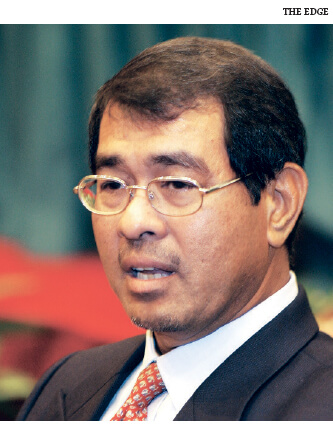 At one time, Tajudin controlled Malaysian Airline System Bhd, Naluri Bhd and Celcom (M) Bhd
TWO companies in Langkawi, Kedah, that are linked to former corporate high-flyer Tan Sri Tajudin Ramli — Tanjung Rhu Land Sdn Bhd and Reka Intisari Sdn Bhd — have gone into receivership, Companies Commission of Malaysia (SSM) records show.
The assets held by the companies, which include the 136-room Tanjung Rhu Resort and 1,100 acres of surrounding land, are potentially worth over RM2 billion, sources say.
The Edge understands that the assets will be put up for sale to recover the sum owed.
A search on SSM's website reveals that Yeoh Siew Ming and Lim Keng Peo were appointed receivers of Reka Intisari and Tanjung Rhu Land on May 3. Based on company filings, it is likely that the receivers were appointed by Bank Pembangunan Malaysia Bhd to recover monies owed to it.
An internet search reveals that Yeoh and Lim are with Deloitte Corporate Solutions Sdn Bhd. When asked for details, a Deloitte official declined to comment, citing confidentiality.
It is unclear how much Bank Pembangunan is seeking to recover. However, it is understood that the amount owed may not be as high as the combined value of the hotel and land. If the SSM filing for the financial year ended Dec 31, 2014, is anything to go by, Reka Intisari's total liabilities stood at RM102.77 million with non-current liabilities at RM56.62 million.
Tanjung Rhu Land's liabilities in FY2014 totalled RM138.95 million, of which RM87.85 million was non-current liabilities.
However, a source tells The Edge that the amount due as at August last year was about RM140 million and that it may have ballooned to RM210 million now.
The SSM documents show that Tanjung Rhu Land's shareholders are Kauthar Venture Capital Sdn Bhd (80%) and Kedah State Development Corporation (20%).
The shareholders of Reka Intisari are Kauthar Inc Sdn Bhd (99.7%) and  Kauthar Venture Capital (0.3%) while Tanjung Rhu Land owns just two out of the 66.2 million shares issued. Reka Intisari's directors are listed as Wan Adlan Affandy Wan Abdul Rahman and Fazlan Azri Tajudin.
The shareholders of Kauthar Inc are Fazlan Atfi Tajudin (33.33%), Fazlan Azri (33.33%) and Wan Adlan (33.33%). No financials were available on Kauthar Inc as it is an exempt  private company. Kauthar Venture Capital's shareholders are Fazlan & Amal Sdn Bhd (99.9%) and Tajudin (0.1%). Fazlan & Amal has been an exempt private company since 1997.  Its shareholders — Fazlan Azri, Fazlan Atfi, Amal Nadiah Tajudin and Amal Najmin Tajudin —  each own an equal share in the company, minus one share jointly held by Tajudin and Puan Sri Faridah Abdullah.
At one time, Tajudin controlled Malaysian Airline System Bhd, Naluri Bhd and Celcom (M) Bhd. In 1994, he bought a 32% stake in MAS for RM1.8 billion. It was reported that he had purchased the shares held by Bank Negara Malaysia on behalf of the government when the central bank suffered massive foreign exchange losses.
It is not known why the companies had taken a loan from Bank Pembangunan, although sources say it was for the planned renovation of the hotel. But it is understood that the planned upgrade has not been completed and only about half the room inventory is available for bookings.
Tanjung Rhu Resort, located 2.5km from Four Seasons Resort Langkawi, was once one of the most luxurious hotels on the tourist island. It achieved record high average room rates despite being local name branded and locally owned and operated.
The history of the hotel can be traced back to 1984, when Promet Bhd, with the support of the government, had proposed to develop 1,000 acres in Tanjung Rhu as an international tourism spot. Tanjung Rhu Resort itself was originally built as an apartment complex in 1991. But in 1992, the current owners bought the property and converted it into a hotel and engaged Radisson Hotels & Resorts Group as the operator. Seven years later, the group decided to hire local talent to take over operations.
According to a source, in 2015, a valuer had valued the assets held by both companies at around RM2.8 billion. It is learnt that the owners have over the past couple of years received offers to buy the hospitality asset from a number of interested parties, including a sovereign entity from the Middle East, a party from Brunei and even a local developer cum mall operator from Kuala Lumpur. However, none of these deals went through.
The Edge understands that the hotel occupies only about 20 acres of the entire available land. In 2009, there were plans to build 20 villas with private swimming pools that were scheduled to be completed in 2011. A telephone call to the resort revealed that the villas were never built. 
Save by subscribing to us for your print and/or digital copy.
P/S: The Edge is also available on Apple's AppStore and Androids' Google Play.