This article first appeared in The Edge Malaysia Weekly, on March 12, 2018 - March 18, 2018.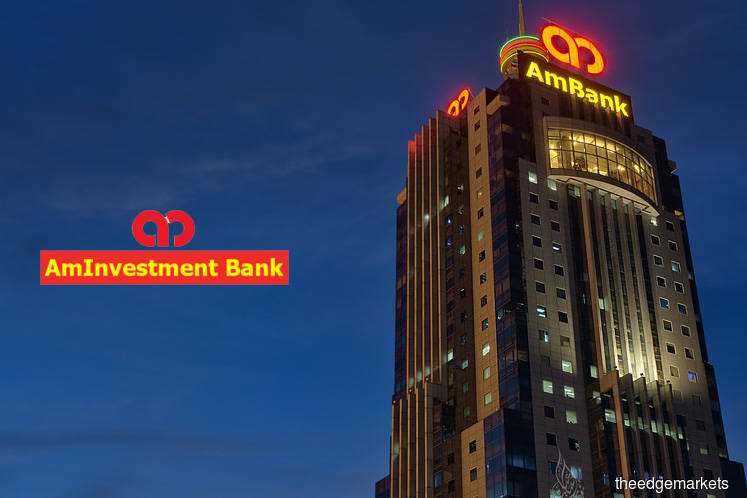 A change in leadership is afoot at AMMB Holdings Bhd's investment banking arm, AmInvestment Bank Bhd, sources say, even as the group looks to fill several board seats that were recently vacated.
Seohan Soo will be promoted to CEO of AmInvestment Bank, according to the sources. Soo, who has been with the group for about 15 years, is currently the executive vice-president of the capital markets group at the investment bank.
"His appointment is pending Bank Negara Malaysia's approval," a source tells The Edge.
Soo replaces Raja Teh Maimunah Raja Abdul Aziz, who currently holds dual roles as CEO of AmInvestment Bank and managing director of wholesale banking at the AMMB group.
The upcoming change will see her focus wholly on wholesale banking. Wholesale banking, one of the group's key businesses, comprises corporate and commercial banking, global markets, investment banking and fund management.
"We are expecting some movement at AmInvestment Bank and will be making the relevant announcements once it has been completed. All reorganisations are executed in order to strengthen the group further in line with our goal of becoming a Top Four bank in Malaysia," an AMMB spokesman says via email in response to questions from The Edge.
As part of its transformation plan, AMMB — the sixth largest of eight local banking groups — aims to become a Top Four bank by 2020, based on several financial metrics, including market capitalisation, revenue growth and return on equity.
Meanwhile, new appointments to the boards of AMMB and its key banking unit, AmBank (M) Bhd, are expected following the departure of several directors in recent months.
AMMB, the holding company, is left with seven directors on its board following the departure of Datuk Rohana Mahmood, Suzette Margaret Corr and Datuk Seri Johan Raslan over the past three months. Sources say another director is also expected to leave soon.
Of the seven, four are independent directors, namely Voon Seng Chuan, Datuk Shireen Muhiudeen, Seow Yoo Lin and Farina Farikhullah Khan.
As for AmBank, it currently has just four board members — all independent — apart from chairman Tan Sri Azman Hashim. He is scheduled to retire as chairman of AmBank and AmInvestment Bank by the end of the year.
Rohana, who was an independent director, resigned from AMMB in January after having served the board for more than six years, citing "personal business commitments".
Corr — a representative of AMMB's largest shareholder, Australia and New Zealand Banking Group (ANZ) — left in the same month, having resigned as an employee of ANZ.
Johan left last December, after three years in the role, having reached the end of his directorship tenure as approved by Bank Negara.
He has played an interesting role in the group. He was first appointed as a senior adviser and an executive director of AMMB in December 2014. At the end of his contract in November 2016, he remained on the board and was redesignated as a non-independent, non-executive director.
"The organic movement of board members is to be expected in any public-listed entity. What is important to note is that AMMB is conscious of the need to maintain a board that is significantly independent," the spokesman says. "The bank reviews the composition of the board from time to time and will make the necessary announcement of new board appointments through Bursa Malaysia."
The four independent directors at AmBank are Raymond Fam Chye Soon, Voon, Datuk Seri Abdul Hamidy Abdul Hafiz and Dr Veerinderjeet Singh Tejwant Singh.
'No Bank Negara interference'
Last month, in a move rarely seen in the industry, Alliance Bank Malaysia Bhd (ABMB) brought a lawsuit against three of its ex-employees who are now with AMMB, alleging misappropriation of sensitive information from ABMB. AmBank was named as a co-defendent.
Talk in the industry is that Bank Negara has instructed the two banks to settle the issue out of court. AMMB, however, denies this. "Bank Negara has maintained its independence and professionalism as a regulator and has not interfered with ongoing proceedings. As such, no instruction has been issued to us to this effect," the spokesman says.
Providing an update on the issue, he adds, "AMMB is aware of Alliance Bank's desire to reach a resolution on this matter. As with all settlement initiatives, it will be considered in good faith, in confidence and without prejudice."
He says the bank's businesses and programmes for the year remain on track.
The Edge, in reporting about the lawsuit last month, said AMMB managing director of business banking Christopher Yap, an ex-ABMB employee, was at the centre of the controversy. Yap was hired in February last year to head the newly created division that was expected to be one of the bank's key growth drivers in the coming years.
AMMB's net profit for the nine months ended Dec 31 , 2017 missed analysts' expectations wwing to higher provisions. Earnings fell 11.1% to RM878.72 million, while operating revenue rose 3.7% to RM6.37 billion.
Save by subscribing to us for your print and/or digital copy.
P/S: The Edge is also available on Apple's AppStore and Androids' Google Play.