This article first appeared in The Edge Financial Daily, on June 12, 2018.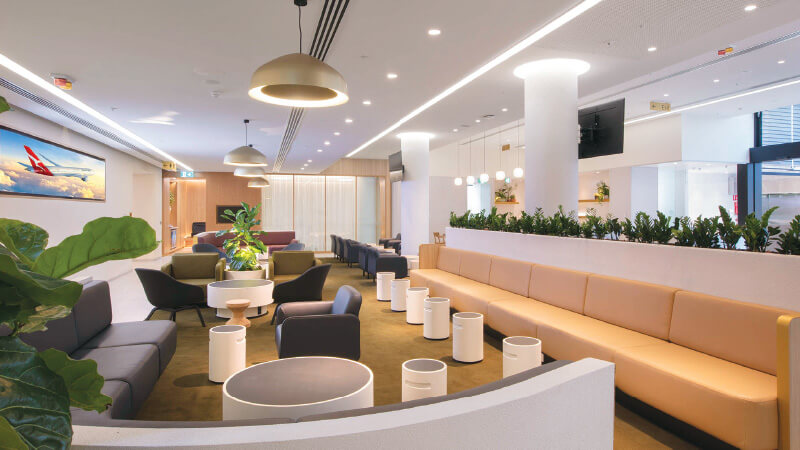 Behind the sleek design at the Qantas transit lounge is an array of jet-lag-fighting features.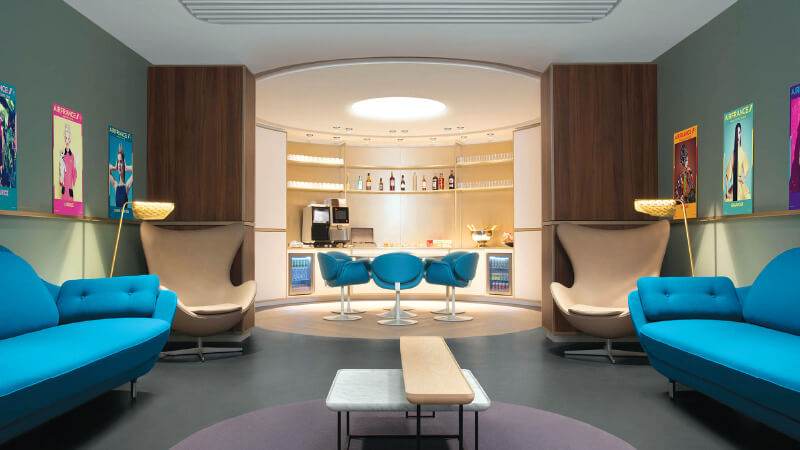 Air France's flagship lounge, at Paris Charles de Gaulle Airport.
A stretching studio. Guided meditation sessions. Shower suites with light therapy. They sound like the features of a New Age spa. But all are elements of Qantas Airways' new international transit lounge at the Perth Airport. And they are all designed with one purpose in mind: helping you combat jet lag.
For the Australian carrier, this is an especially relevant proposition — it launched a new non-stop route from Perth to London in March, which — at 17 hours and 20 minutes on the outbound — is among the longest in the world. Qantas is not alone in this regard. Singapore Airlines Ltd has just debuted a new record-setting route that hops 12 time zones, from its namesake hub to Newark, in 18 hours and 45 minutes.
As farther-apart cities become increasingly connected by direct flights, more and more airlines are stocking their lounges with wellness-related features. And they are promoting one consistent message: If it is sleep you are after, skip the champagne.
The lounge of the future
"Customers travelling on our Perth to London service are in the air for approximately 17 hours, so it was important to improve the experience not just on board, but also pre- and post-flight," says Phil Capps, Qantas' head of customer experience.
The airline's new, purpose-built transit lounge is open only to travellers flying business class on flights between Perth and London. (Qantas Gold, Platinum, and Platinum One elites on the flight can also enter.) It was designed in collaboration with scientists at the University of Sydney's Charles Perkins Centre, an interdisciplinary research institute that studies well-being and chronic conditions, many of which share the symptoms of jet lag.
Like most high-end airline lounges, it includes the requisite spa treatments and gourmet dining. More notable are the details that assist passengers with "flight recovery." An airy patio area, for instance, has ceiling shades that can be opened to let in natural light and boost passengers' vitamin D, which promotes healthier sleep patterns.
The lounge's 15 shower suites — essentially private bathrooms with vanities but no toilets — have special light settings on the wall. Push the one labelled "Light therapy/Body clock intervention," and the vanity mirror will glow with a bright, blue frequency of around 480 nanometres. According to Dr Yu Sun Bin, an epidemiologist at the Charles Perkins Centre, it is a wavelength that promotes wakefulness and alertness.
"The outbound flight leaves from Perth to London at 6pm," Yu tells Bloomberg, "so most passengers will have body clocks that are starting to wind down for the day." The blue light, he says, can trick the body into believing that it is earlier in the day — closer to London time. It is just a small way to nudge the circadian rhythm towards the destination time zone a little faster.
Qantas has also partnered with a Perth spa brand called Bodhi J Wellness Spa Retreats to create a studio space within the lounge where passengers can participate in 15-minute guided stretching, breathing, and meditation sessions. According to Bin, participating in light physical activity might improve passengers' chances of sleeping on the flight, lessening their jet lag on arrival.
Even the dinner menu is strategic. Alongside sausages from an artisanal butcher in Perth are water-rich crudite platters, and while there is plenty of Western Australian wine, guests will also find sugar-free water infusions such as lemon myrtle and parsley, along with a make-your-own tisane station stocked with local herbs and teas.
"Flying long-haul means passengers are exposed to lower levels of humidity for extended periods of time, which can lead to dehydration," says Monica Nour, a dietitian and PhD candidate at the Charles Perkins Centre. Plus, she says, these hydrating options are caffeine-free.
"In designing the lounge, we worked with some of Australia's best minds in design, science and nutrition to help set our customers up to feel better throughout their journey," says Qantas' Capps.
Dream weavers and detox bars
Qantas is ahead of the pack when it comes to jet-lag science. But other airlines have started to join its ranks when it comes to prioritising wellness at airport lounges.
Delta Air Lines Inc is one standout. At three of its US hubs — New York's John F Kennedy International,  Hartsfield-Jackson Atlanta International, and Seattle-Tacoma International — the airline has partnered with Asanda Spa to offer jet lag-busting foot and leg massages or anti-fatigue eye treatments. The spa's signature experience, the Deepak Chopra Dream Weaver session, involves sitting in a zero-gravity chair with special glasses and headphones, for an audio-guided meditation. "Though it's not specifically designed for jet lag, feedback from guests is that it helps relieve some of the symptoms, including poor sleep," explains Gene Frisco, managing director of Asanda Spa.
Air France has also made wellness a centrepiece of its newly expanded flagship business class lounge in Hall L at Paris Charles de Gaulle. "Our new business lounge includes 550 sq m of wellness space, the most of any Air France lounge," says Anne Rigail, Air France's executive vice-president of customer experience.
Included are two private saunas, large shower suites, and a Clarins spa with two treatment rooms for complimentary services. There is also a dedicated relaxation area with loungers for quick naps; overhead, special light fixtures twinkle to resemble the night sky.
Cutting the champers
One thing most of these wellness-oriented lounges will likely share is a lighter cost sheet when it comes to food and beverage. That is because tea, rather than champagne, is being put in the spotlight.
Air France's flagship lounge has a detox bar, with blends by Palais des Thes and Evian water infused with raspberry and verbena. "Both the water and the teas we serve are hydrating, revitalising, and are a rich source of antioxidants that can help minimise some of the effects of jet lag," says Rigail.
The same is true with Cathay Pacific Airways Ltd: In June 2016, the carrier's premium passengers gained access to a new space called the Tea House, set in a quiet corner of Hong Kong International's Pier Business-Class Lounge.
Created in partnership with Jing Teas, the Tea House is adjacent to a relaxation area with 14 semi-private daybeds and includes a sniffable library of nearly a dozen loose-leaf choices. Descriptions highlight each tea's flavour notes and health benefits — which range from digestion support (chamomile) to energy boosts (silver needle jasmine) — and can be brewed to order by a dedicated specialist.
And there is Qantas, with its signature "Rockpool" tisane of rosella, lemon myrtle, and orange tea. It might not have the sparkle of champagne, but it might just be the trick to surviving your next 17-hour flight. — Bloomberg