This article first appeared in The Edge Malaysia Weekly, on August 27, 2018 - September 02, 2018.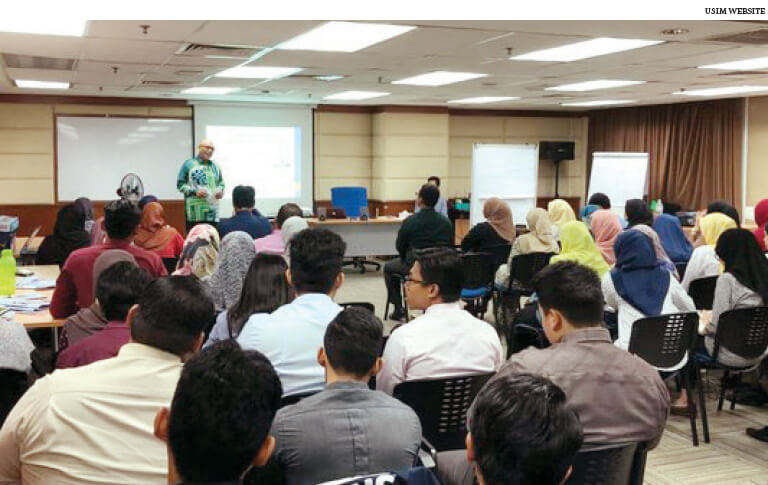 Zulkifly addressing a group of recent graduates from various local universities on the need to inculcate sejahtera values
IN an increasingly competitive environment, individuals are faced with myriad challenges, including in upholding their values. Policymakers and institutions can play a better role in strengthening a values-based education to ensure that they not only produce effective human capital but virtuous citizenry too.
This need to develop values-driven individuals is specified in the Malaysia Education Blueprint 2013-2025, which defines success in this regard as when "every student leaves school as a global citizen imbued with core, universal values and a strong Malaysian identity".
To make this possible, the blueprint looks to ensure that values students have learnt "are applied in their day-to-day lives, leading to more civic behaviour such as an increase in volunteerism; a willingness to embrace peoples of other nationalities, religions and ethnicities; and a reduction in corruption and crime".
The blueprint also states that every student should leave school prepared to act as a leader, whether in their own lives and families, or as part of the broader community and nation.
As part of this goal, it highlights the need to enhance Islamic and Moral Education with a greater focus on unity and fostering stronger bonds among students.
It also seeks to foster unity among students through programmes such as the Student Integration Plan for Unity (Rimup), which aims to strengthen interaction among students from different school types through co-curricular activities.
This need to teach common values has also been deliberated in the European Union (EU). In March last year, the European Parliament's Committee on Culture and Education published a study on teaching common values in Europe and in essence found that it was lacking in attention and systematic implementation compared with other subjects.
"With regard to school curricula, the focus lies on political participation while the deliberative and consensus-building processes of democracy as well as the creation of just and free societies are neglected. Furthermore, curricula often focus on national perspectives, instead of providing students with an insight into international dimensions," the report says.
The report urges the EU and its member states to take responsibility to support democracy and tolerance as common societal values. In particular, it says national experts interviewed in the course of the research highlighted the need for improved teacher training throughout the EU to better equip teachers for teaching common values.
The Edge recently got in touch with Dr Zulkifly Baharom, who heads the Sejahtera Leadership Initiative (SLI), a self-leadership development programme for students.
Established last year at the Chancellery of Universiti Sains Islam Malaysia by its chairman Prof Tan Sri Dzulkifli Abdul Razak and Zulkifly as its CEO, SLI aims to offer "balanced well-being programmes and projects" that coexist with common dignity and shared values for peace, sustainability and compassion.
More than preparing students for their future careers, SLI seeks to prepare them for sustainable livelihoods in a world of small and medium enterprises and social entrepreneurship, Zulkifly explains.
"Quality of life is generally understood as the state of well-being that is beyond the measure of material wealth, but includes health and happiness as well as well-being and wellness in a more cohesive way. This has shifted the emphasis of human development towards lifelong learning for educators and students, and clear engagement with the community," he says.
Essentially, the initiative allows students to learn the conceptual model framework and caring best practice of Sejahtera Leadership, develop a personal strategy to improve effectiveness in implementing Sejahtera values and build lasting networks of leaders who are committed to addressing humanity and ecosystem issues.
SLI learning programmes make extensive use of the research findings and case study method, enabling students to explore the framework and share experiences within the context of the United Nations Sustainable Development Goals as well as Gross Domestic Happiness. The initiative has since attracted international participation and collaboration, says Zulkifly.
He emphasises the need to promote greater well-being to ensure students are equipped with the necessary innovative and creative skills to thrive as future leaders and balanced individuals.
"Thus, SLI looks forward to the emergence of a new kind of economic system that combines the dynamism of the market with an explicit concern for more equitable distribution of its wealth.
"Can the bottom-line-driven practices of the global economy incorporate sejahtera (well-being) in the pursuit of wealth? Or is economics driven solely by materialism and self-interest? [Pursuing] sejahtera may be the path to a healthier economy," says Zulkifly.
Yet, like the cardinal rule in education, a teacher's guidance is of utmost importance, according to Dr Murni Wan Mohd Nor, senior lecturer at the Department of Government and Civilisation Studies in Universiti Putra Malaysia (UPM).
Citing UPM's philosophy of channelling "ihsan as the pillar of excellence", Murni explains that the slogan is there to encourage staff and students to inculcate values of sincerity and integrity, and strive for excellence.
"I believe the educator plays the most important role in nurturing a student to become a good person. This is the highest aim of education, and that is one who is aware of his higher purpose and continuously strives to perfect his character. I try my best to live by this principle, to be just in all that I say and do with my students, to be the example that I want them to be.
"Because sincerity, or the lack of it, shows. If an educator cannot walk the talk, then the initiatives to inculcate values are just a façade that students will see through and treat as nothing more than another item to tick off for their graduating requirements. The educator is key, and each must take his or her responsibility seriously," she says.
Save by subscribing to us for your print and/or digital copy.
P/S: The Edge is also available on Apple's AppStore and Androids' Google Play.