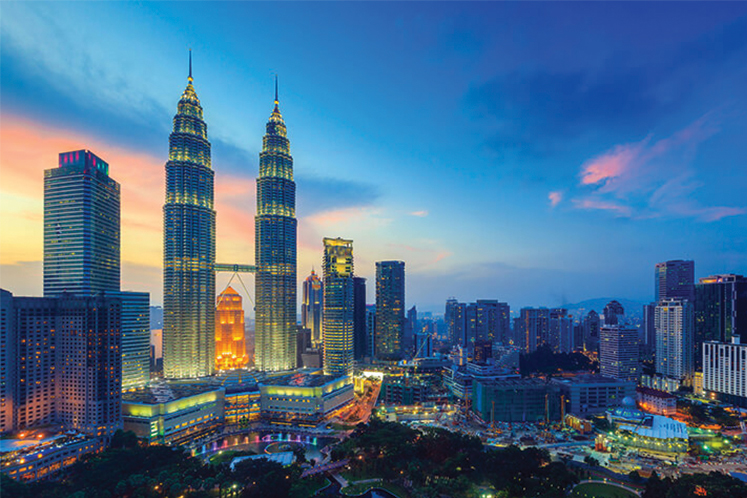 KUALA LUMPUR (Aug 31):  The 61st National Day celebration was enlivened with the participation of Malaysians from all walks of life and diverse racial backgrounds, reflecting a spirit of patriotism and love  for Malaysia at the various locations nationwide.
In addition to the glittering celebrating at the Dataran Putrajaya themed "Sayangi Malaysiaku" or Love my Malaysia, the states also held National Day celebration programmes and other events which were attended by state leaders and attracting foreign tourists.
In PERAK, Sultan of Perak Sultan Nazrin Shah and Raja Permaisuri of Perak Tuanku Zara Salim joined over 15,000 people of various races for the state level National Day 2018 celebration in front of the ​​​​​​​Ipoh Town Hall.
A total of 107 contingents involving 5,703 participants from various agencies and local governments, uniformed teams of public universities and non governmental organisations joined the parade.
In KEDAH, Sultan of Kedah Sultan Sallehuddin Ibni Almarhum Sultan Badlishah and Sultanah of Kedah, Sultanah Maliha Tengku Ariff attended the state level National Day celebration at the Dataran Medan Bandar.
A total of 89 contingents involving almost 3,000 participants from government departments and agencies, schools, institutions of higher learning, uniformed teams and NGOs took in the parade and procession witnessed by over 5,000 people.
In NEGERI SEMBILAN, Yang Di-Pertuan Besar of Negeri Sembilan Tuanku Muhriz Tuanku Munawir and Tunku Ampuan Besar of Negeri Sembilan Tuanku Aishah Rohani Tengku Besar Mahmud attended the 2018 National Day celebration at the Seremban Municipal Council field.
The event began with an inspection of the guard of honour by Tuanku Muhriz and singing of the national anthem, ​​​​​​​Negaraku followed by a 94-contingent procession.
In MELAKA, Yang Dipertua Negeri of Melaka Tun Dr Mohd Khalil Yaakob, Chief Minister Adly Zahari and state councillors joined 5,000 local residents and foreign tourists to witness the National Day parade at the Proclamation of Independence Memorial, Bandar Hilir.
Some ​​​​​​​9,884 participants involving 196 contingents took part in the state level parade.
In PENANG, about 10,000 participants representing 120 contingents took part in a parade in conjunction with the state level National Day celebration in Padang Kota Lama.
Penang Yang Dipertua Negeri Tun Abdul Rahman Abbas and wife Toh Puan Majimor Shariff as well as Chief Minister Chow Kon Yeow also attended the celebration together with over 7,000 people of diverse racial backgrounds.
In KELANTAN,  the celebration featured a 24-season ​​​​​​​gendang (drum) performance by 24 students which enthralled the audience at the ​​​​​​​Pasir Mas mini stadium.
A total of 62 contingents with 2,500 participants took part in enlivening the parade at the state level celebration.
In TERENGGANU, Yang di-Pertuan Muda of Terengganu, Tengku Muhammad Ismail Sultan Mizan Zainal Abidin and his sister Tengku Nadhirah Zaharah were present for the National Day procession held at Batu Buruk, Kuala Terengganu.
A total of 84 contingents involving 3,903 participants took part in the parade which was also part of the celebration.
The team from Sekolah Menengah Sultan Ahmad Kuala Terengganu was crowned the overall champion of the parade which earned them the coveted trophy and a cash prize of RM5,000.
In Miri, SARAWAK, state-level National Day celebrations were celebrated on a moderate scale at a hotel attended by Chief Minister Datuk Patinggi Abang Johari Tun Openg, state ministers, heads of government departments, community heads and over 500 attendees.
They were entertained to a cultural dance performance involving 30 dancers which focused on the uniqueness and diversity of cultures in the country as well as a video that highlighted the essence, meaning and expectations that independence day brings to the various races in the state.
Meanwhile in PAHANG, the National Day celebration held at Kuantan Municipal Council 1 (MPK1) was celebrated with the  Regent of  Pahang Tengku Abdullah Sultan Ahmad Shah and Tengku Puan Pahang Tunku Azizah Aminah Maimunah and about 15,000 multiracial people.
A total of 86 contingents with 4,313 participants participated in a parade featuring the nation's Armed Forces  (ATM) that showcased its convoy of  PT91 Pendekar armoured vehicles and six Sukhoi SU-30MKM fighter jets from   the Royal  Malaysian Air Force's  11th Squadron based  in Gong Kedak, Terengganu.
Tengku Abdullah also presented the Jalur Gemilang to the state's Sukma Contingent which would take part in the biennial national sporting event involving young athletes in Perak, next month.
In SABAH, over 10,000 people took part in the state's National Day celebrations at Jalan Tun Fuad Stephens, Kota Kinabalu, attended by Chief Minister Datuk Seri Mohd Shafie Apdal and state cabinet members.
A total of 149 contingents participated in the parade with a magnificent show in the skies by  Hawk 208 combat aircraft from RMAF.
In JOHOR, more than 5,000 visitors were up by 6.30am to celebrate the National Day celebration held at Dataran Tanjung Emas, Muar.
A total of 132 contingents with over 5,000 participants took part in the  parade that exhibited the assets of the national security forces. A  convoy of  vintage cars from the Luxury Car Club then rolled in followed by some striking antique motorcycles.
Johor Menteri Besar Datuk Osman Sapian in his speech reminded all parties to work towards forging unity and solidarity, to enable the government to create an economic balance and eradicate poverty among the people. — BERNAMA