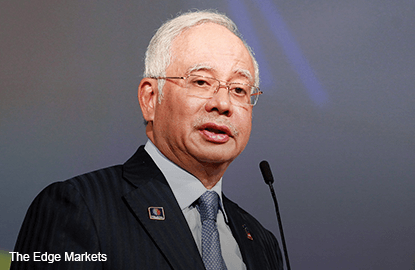 KUALA LUMPUR (Feb 2): Prime Minister Datuk Seri Najib Razak is not one of the suspected public officials in the Swiss authorities' investigations into debt-ridden state-owned investment firm 1Malaysia Development Bhd (1MDB), the Nikkei Asian Review reported yesterday.
"In the ongoing criminal proceeding of the OAG, Mr Najib Razak is not one of the public officials under accusation," Andre Marty, a spokesman for the Office of the Attorney-General in Switzerland, told the weekly business magazine.
The report said the identity of the "persons unknown" had prompted much speculation, but that "Swiss authorities have ruled out Najib".
Marty said the phrase "persons unknown" in Swiss law refers to criminal proceedings where there is reasonable suspicion that an offence has been committed, but the accused is not known.
The Asia-focused magazine however described the Swiss A-G's announcement on January 29 that up to US$4 billion could have been stolen from 1MDB – whose advisory board is chaired by the prime minister – as "unusually blunt".
The report titled Malaysia's Najib survives – but for how long, also said the Swiss A-G's announcement undermined Malaysian A-G Tan Sri Mohamed Apandi Ali, who announced that the US$681 million paid into Najib's bank accounts was a donation by the Saudi royal family, and who found no link between that largesse and long-running allegations of fraud and mismanagement at 1MDB.
"Troubles at the state fund – which ran up debts amounting to US$10 billion before a Nov 2015 bailout by Chinese state companies – as well as the revelations about the millions in Najib's personal bank accounts – had prompted calls for the prime minister's resignation and sent ripples through Malaysia's financial markets," the report said.