This article first appeared in Forum, The Edge Malaysia Weekly, on February 26, 2018 - March 04, 2018.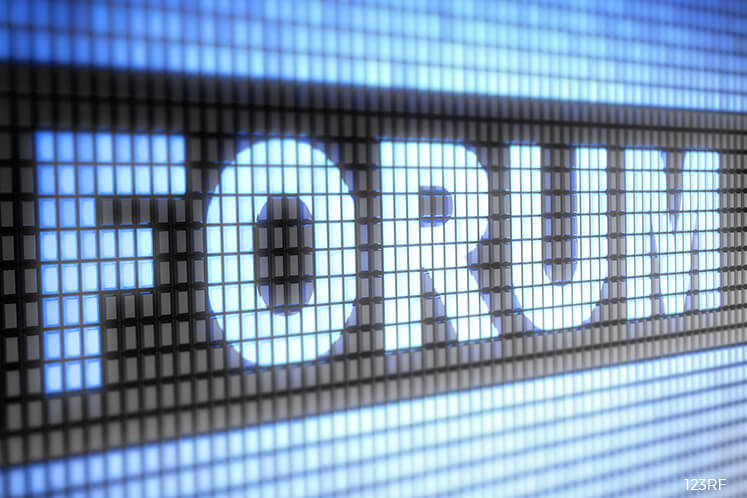 For the first time in my life, I was so fed up with the persistent irrational and vitriolic political talk in the cyber sphere as well as the real world that I went public to plead, "Can't we stop talking politics during this Chinese New Year?" in my column in a vernacular newspaper.
Did I succeed in getting people to stop talking about politics? Of course not. However, I somehow gathered that many people this year had the impression that Chinese New Year came around earlier than expected. Or, was it simply a case of everyone just getting tired of waiting for the long-overdue general election? Maybe deep inside their hearts, they are all screaming, "Let's get it over and move on!"
Make no mistake, the two rival coalitions — the ruling Barisan Nasional (BN) and Pakatan Harapan (PH) — are hoping for a political storm or tsunami, so to speak, to achieve their respective political agendas: one to wrest federal power and the other to defend and enhance its power. But both sides apparently overlook the fact that in seeking a political storm, they might just end up on the edge of a political cliff — bringing the country closer to political and economic uncertainty.
In this regard, we are accustomed to thinking that political regimes can be divided into two kinds: democracy and everything else. Democracy is good and everything else is bad. But this was not how the Greek philosopher Aristotle saw it. According to Aristotle, political regimes may be divided according to the number who rule and what is the kind of rule — good or bad. And here comes the shocker: If the many, the majority, rule for the sake of the true common good, the regime is called a polity; if the many rule for their own private advantage rather than the common good, the regime is a democracy.
Hence, the ultimate question for us to ponder is this: what is "the common good" in the present case? Will the BN's call to defend Putrajaya at any cost or the PH's battle cry to capture Putrajaya by all means eventually lead to a common good?
For a nation that has witnessed some disquieting developments, mainly brought about by selfish political ambition, it is time for us to really reflect on this question before casting our vote.
Maybe we should first ask ourselves which political coalition is more committed to defend our forefathers' vision in building a "sovereign democratic and independent State founded upon the principles of liberty and justice and ever seeking the welfare and happiness of its people…" as espoused in the 1957 Proclamation of Independence almost half a century ago.
It should be noted that successive prime ministers since independence have never failed to reaffirm their belief in our forefathers' dream in their signature policy platforms. For instance, the Rukun Negara, formulated under the leadership of Tun Abdul Razak, declares that one of the ambitions of Malaysia is "guaranteeing a liberal approach towards her rich and varied cultural traditions" and that these ambitions are to be achieved through the five principles, including "Supremacy of the Constitution" and "Rule of Law".
One of the nine challenges laid out in Tun Dr Mahathir Mohamad's Vision 2020 is "establishing a mature and tolerant society".
Prime Minister Datuk Seri Najib Razak's 1Malaysia, People First, Performance Now principles of governance also proclaim that the principle of fairness and inclusiveness underpins 1Malaysia.
Yet, as the saying goes, government policies are only as good as their implementation and realisation. Sadly, the hard reality couldn't be more different from the beautiful political slogans. A common observation is that more and more issues, including fairness and compassion, now cannot be talked about openly, let alone debated, under the pretext of "sensitivity" or "political correctness".
Having said that, of course we are not suggesting there should be a free-for-all, full-blown public discussion on all issues or societal taboos without common sense or scant respect for the law. After all, didn't our forefathers have the foresight to remind us that nation-building must be guided by the principle of the supremacy of the Constitution and the rule of law at all times?
Yet, we know too well that seeking political tsunamis by BN and PH to achieve their political agendas may bring the nation to the edge of a political cliff. To avoid the nation from toppling over, politicians from both sides of the divide had better pay heed to the following speech by the late Tun Lim Chong Eu in 1974.
After the BN was launched by Razak on Jan 17, 1974, Lim, in his speech at Gerakan's national delegates conference held at Dewan Sri Pinang in Penang on March 9 of that year, solemnly declared: "Today in Malaysia, there is no place for polarisation in political partisanship or racial sectarian interests because the national interest must come first in order to consolidate our efforts and our activities to achieve a common destiny for our multiracial nation."
More than ever in our nation's history, in the fight between two titans — the current prime minister versus the longest-serving premier — we must remind ourselves that we share a common destiny. We can master it only if we defend it, together.
Khaw Veon Szu, a former executive director of a local think tank, is a practising lawyer. Opinions expressed in this article are his personal views.
Save by subscribing to us for your print and/or digital copy.
P/S: The Edge is also available on Apple's AppStore and Androids' Google Play.