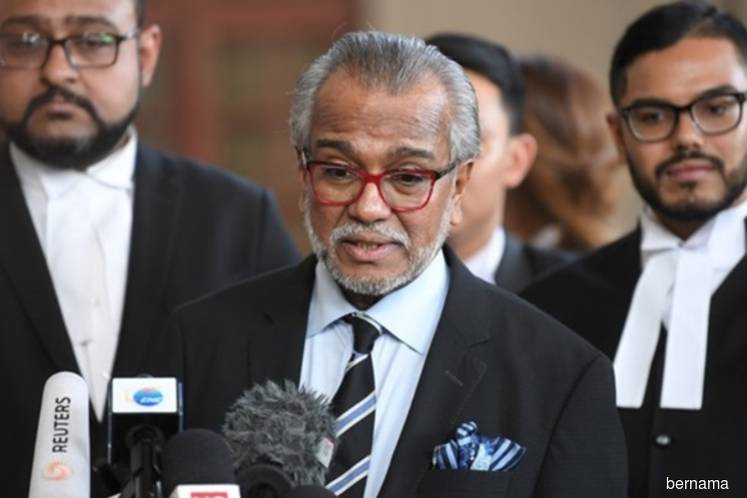 KUALA LUMPUR (Dec 18): Lawyer Tan Sri Muhammad Shafee Abdullah, who is facing two counts of receiving proceeds from unlawful activities amounting to RM9.5 million from former prime minister Datuk Seri Najib Tun Razak and two counts of making false declarations to the Inland Revenue Board (IRB), has filed an application to recuse former Federal Court judge Datuk Seri Gopal Sri Ram from leading the prosecution team in his case.
Deputy public prosecutor Muhammad Izzat Fauzan, when met by reporters, said the defence had filed the application to disqualify Sri Ram, who had been appointed senior deputy public prosecutor, from leading the prosecution team.
"The defence has submitted the notice of motion and affidavit to the prosecution. The court set Jan 22 next year for the prosecution to file the affidavit-in-reply to the application.
"The case management is fixed on Jan 24, 2019 before judge Collin Lawrence Sequerah," he said after the proceeding of the case, which was held in the chambers of High Court deputy registrar Farah Azura Mohd Saad ended here today.
Meanwhile, lawyer Sarah Abishegam, representing Muhammad Shafee, when contacted, said the defence filed the application to recuse Sri Ram last week.
Last Sept 13, during a proceeding before Sessions Court judge Azura Alwi, Muhammad Shafee told the court that her client would file a formal application to disqualify Sri Ram, who is leading the prosecution team, from conducting the trial.
Shafee said he would seek for Sri Ram's recusal on grounds that the latter was currently representing PKR president Datuk Seri Anwar Ibrahim at the Court of Appeal, in relation to the same RM9.5 million allegation.
In that capacity, he said Sri Ram was not independent as he had an agenda.
Speaking from the dock, Muhammad Shafee said he did not want Sri Ram to be in any way involved in the case and also revealed to the court that his relations with Sri Ram was not good.
"We do not have a very pleasant relationship. We pretend to be civil to each other in court," he said, adding that their sour relations started in the late 1970s over cases in court.
Last Aug 31, Attorney-General Tommy Thomas announced the appointment of Sri Ram as senior deputy public prosecutor to assist with 1Malaysia Development Berhad (1MDB)-linked cases.
In a press statement, Thomas said the appointment of Sri Ram was made in line with Section 376 (3) of the Criminal Procedure Code, in view of Sri Ram's vast experience in criminal law and that he (Sri Ram) would be serving the government on pro bono basis. — Bernama