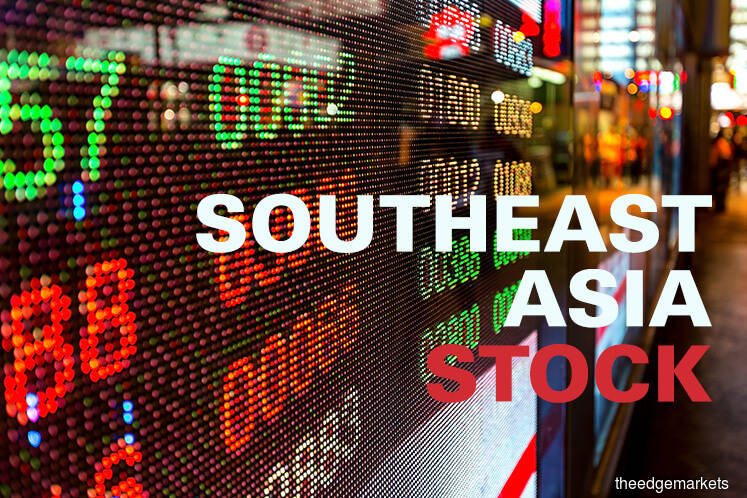 (Oct 9): Most Southeast Asian stock markets edged higher on Monday, with the Philippines headed for a sixth winning session in seven as expectations of a tax overhaul kept investors upbeat.
Philippine shares rose as much as 0.6%, hovering near the record high hit in the previous session, as heavyweights JG Summit Holdings gained 2% and Ayala Land Inc climbed 1.2%.
The country's Senate will discuss on Wednesday the tax reform plan, which is crucial to President Rodrigo Duterte's ambitious plans to foster higher, sustainable growth.
The tax measures, approved by the lower house of Congress in May, seek to expand the value-added tax base, raise excise taxes on fuel and automobiles, and slap levies on sugar-sweetened beverages among other changes.
Investors are also waiting for the Philippines' August trade data due on Tuesday.
"I think the trade data will be positive for say on a weaker peso," said Edgar Lay, junior analyst at AB Capital Securities.
"Our exports are increasing compared to our imports ... so the trade deficit will narrow this month," Lay added.
Meanwhile, broader Asian equities edged higher as the flow of economic news remained generally supportive for global growth with shares in China touching a 21-month peak.
MSCI's broadest index of Asia-Pacific shares outside Japan edged up 0.1%, having rebounded by 1.7% last week.
Among other Southeast Asian share markets, Thailand was headed for its third straight session of gains, with industrials and energy stocks accounting for more than half the gains.
Among the top performers on the index, fuel retailer PTG Energy climbed to a more than six-month high.
Indonesian shares edged 0.3% higher, lifted by the energy and financial sectors. Mining contractor United Tractors Tbk rose as much as 1.6%, leading gains on the benchmark. The index of the country's 45 most liquid stocks fell 0.7%.
Meanwhile, Singapore stocks inched lower, weighed down by industrials. Index heavyweight Jardine Matheson dropped to a near three-week low, while UOL Group fell as much as 1.9%.
Malaysian shares were little changed, with market heavyweight Genting Bhd down 1.7%.
SOUTHEAST ASIAN STOCK MARKETS
Change on day
| | | | |
| --- | --- | --- | --- |
| Market | Current | Previous close | % move |
| Singapore | 3287.28 | 3291.29 | -0.12 |
| Bangkok | 1698.68 | 1695.97 | 0.16 |
| Manila | 8349.88 | 8310.88 | 0.47 |
| Jakarta | 5921.48 | 5905.378 | 0.27 |
| Kuala Lumpur | 1763.98 | 1764 | 0.00 |
| Ho Chi Minh | 808.67 | 807.8 | 0.11 |
Change on year
| | | | |
| --- | --- | --- | --- |
| Market | Current | End 2016 | % move |
| Singapore | 3287.28 | 2880.76 | 14.11 |
| Bangkok | 1698.68 | 1542.94 | 10.09 |
| Manila | 8349.88 | 6840.64 | 22.1 |
| Jakarta | 5921.48 | 5296.711 | 11.80 |
| Kuala Lumpur | 1763.98 | 1641.73 | 7.45 |
| Ho Chi Minh | 808.67 | 664.87 | 21.6 |