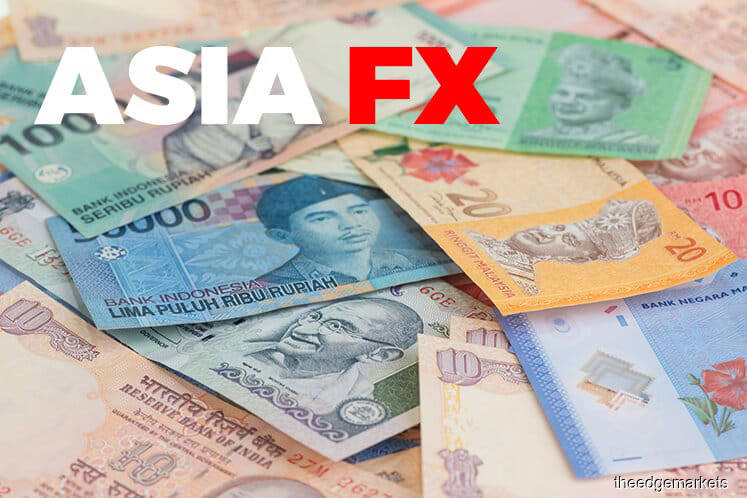 (Oct 16): Most Asian currencies ticked up against the US dollar on Monday, which softened after disappointing US inflation data on Friday undercut the greenback.
The dollar index was little changed, lacking momentum after having posted its first weekly fall last week as underlying inflation remained muted despite a jump in US consumer prices.
"When the dollar dropped on Friday, it wasn't reflected in Asian currencies as a lot of them were not trading at the time. So when the market opened today, we saw a lot of catch-up gains," said Gao Qi, Asia FX Strategist at Scotiabank.
Thailand's baht edged up against the US dollar with the Taiwan dollar following suit.
"Markets have apparently found a happy medium after all the tax reform and US economic data had markets pricing in a quicker pace of Fed normalisation, underpinning the broader USD," Stephen Innes, senior trader at FX broker OANDA said in a note.
The South Korean won also ticked up against the US dollar.
Foreign investors continued to be net sellers of South Korean bonds and domestic stocks in September on persistent worries over the geo-political tensions between North Korea and the United States.
The Indian rupee rose to a near 1-month high against the US dollar. India is set to release inflation data for September later in the day.
India's retail inflation was expected to have edged up in September, driven by higher salaries for government employees as well as the impact of a new national tax, a Reuters poll found.
The Singapore dollar ticked down against the US dollar.
Singapore's central bank held monetary policy steady on Friday but changed a reference to maintaining current settings for an extended period, a shift that analysts said created room for a tightening next year.
The Philippine peso did not trade as markets were closed because of a transport strike.
CHINESE YUAN
The Chinese yuan edged up against the US dollar on Monday.
The PBOC set the official yuan midpoint at 6.5839 against the US dollar, compared to the last close of 6.5805 on Friday.
China's economy is expected to grow 7% in the second half of this year, the central bank governor said, accelerating from the first six months and defying widespread expectations for a slowdown.
China's producer prices rose 6.9% in September from a year earlier, beating market expectations as a year-long construction boom helped boost prices for building materials from steel to copper pipes.
The following table shows rates for Asian currencies against the US dollar as of 0423 GMT.
CURRENCIES VS US DOLLAR
Change on the day at 0423 GMT
| | | | |
| --- | --- | --- | --- |
| Currency | Latest bid | Previous day | % move |
| Japan yen | 111.920 | 111.84 | -0.07 |
| Sing dlr | 1.351 | 1.3490 | -0.16 |
| Taiwan dlr | 30.140 | 30.185 | +0.15 |
| Korean won | 1126.400 | 1128.9 | +0.22 |
| Baht | 33.070 | 33.1 | +0.09 |
| Rupiah | 13478.000 | 13496 | +0.13 |
| Rupee | 64.710 | 64.93 | +0.34 |
| Ringgit | 4.217 | 4.22 | +0.07 |
| Yuan | 6.577 | 6.5805 | +0.06 |
Change so far
| | | | |
| --- | --- | --- | --- |
| Currency | Latest bid | End 2016 | % move |
| Japan yen | 111.920 | 117.07 | +4.60 |
| Sing dlr | 1.351 | 1.4490 | +7.24 |
| Taiwan dlr | 30.140 | 32.279 | +7.10 |
| Korean won | 1126.400 | 1207.70 | +7.22 |
| Baht | 33.070 | 35.80 | +8.26 |
| Rupiah | 13478.000 | 13470 | -0.06 |
| Rupee | 64.710 | 67.92 | +4.96 |
| Ringgit | 4.217 | 4.4845 | +6.34 |
| Yuan | 6.577 | 6.9467 | +5.63 |