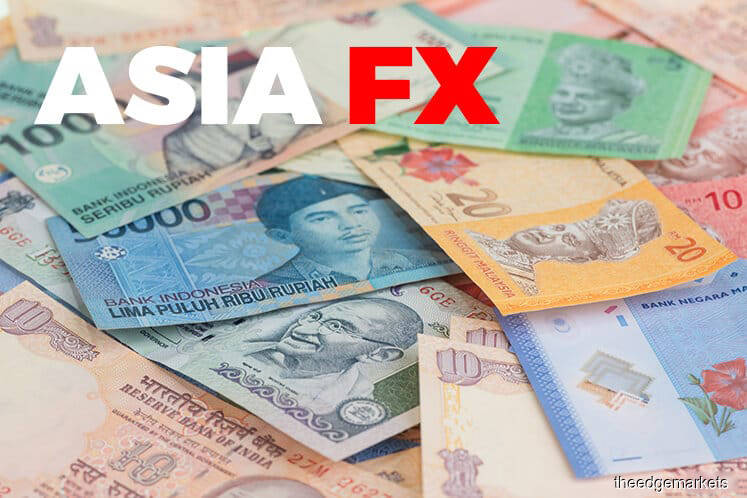 (Oct 25): Most emerging Asian currencies weakened on Wednesday, with the Philippine peso skidding to its lowest in more than 11 years, as the dollar held firm on reports of Republican senators leaning towards John Taylor to be the next Federal Reserve chief.
The dollar index which tracks the greenback against six major currencies rose as much as 0.25% to 94.008.
US President Donald Trump used a luncheon to poll the Republicans on whether they would prefer Stanford University economist John Taylor or current Fed Governor Jerome Powell for the job, and more senators preferred Taylor, a source familiar with the matter said.
Taylor is seen as someone who may put the Fed on a path of faster interest rate increases.
"Given Taylor's credentials for rule-based monetary policy and his well-known aversion towards quantitative easing, his nomination will be perceived to be a hawkish risk, especially for the Fed's balance sheet reduction process," Mizuho Bank said in a note.
The report of support for Taylor benefited the dollar despite worries that three GOP Senators may not back the Republican tax bill.
Stephen Innes of FX broker OANDA said it's "big news" that Republicans in Congress are now scheduled to release a full tax reform bill to the public next Wednesday.
Among Asian currencies, the Philippine peso led losses, weakening as much as 0.43% to 51.76, its lowest against the dollar since July 2006.
The peso is depreciating against the dollar as the appointment of the new Fed chair is getting clearer and the tax reform package might eventually be passed, said Emilio Neri Jr., an economist at the Bank of the Philippine Islands in Manila.
The Indonesian rupiah dipped 0.3% to a three-week low, while the South Korean won lost 0.3% against the dollar.
Bucking the regional trend, the Singapore dollar edged up against its US counterpart, ahead of the release of the city-state's industrial production in September on Thursday.
Industrial production in September is expected to expand for a 14th consecutive month from the year earlier, a Reuters poll showed.
CHINESE YUAN
The yuan weakened as much as 0.18% to 6.645 per dollar on Wednesday, its lowest in more than two weeks, in line with a broadly firmer dollar and weaker daily central bank midpoint.
The currency's near-term trend may also be influenced by policies of China's Communist Party which revealed its new top leadership line-up helmed by President Xi Jinping on Wednesday.
"The markets are still trying to assess the effect of the leadership change on the policies to control financial risks," Chang Wei Liang, FX strategist at Mizuho Bank in Singapore said.
The following table shows rates for Asian currencies against the dollar at 0437 GMT.
CURRENCIES VS US DOLLAR
Change on the day at 0437 GMT
| | | | |
| --- | --- | --- | --- |
| Currency | Latest bid | Previous day | % move |
| Japan yen | 113.91 | 113.89 | -0.02 |
| Sing dlr | 1.3624 | 1.3626 | +0.01 |
| Taiwan dlr | 30.277 | 30.270 | -0.02 |
| Korean won | 1128 | 1127.4 | -0.03 |
| Baht | 33.204 | 33.17 | -0.10 |
| Peso | 51.710 | 51.54 | -0.33 |
| Rupiah | 13572 | 13530 | -0.31 |
| Rupee | 65.14 | 65.06 | -0.13 |
| Ringgit | 4.232 | 4.232 | +0.00 |
| Yuan | 6.641 | 6.6330 | -0.12 |
Change so far in 2017
| | | | |
| --- | --- | --- | --- |
| Currency | Latest bid | End 2016 | % move |
| Japan yen | 113.91 | 117.07 | +2.77 |
| Sing dlr | 1.3624 | 1.4490 | +6.36 |
| Taiwan dlr | 30.277 | 32.279 | +6.61 |
| Korean won | 1128 | 1207.70 | +7.09 |
| Baht | 33.204 | 35.80 | +7.82 |
| Peso | 51.710 | 49.72 | -3.85 |
| Rupiah | 13572 | 13470 | -0.75 |
| Rupee | 65.138 | 67.92 | +4.27 |
| Ringgit | 4.232 | 4.4845 | +5.97 |
| Yuan | 6.641 | 6.9467 | +4.60 |