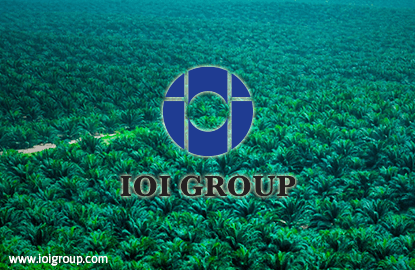 This article first appeared in
 The Edge Financial Daily,
 on August 12, 2016.
KUALA LUMPUR: International rating agency Moody's Investors Service Inc has maintained IOI Corp Bhd's issuer rating at Baa2, and reverted its outlook to "negative" following the lifting of suspension by the Roundtable on Sustainable Palm Oil (RSPO) on certifying IOI's palm oil on Monday.
Moody's previously placed the plantation giant under review for a downgrade in May, following the certification suspension and subsequent announcements by several of its customers to end ties with the company.
In a statement yesterday, Moody's said IOI Investment (L) Bhd's senior unsecured bond rating was also confirmed at Baa2, with its senior unsecured medium-term note programme rating confirmed at the provisional (P)Baa2. The unsecured bank credit facility of IOI Ventures (L) Bhd was also kept at Baa2.
Still, Moody's said the "negative" outlook reflected the risks of another round of suspension, and the group's key customers pulling out from buying its palm oil products, especially those that offtake downstream products, which would adversely affect IOI Corp's revenue and profitability.
Further, IOI Corp is highly leveraged. Its gross debt of around RM7.5 billion as at June 30, 2016 brought its ratio of debt-to-earnings before interest, taxes, depreciation and amortisation to roughly four times. "Such a level is high for its Baa2 rating, as also reflected by the 'negative' rating outlook," said Moody's.
Given the "negative" outlook, Moody's said IOI Corp's ratings are unlikely to be upgraded.
However, the outlook could be upgraded to "stable" if it implements an action plan that satisfies the RSPO's requirements, and demonstrates stability in its downstream business with no loss of key customers. The outlook also hinges on its ability to reduce its debt leverage and maintain prudent dividend distributions.
Moody's expects IOI Corp will lower its capital expenditures given its focus on complying with the RSPO's requirements, which will leave it with more flexibility to use its cash resources to deleverage to a level appropriate for its ratings.
As at March 31, 2016, IOI Corp's had cash and bank balances of RM632 million, deposits with financial institutions of RM438 million, and short-term funds invested in highly liquid money market instruments of RM866 million, said Moody's.
The company also enjoyed undrawn bank facilities of RM4.6 billion as of June 30, 2015, said Moody's. Such resources are more than sufficient to cover its maturing short-term debt, which Moody's estimated at RM2.2 billion over the next 12 months.
Meanwhile, Moody's said the prior suspension will not affect IOI Corp's operating profit for the financial year ended June 30, 2016 (FY16), as it should benefit from higher average crude palm oil prices in the second half of FY16, and because it still had certified inventory before the suspension.