This article first appeared in The Edge Financial Daily, on August 8, 2018.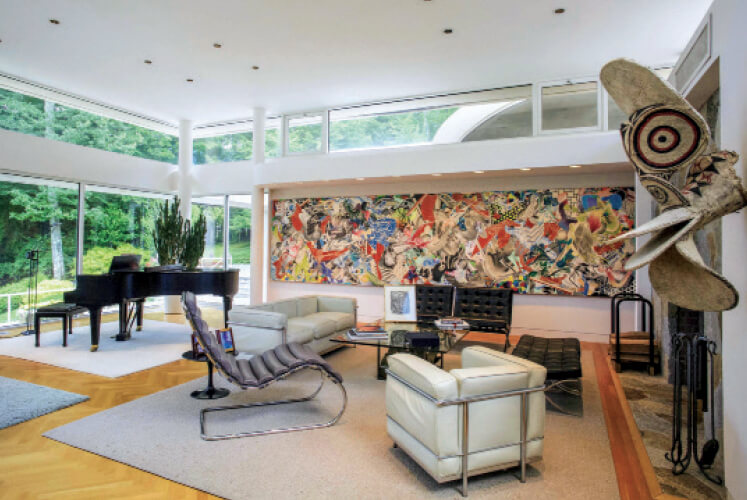 The interior is light-filled, with enough wall space to hang massive art pieces.
William Rubin was known for his art collection, less so for his Westchester estate. Maybe that will change
William Rubin (1927-2006), Museum of Modern Art's (MoMA) prestigious painting and sculpture department head in the 1970s and 1980s, is largely credited with transforming the institution's collection from a treasure into a powerhouse. By the mid-1990s, he became the department's director emeritus and was busy working on what would be his last major show, Picasso and Portraiture, opened in April 1996 with more than 220 artworks.
Rubin was based in New York but spent much of the year prior to the show working from his condominium in Florida, a period that coincided with a particularly unpleasant El Niño weather phenomenon. "He decided that there was more sunshine in New York than Florida," said his wife, curator and art adviser Phyllis Hattis. "So we started to look for a place nearer to the city."
Soon after, they discovered a house in Pound Ridge, New York, designed by architect Vuko Tashkovich who had started out in IM Pei's office. When they bought the house for what Hattis said was "above US$4 million", it was not quite finished, leaving the couple free to do the interiors and landscaping as they saw fit. "Aesthetically, on the interior, it was not as articulated as we wanted, and how we wanted it," Hattis said.
After some light renovation, the couple moved in and used it as a vacation home until 2006, when Rubin died at age 78. Hattis continued using the house for the next decade, but now she is putting it on the market for US$6.5 million (RM26.52 million), listing it with Neumann Real Estate, an affiliate of Christie's International Real Estate.
The house and the art
The home, with five bedrooms and six baths across 9,358 sq ft, on a 1.42ha site overlooking Mallard Lake, is about a 50-minute drive north from New York. After purchasing the house, the couple first adjusted the walls "and certainly changed around the lighting", said Hattis, to "adapt the spaces, so we could put art in them". Rubin, known for his own art collection, and Hattis began to fill the house with what she said was a combination of tribal and modern art. Massive paintings by Frank Stella still hang on the walls; at one point, said Hattis, the house had works by Hans Arp, Alexander Calder and Donald Sultan.
It also contained works by such Washington Color School painters as Paul Reed and Thomas Downing. There were even watercolours by Ernst Beyeler, a renowned art dealer who, Hattis said, would do his own paintings when he came to visit them at their house in southern France. "He was a good friend of both of ours," she said. "He leaned on Bill, and Bill leaned on him."
A US$50,000 tree
Crucially, Hattis said, Rubin spent as much time working on the house's landscaping as he did its interior. "We embraced a home that is exciting from the indoors, looking out, and the outdoors, looking in," she said, "and then we enhanced both of those perspectives." The landscaping is such that "every view from the house has a special tree and a rare combination of foliage and greens".
Rubin, she said, "would hunt for trees like he would hunt for rare works of art; he had the eye of a connoisseur." A particular Japanese Maple, she said, "had the most exquisite trunk and cost US$50,000." Most people, Hattis said, "don't really spend that much on a tree, but he had to have things that were so beautiful and rare that he reached for it. He loved to create paradises." — Bloomberg