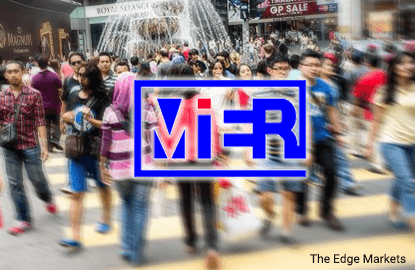 This article first appeared in The Edge Financial Daily, on October 15, 2015.
KUALA LUMPUR: The setting up of the intergovernmental Council of Palm Oil Producing Countries (CPOPC) to regulate the edible oil's production, stocks, and market prices is a step in the right direction, according to the Malaysian Institute of Economic Research (Mier).
This is because there is an urgency for both Malaysia and Indonesia to introduce a price stabilising mechanism for crude palm oil (CPO), said the research institution's deputy director Dr Ahmad Fauzi Puasa in an interview with The Edge Financial Daily last week.
"Malaysia and Indonesia need to have a round-table talk to figure out a way to implement this price stabilising mechanism, before it (CPO price) gets even more volatile," Ahmad Fauzi said.
Earlier this month, both countries agreed to spearhead the establishment of the CPOPC. The idea was formally agreed on between Prime Minister Datuk Seri Najib Razak and Indonesian President Joko Widodo during a meeting at the Presidential Palace in Bogor on Sunday. "The formation of the CPOPC is the biggest achievement in the bilateral relations between Malaysia and Indonesia, and will bring greater benefit to the wider palm oil industry," Najib said on his Twitter account on Tuesday.
The two nations collectively account for 85% of global palm oil production.
Ahmad Fauzi said Malaysia's CPO exports are currently highly dependent on the purchasing power of importers such as China, India, and countries in the European Union (EU) and the Middle East. "Yes, the drought season in India is definitely going to increase the CPO demand, but don't forget that China's economy is slowing down as well," he said.
Ahmad Fauzi said the factors that affect CPO prices are making it more difficult to forecast its outlook. "We might think that the weakening ringgit is going to stimulate CPO exports, but the fall in crude oil prices has also affected demand for biofuel (which uses CPO) and dampened some major oil exporting countries' purchasing power," he said. Nevertheless, Ahmad Fauzi said it is still worth investing in the palm oil industry, particularly for existing players.
"Spend during the bad times, and harvest when prices are attractive. This is the time when you can get good valuation for acquisition, and negotiate good quotation for mill upgrading works," he said, adding that the oversupply situation would not last long.