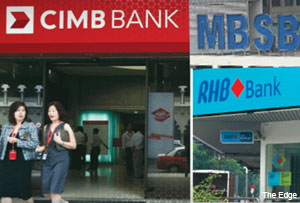 KUALA LUMPUR (Oct 9): Discussions on the mega bank merger between CIMB Group Holdings Bhd, RHB Capital Bhd (RHBCap) and Malaysia Building Society Bhd (MBSB) has been concluded, with a share swap between CIMB and RHBCap, along with a merger between CIMB Islamic, RHB Islamic and MBSB to form a mega-Islamic Bank.
"The merger will see a share swap between CIMB and RHBCap, at an exchange ratio of 1.38 (1 RHBCap share for 1.38 CIMB shares).
"This is based on a benchmark price of RM7.27 per CIMB share and RM10.03 per RHBCap share; translating into price-to-book ratios as at June 30, 2014 of 1.7 times and 1.44 times for CIMB and RHBCap respectively," said the banks in a joint statement today.
After the merger, CIMB shareholders will own 70% of the merged CIMB-RHB Group, and RHBCap shareholders the remaining 30%.
Meanwhile, CIMB Islamic, RHB Islamic and MBSB will merge to form a mega-Islamic bank.
"This will be done at a price of RM2.82 per MBSB share, and MBSB shareholders will have the option of receiving cash or CIMB Islamic shares, as consideration.
"It is envisaged that the newly-created mega-Islamic bank will remain a subsidiary of the merged CIMB-RHB, in partnership with ex-MBSB and/or new strategic shareholders," said the joint statement.
The parties will now move towards the due diligence process, in view of signing a definitive Sale and Purchase Agreements (SPA) in early 2015.
"Following the SPA, consent of other regulators and shareholders will be sought. The deal is expected to complete in mid-2015," said the banks in the statement.
An application has also been made to Bank Negara to seek approval for the proposed three-way merger, which will see the merged entity becoming a major ASEAN financial powerhouse and the creation of a mega-Islamic bank.
"We are extremely pleased to have been able to reach this stage in the process. This exercise will cement CIMB Group's position amongst the top banks in ASEAN, and bring a host of value creation opportunities for all our stakeholders.
"We are excited that we can now move forward and work towards seeking the necessary approvals to effect this merger," said Tengku Zafrul Tengku Abdul Aziz, Acting Group Chief Executive, CIMB Group.
Shares of the three financial institutions have been suspended since Oct 9, pending release of the announcement.
Shares of CIMB were last traded at RM6.98, prior to the suspension on Wednesday. RHBCap and MBSB were traded at RM8.70 and RM2.37 respectively.