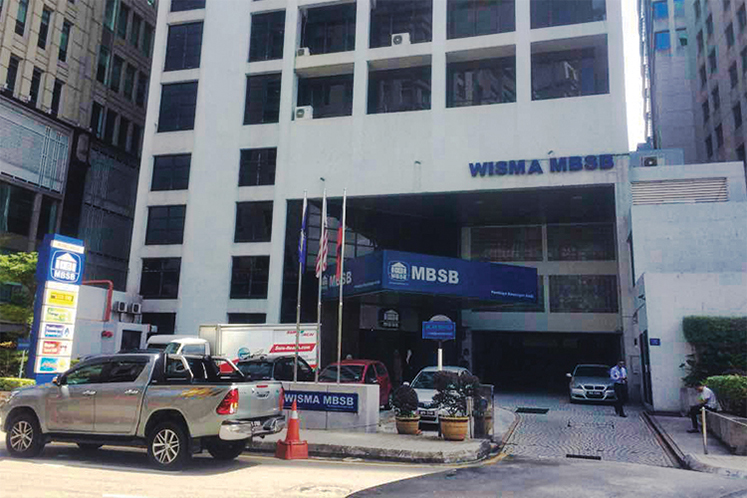 KUALA LUMPUR (July 30): Malaysia Building Society Bhd (MBSB) saw its net profit fall 5.9% to RM85.69 million in the second quarter ended June 30, 2018 (2QFY18) from RM91.08 million a year ago, on lower gross loans and financing for 2QFY18.
This resulted in a lower earnings per share of 1.37 sen for 2QFY18 compared with 1.57 sen for 2QFY17.
Quarterly revenue was also down 2.4% to RM794.14 million, from RM813.42 million in 2QFY17, on lower income from financing activities due to cessation of conventional businesses since
1QFY18.
In a filing with Bursa Malaysia today, MBSB said its gross loans and financing for 2QFY18 declined 1.2% year-on-year, mainly due to the proposed sale of personal financing, property financing and mortgage in 4QFY18 amounting to RM1.51 billion.
The decline was offset by increased corporate loans and financing and corporate retail mix to 25:75 from 21:79 in 2QFY17. The increase was also due to consolidation of the existing portfolio of MBSB Bank.
Meanwhile, financing/loan loss coverage moderated at 128.3% in 2QFY18 compared with 113.1% in 2QFY17, with net impaired ratio at 1.9%.
MBSB's cost to income ratio of 28.6% also regressed compared with 21.4% recorded in 2QFY17, due to higher operational expenses such as increase in salaries, as well as integration costs and system enhancements.
Nevertheless, the figure continuously remained below the industry's average of 49.8%, it added.
For the cumulative six months (1HFY18), the group's net profit doubled to RM402.48 million from RM192.41 million a year ago, while revenue fell slightly to RM1.61 billion from RM1.62 billion in 1HFY17.
On prospects, MBSB said its focus will be to continue the expansion of the corporate business prior to the acquisition of MBSB Bank Bhd, which was completed on Feb 7, to reach the desired corporate retail portfolio mix.
"As a new Islamic banking group in the banking sector, the
group is looking forward to expand its products and services which include trade finance, wealth management and internet and mobile banking to cater to various segments of our customers and depositors.
"Barring any unforeseen circumstances, the group's prospects for the financial year ending Dec 31, 2018 are expected to be satisfactory.
"MBSB Bank will continue to expand its new banking products which include trade finance and wealth management while achieving required capabilities such as internet and mobile banking for us to increase our customer reach," said MBSB group president and chief executive officer Datuk Seri Ahmad Zaini Othman in a separate statement.
MBSB shares closed unchanged at RM1.15 today, with 15.74 million shares traded, bringing it a market capitalisation of RM7.07 billion.