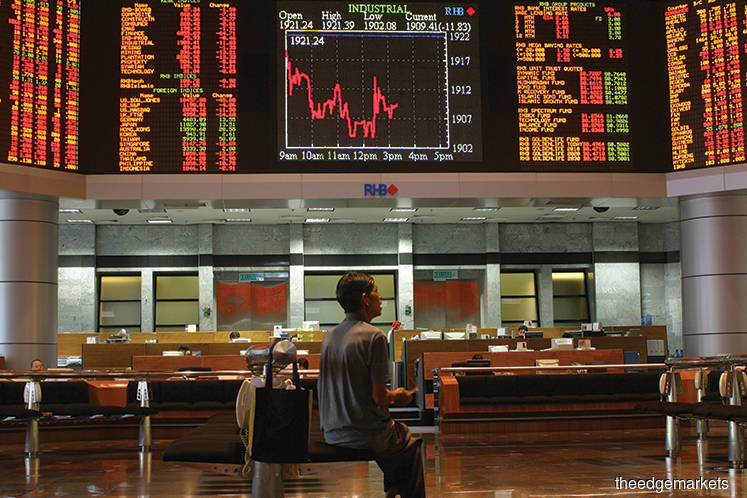 KUALA LUMPUR (Feb 13): The Malaysian stock market is expected to continue to be volatile running up to the 14th General Election (GE14), said Maybank Investment Bank Bhd (Maybank IB).
Post GE14, the market will be back to being driven by fundamentals which are well supported by gross domestic product (GDP) and corporate growth expectations, it added.
"The Malaysian stock market is well supported by sound domestic fundamentals despite the recent sell down stoked by US Dow Jones' correction," the investment bank said in a statement issued following its first-half 2018 (1H18) market outlook session on Saturday.
The Dow Jones plunged more than 1,000 points last Thursday in another volatile day for the stock market. It was the second-worst single-day point drop in history, beaten only by the record set after Feb 5's 1,175-point drop. It closed 410.37 points or 1.7% higher at 24,601.27 on Monday.
For 1H18, Maybank IB expects fiscal stimulus pre-GE14 and Bank Negara Malaysia's overnight policy rate (OPR) hike to be the two main thematics driving investment.
"For a longer term play, the focus is on three other thematics, namely multi-year orderbook replenishment in infrastructure construction; tourism; and Look East, Malaysia," it said.
The investment bank noted potential beneficiaries of fiscal stimulus pre-GE14 will be those in the consumer-based, as fiscal stimulus to boost disposal income is expected to continue and will be front loaded in 1H18. The OPR hike, on the other hand, have positive impact on banks.
Maybank IB said it favours proven contractors who have delivered over the years, and have high potential of winning the upcoming mega works. These include Gamuda Bhd, IJM Corp Bhd and Sunway Construction Bhd and Cahya Mata Sarawak Bhd.
"The tourism thematic is driven by increased in higher quality/higher-spend tourists and Visit Malaysia Year 2020, which is expected to give a boost to tourism as was the case in the previous two in 2007 and 2014.
"In 2007 and 2014, tourist arrivals surged 19% year-on-year (y-o-y) and 7% y-o-y respectively, while tourism receipts grew 27% y-o-y and 10% y-o-y respectively," said the investment bank.
For the Look East Malaysia theme, Maybank IB sees latent potential in Sabah, Sarawak and the east coast of the peninsula. It expects the major back-bone infrastructure currently under construction, namely Pan Borneo Sarawak Highway, Pan Borneo Sabah Highway, East Cost Rail Link, to lift economic activities.
"For Sarawak, the Development Bank of Sarawak and Petroleum Sarawak Bhd and for Sabah, the Sabah International Petroleum Sdn Bhd are also
catalysts," it noted.
Long term potential beneficiaries of this thematic are Cahya Mata Sarawak, Hock Seng Lee Bhd and KKB Engineering Bhd, Bintulu Port Bhd, Suria Capital Bhd and IJM Corp.
Maybank IB has an "overweight" stance on the construction, automotive and oil  and gas sectors this year.
Its top stock picks for 2018 are IOI Corp Bhd, Hong Leong Financial Group Bhd, Gamuda, Yinson Holdings Bhd, Genting Bhd, Cahya Mata Sarawak, Bermaz Auto Bhd and YTL Hospitality REIT.
It also expects Malaysia's macroeconomic backdrop to remain positive in 2018, with another year of above 5% real GDP growth, at 5.3%, continuing the momentum from 2017. This is underpinned by sustained consumer spending growth momentum, stronger growth in investments with existing and rollout of new major infrastructure and investment projects, and the rebound in Government consumption expenditure.
It remains optimistic on the ringgit and has recently revised its end-2018 forecast of 3.90 to 3.65 against the US dollar.
Nevertheless, Maybank IB highlighted two key market risk factors that could derail sentiment, namely geopolitics risks and financial imbalances and instability, including a faster-than-expected step up in US Federal Reserve's monetary policy normalisation.
Held annually for its brokerage retail clients, the 1H18 market outlook roadshow kicked off in Ipoh on Jan 13 and went on to various locations across the country, namely Taiping, Kota Kinabalu, Kota Baru, Kuching, Penang, Kuantan, Johor Baru and Miri. The roadshow ended on Saturday in Kuala Lumpur.