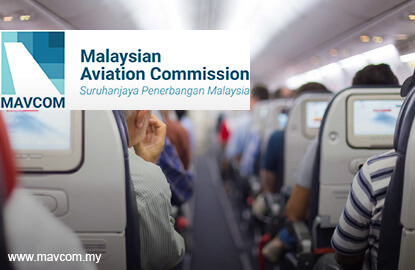 KUALA LUMPUR (July 25): The Malaysian Aviation Commission (Mavcom) today announced that it is investigating Suasa Airlines Sdn Bhd and is lodging a police report against Monspace Sky Airlines.
Both have not obtained approvals to operate a commercial air service operation.
In a statement today, Mavcom advised consumers to refrain from making any flight arrangements with Suasa Airlines and Monspace Sky Airlines to ensure that they do not face any inconvenience in their travels.
As of today, Mavcom said Suasa Airlines does not possess a valid air service permit (ASP) and therefore, cannot perform a commercial air service operation.
"In order for an entity to operate a commercial airline business, it is required to hold an ASP and an Air Operator Certificate (AOC)," the commission said. It added that matters relating to the issuance, suspension and revocation of an Air Service Licence (ASL) and ASP come within the scope of its responsibility.
Mavcom also said it has rejected Suasa Airlines' application to operate a commercial flight from Kuala Lumpur to Langkawi on July 22, 2016.
"However, on the same day, Suasa Airlines continued to operate this flight as a 'demonstration flight' which is now being investigated by Mavcom," it said.
Meanwhile, Mavcom said it is lodging a police report against Monspace Sky Airlines for misleading the public.
According to Monspace Sky Airlines website, it is operated by Suasa Airlines.
Based on evidence gathered to date, Mavcom said it had found out that Monspace Sky Airlines, which also does not hold an ASL or ASP, had marketed themselves as an airline.
Citing Section 36 of the Malaysian Aviation Commission Act 2015 (Act 771), Mavcom stressed the importance of complying with industry laws and regulations, which is a fundamental requirement for participation in the industry.