This article first appeared in The Edge Financial Daily, on September 6, 2018.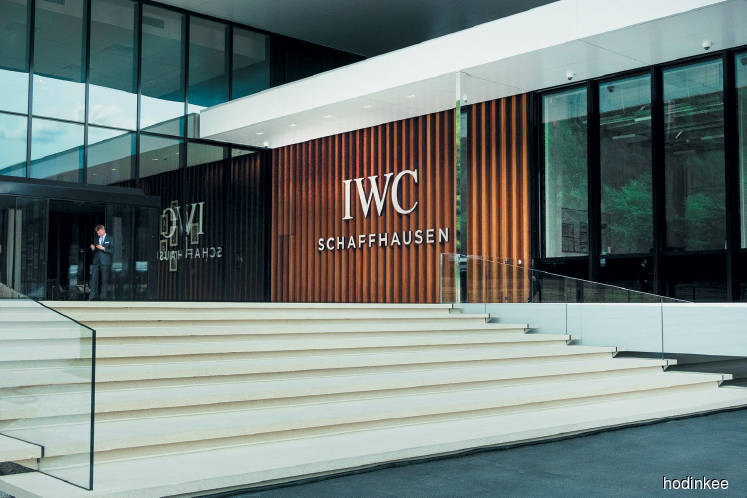 With an architect CEO, you can expect IWC's new factory to be something awesome
 
This week, I travelled to Schaffhausen, in the heart of German-speaking Switzerland, for the opening of the IWC Manufakurzentrum, the brand's massive new factory. After 21 months of construction and six months of moving teams into place, the beautiful building was finally ready to welcome its first visitors. On one level, this might be a factory, but on another level it is a statement from IWC about how it sees itself and where it wants to go in the future.
According to chief executive officer (CEO) Chris Grainger, the idea to build a new manufacture on the outskirts of Schaffhausen goes back six or seven years. Sandwiched between the Rhine river and the old town, IWC's headquarters presented limited options for growth and so the most logical solution was to find an open field that would give the brand plenty of space for something today while also offering room for growth down the line. Additionally, Grainger sought to solve some of the inefficiencies faced by an integrated manufacture, creating a factory that functioned more efficiently, with better flow through the various stages of production. This is the first time IWC has built a new facility from whole cloth since FA Jones built the original manufacture in 1874, and internally it is seen as the brand's foundation for the next century or more.
Two architecture firms were contracted to work on the new Manufakturzentrum, ATP Architects, and RMA Architects, with the former specialising in industrial spaces and production facilities. However, Grainger himself is a trained architect and since the early stages of the process he served as the lead designer, coming up with everything from the basic aesthetic concept of the building to the individual finishes in various spaces. I do not know of any other watch company that can boast of anything like this, and the results really speak for themselves.
Grainger opted to design the manufacture after the great exposition pavilions created by Modernist architects in the first half of the 20th century. These low-slung buildings, with their cantilevered roofs, slim columns, ample use of glass, and open plans, were used to show off the very best of a country's art and industry — Grainger thought this a fitting metaphor for IWC's new factory.
"It's a very obvious and almost frowned upon thing to say among architects, but I was always impressed by the approach of Mies [van der Rohe], and not because of the design statement part of what he did, but because he was a classically trained architect who was a Modernist," says Grainger. "He was looking forward without negating the existence of hundreds and hundreds of year of classical proportion and form. This is something that is really close to my heart. I want to be progressive and I want to be looking forward, but without forgetting the great contributions of the last hundreds of years — and I think this suits our industry perfect ... we're not history-less here."
Beyond being beautiful, the Manufakturzentrum is still very much a working factory — and a large one at that. There is more than 145,000 sq ft of working space fit into the 456ft by 203ft (139m x 62m) footprint. Of that, nearly 24,000 sq ft are clean room space where movements can be assembled, cases can be tested, and quality control can be exercised. The building represents a 42 million Swiss francs investment by IWC and it sure looks the part.
So what did IWC do with the hundreds of employees and dozens of production processes before the Manufakturzentrum, you might ask? They actually had to rent out industrial space in nearby Neuhausen to use as case-making facilities, since they had long outgrown the original headquarters in central Schaffhausen. In case you do not know, IWC makes all of its steel and titanium cases in-house from raw bars of metal, and these operations take up a massive amount of space. The Manufakturzentrum is now a site of movement component production, movement assembly (for various in-house caliber families), case production and assembly, quality control, and equipment engineering, as well as being used as a logistics centre, IT centre, and infrastructure hub.
One thing that was important to Grainger from the beginning with this project was creating a warm, comfortable place for his team to work. The pavilion-inspired architecture looks great in the hilly Swiss landscape, but it also provides optimal lighting conditions for watchmaking. "In some of those glass box manufacturing sites, you want to sit in there with your sunglasses on and it gets incredibly hot," says Grainger. "They're not comfortable spaces to work in." The solution was the cantilevered roofs, which keep the sunlight from becoming too bright through the large windows, meaning people can keep the shades up all day, enjoying both natural light to work by and views of the lush greenery surrounding the factory.
Clients and visitors are also catered to throughout the building's design. Grainger thinks that the Manufakturzentrum can serve as a powerful gateway for existing customers and potential customers to experience what IWC is all about. "We went to every German car manufacturer we could get inside, from Porsche to Mercedes to Volkswagen, to look at visitor experience integration. They have done a great job letting you see every step of the process," says Grainger. As a result, there are paths that lead through the factory, allowing you to see nearly every stage of a watch's construction, from design through production and then on to assembly and final quality control. The ultimate goal here is to create a new way for IWC clients to appreciate their watches — and hopefully a way to draw would-be clients in.
"When you start from the assumption that we sell functionally inessential products — nobody needs our products to tell the time precisely — you realise we create emotional objects that become a part of client identity and create joy for clients when they look at what they carry on their wrist," says Grainger. "And that's more than a case and a dial: It's stories and history ... to see the engineering and the craftsmanship, here in the place where the company was founded, gives the client a totally different appreciation for the product."
It is easy to think of the Manufakturzentrum almost as a meta-product from IWC: It is the factory where IWC watches are made, and it has been crafted with the same level of thoughtfulness and the same basic principles as an IWC watch. From the basic idea of modelling the factory on Modernist pavilions to the way the building integrates with the lush green site (the chrome columns reflect the landscape at certain angles, sort of blurring the boundary between building and landscape) to the balancing of customer experience and manufacturing efficiency, it seems like the perfect model for a truly 21st-century watch manufacture. — Bloomberg