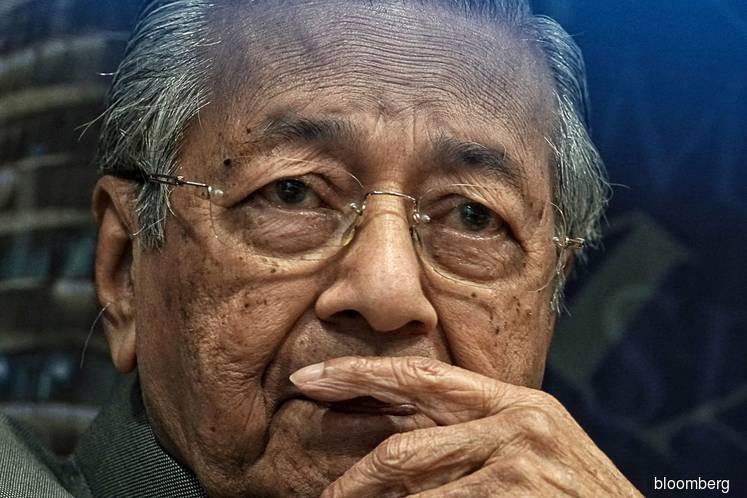 (Dec 5): Malaysia's tiff with neighboring Singapore over air space and port waters is escalating, a sign of renewed bickering not seen in years.
First came Malaysia saying on Tuesday it wants to retake airspace in Johor from neighboring Singapore in stages beginning end-2019. Singapore's transport ministry responded by saying that both countries had an agreement dating back to 1974 that gave Singapore the right to provide air traffic services in the airspace above southern Johor.
The very same day brought a Singapore protest over Malaysia's move to extend the limits of a port in Johor, the state bordering Singapore. The unilateral action encroaches into Singapore's territorial waters, Singapore's Ministry of Transport said.
On Wednesday, Malaysian Prime Minister Mahathir Mohamad fired back, saying moves to extend the limits of the Johor port did not encroach into Singapore's territorial waters. Malaysia "can measure" to see whether this is true or not, Mahathir told reporters, adding that Malaysia remained within its own waters. His transport minister Anthony Loke Siew Fook, addressing the same issue, urged Singapore to stop "harassing" vessels in Malaysian waters.
'Provocative Intrusions'
The latest salvo came from Singapore late Wednesday, with its foreign ministry saying Malaysian government vessels have made a series of "provocative intrusions" into Singapore territorial waters despite the nation's diplomatic protests. Foreign Affairs Minister Vivian Balakrishnan stressed in a phone call with his Malaysian counterpart the need for Malaysia to cease these intrusions to comply with international law, according to the statement.
"The latest statement does suggest that Singapore is not taking this lightly at all," said Eugene Tan, a law professor at Singapore Management University and former nominated member of parliament. "This could be an indication that if there are further intrusions, Singapore would take even more assertive actions that could amount to arresting these vessels."
Singapore's transport ministry has also issued documents — including an extract of meeting minutes — on what transpired between authorities on both sides regarding the airspace issues, according to a local media report.
The two nations, which were once part of the same country, had a fractious relationship during Mahathir's first stint in power from 1981 to 2003. The bluntly-spoken Mahathir famously sparred with then-Singapore leader Lee Kuan Yew to the point of accusing him of going "through the formalities" of being democratic. Mahathir is now back in power after a shock election victory in May.
Malaysia's Right
It is within Malaysia's right to deploy its enforcement and relevant competent agencies in its territorial sea, Transport Minister Loke said in a statement Wednesday. This practice is fully consistent with international law and Malaysian Maritime Enforcement Agency and the Marine Department of Malaysia have not intruded into any part of Singapore, he said.
Loke urged Singapore to prevent its enforcement agencies from further intruding into Malaysia's territorial sea. "These actions by Singapore amount to serious violations of Malaysia's sovereignty and international law and are unconducive to good bilateral relations, cause confusion for the international shipping community and lead to increased navigational and safety risks to all parties," he said.
Malaysia is prepared to engage with Singapore toward an "amicable resolution" in this matter, Loke said.
Separately, Loke said the government wants to discuss a counter proposal with the Civil Aviation Authority of Singapore concerning a flight path dispute in Johor. "Our position is loud and clear, the instrument landing system landing approach toward Pasir Gudang is a no-no to us," he said.
Loke told Parliament Tuesday that Malaysia had sent a protest note over Singapore's flight path from the Seletar airport. He said this was done to protect both the sovereignty of Malaysia's airspace and development in Pasir Gudang, Johor.
Under Mahathir and Lee, the countries bickered frequently, with disputes ranging from the price Singapore paid for Malaysia's water — in 2003 Singapore took out full-page advertisements in regional newspapers highlighting its case in the spat — to disputed territory in the form of tiny islands. The use of Malaysian-owned railway land in Singapore and Mahathir's unsuccessful push for a new bridge between the countries also sparked off bilateral spats.