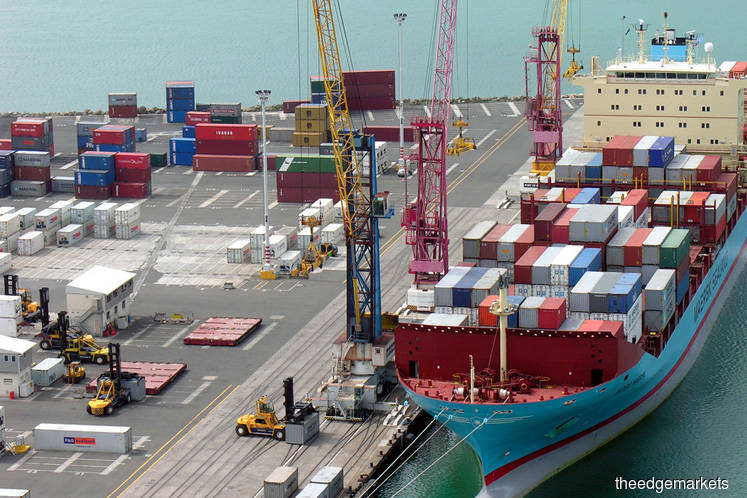 KUALA LUMPUR (Feb 7): Malaysia's exports rose 4.7% to RM79.3 billion in December from a year earlier, on higher export volume of electrical and electronic (E&E) goods, crude oil and liquefied natural gas, the Statistics Department said.
The rise in exports was sharply lower than the 14.4% growth seen in November.
The department said E&E products, which contributed 36.2% of total exports, rose 6.2% to RM28.7 billion in December. Crude oil and liquefied natural gas climbed 6.9% and 4.8% respectively.
"Palm oil and palm oil-based products (8.0% of total exports) recorded a decline of RM24.7 million (-0.4%) to RM6.4 billion. Exports of palm oil, the major commodity in this group of products, dropped RM400.2 million or 10.9% due to the decrease in average unit value (-11.3%) although export volume grew 0.4%," the department said in a statement.
Imports in December expanded 7.9% year-on-year to RM72.1 billion.
Total trade during the month grew 6.2% year-on-year to RM151.4 billion. The trade surplus for December was RM7.3 billion, a decrease of RM1.7 billion (-19.1%) from a year earlier.
For 2017 as a whole, the department said total trade surged by 19.4% to RM1.774 trillion, compared with RM1.486 trillion in 2016. This is the highest growth rate in 13 years, said the Ministry of International Trade and Industry.
"Exports grew significantly by 18.9%, the strongest growth since 2005, to reach a new high of RM935.39 billion. Imports also recorded the highest value of RM838.14 billion, expanding by 19.9%," it added.
The trade surplus for 2017 widened by 10.3% to RM97.25 billion, the largest surplus registered since 2012. This was the 20th consecutive year of trade surplus since 1998, the ministry said.