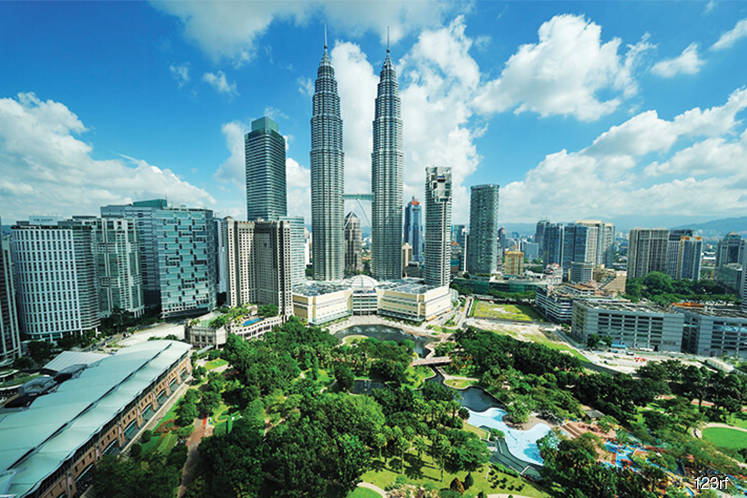 KUALA LUMPUR (Feb 15): AmBank Group Research said the Malaysian economy may have peaked and is expected to grow at a moderate pace in 2018 partly due to the high base despite being supported by investment, major infrastructure projects and exports.
In a note today, AmBank group chief economist and head of research Anthony Dass maintained his forecast of 5.5% gross domestic product (GDP) for 2018.
"In line with our expectation, the 4Q2017 GDP print stood at 5.9% year-on-year (y/y) from 6.2% y/y in 3Q2017, beating market consensus of 5.7%.
"This brings the 2017's full-year GDP of 5.9% y/y to fall in-line with our expectation from 4.2% in 2016.
"The economy in 4Q2017 was driven by the surge in government spending of 6.9% y/y from 3.9% and favourable private consumption growth of 7.0% y/y from 7.2% in 3Q2017," he said.
Dass said the overall performance from the supply side of the growth model was supportive, with firm growth in agriculture underpinned by higher production of palm oil, which negates the dip in the mining sector.
Meanwhile, construction, manufacturing and services grew at a steady pace.
"Following the rate hike in the month prior, Bank Negara Malaysia is expecting inflationary pressure to ease in 2018, underpinned by stronger ringgit which will mitigate import cost.
"Our base case for the USD/ringgit is 3.88-90 at end-period with the average hovering around 3.92–3.94, there is room for the ringgit to muscle through our base case fair value to reach 3.78-80 with an average of 3.80–3.82, which is our best case.
"Much will be supported by both the global and domestic activities," he said.
Dass said he believed another rate hike in 2018 was still on the table if the economic data continued to beat expectations.
"At the current level of the OPR, the stance of monetary policy remains accommodative. We believe the normalisation rate is around 3.50%," he said.