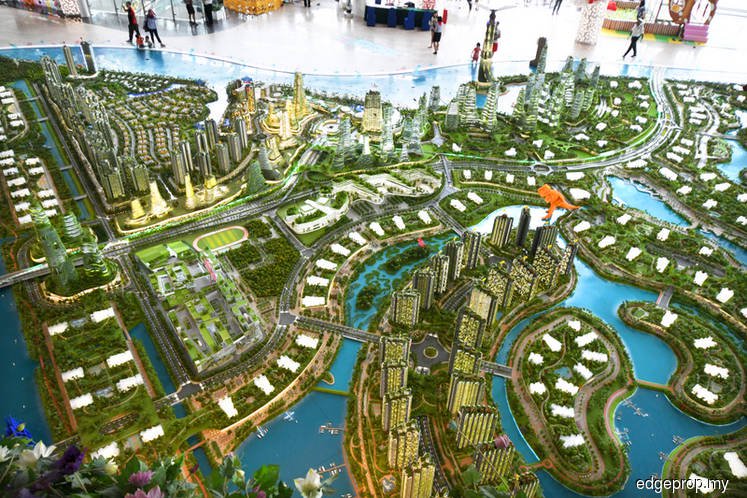 KUALA LUMPUR (Aug 27): Overseas buyers will no longer be allowed to purchase homes in the US$100 billion Forest City development in Johor, Prime Minister Tun Dr Mahathir Mohamad said today.
"One thing is certain, the city that is going to be built cannot be sold to foreigners," he told a press conference after the opening of the Cities 4.0 + Business 4.0 conference here today.
"We are not going to give visas for people to come and live here. Our objection (towards this project) is because it was built for foreigners, not built for Malaysians.
"Most Malaysians are unable to buy these (apartments)," Dr Mahathir added.
The property and lifestyle development is being developed by Country Garden Pacificview Sdn Bhd, a joint venture between Hong Kong-based Country Garden Group and Esplanade Danga 88 Sdn Bhd, an associate company of state-owned Kumpulan Prasarana Rakyat Johor.
The 14 sq km development rests on four artificial islands off Johor and has a gross development value of RM444 billion, including an American international school that has just been launched and a golf course that is expected to be completed later this year.
Mainland Chinese reportedly constitute 70% of Forest City buyers.
Forest City, which had sold as many as 16,000 units as at May last year, has seen sales of its properties hit when capital controls imposed by Beijing dissuaded Chinese buyers.
Country Garden also has other projects in Malaysia including Country Garden Diamond City in Semenyih, Selangor; Country Garden Central Park in Tampoi and Country Garden Danga Bay, both in Johor Baru.