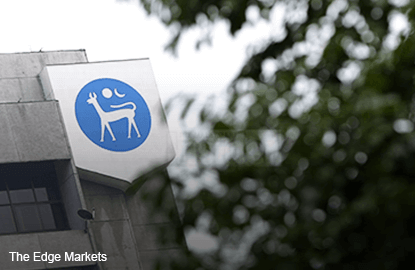 KUALA LUMPUR (Jan 17): Malaysia's central bank is expected to keep its benchmark rate steady on Thursday, as policymakers work to stabilise a fragile ringgit currency and support an economy that is just starting to pull ahead after well over a year of slowing growth.
The ringgit tumbled to almost a 20-year low of 4.4980 on Jan 4, as capital was sucked out of emerging countries on bets U.S. interest rates will rise faster to match an expected boost to fiscal spending under incoming U.S. President Donald Trump.
All 11 economists polled by Reuters forecast BNM to hold its key rate at 3.00% on Thursday, as a cut to follow its July easing would expose the ringgit to more pressure.
HSBC analysts said in a research note the weak ringgit had tied the central bank's hands, even if an "accomodative" monetary policy could help bolster the economy.
"But the likelihood of the OPR being kept on hold re-opens the possibility of further cuts in the statutory reserve ratio (SRR) in the coming quarters, particularly if interbank rates start to rise again," HSBC said in a Jan. 13 note.
BNM announced a surprise 50 basis point cut to its SRR in January last year, bringing it down to 3.5%, from 4.0% to boost liquidity in the banking system.
The central bank later cut its key rate to 3.00% in July — the first in seven years and less than two weeks, after Britain's Brexit vote — in what central bank Governor Muhammad Ibrahim described as a "pre-emptive move".
The economy ended five straight quarters of slowing growth by expanding 4.3% in the September quarter.
BNM was widely expected to deliver a second interest rate cut before the end of last year, but the sell-off in the ringgit appeared to have put paid to such a move.
In November, the central bank stepped in to discourage ringgit trade in the non-deliverable forwards (NDF) market, and later introduced measures to boost onshore ringgit trade.
Economists were split on whether BNM will keep its overnight policy rate steady throughout 2017, with some predicting a cut later in the year.
BNM "missed the best window" to cut its key rate further in November, said Irvin Seah, an economist at DBS bank.
"Now with inflation going up and with the Fed expected to tighten policy, it's tough to justify a cut," Seah said.
Nomura, however, thinks the central bank will announce a rate cut later this year.
"(Malaysia's) growth and inflation dynamics will be the main issues. The Fed's decision may affect the timing, but it won't change the policy direction," said Brian Tan, a Nomura economist.
The government expects growth to be at 4.0%-5.0% this year, up from its forecast of 4.0%-4.5% for 2016, on continued support from domestic demand and a recovery in global commodity prices.