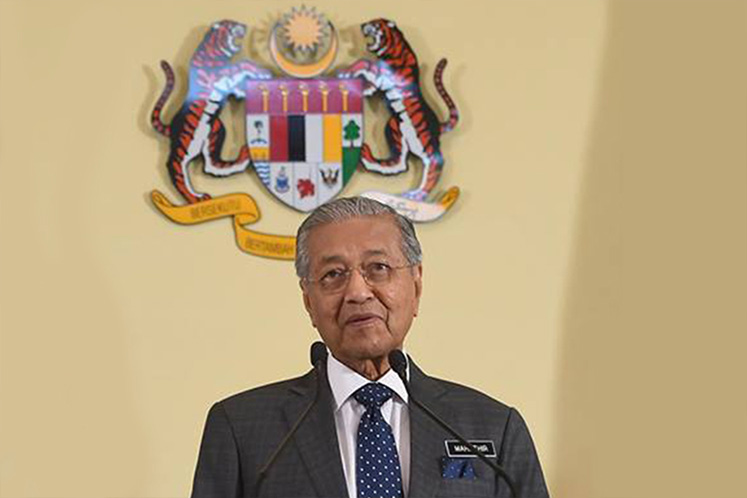 PUTRAJAYA (Dec 12): Prime Minister Tun Dr Mahathir Mohamad said today that Malaysia and Malaysians can only consider themselves developed when they can resist corruption and put a stop to it.
He said Malaysia needed to take corruption seriously if it wanted to join the ranks of developed countries and to be the tiger of Asia again.
"We did not get there by taking short cuts to success," he said in his keynote address at the Sheikh Tamim Bib Hamad Al-Thani International Ace Award 2018 here today.
Also present were the visiting Emir of Qatar Sheikh Tamim Hamad Al-Thani, and anti-corruption key players globally namely Qatar Attorney General Dr Ali Fattais Al Marri, Executive Director of the United Nations Office on Drugs and Crime (UNODC) Yury Fedatov and Malaysian Cabinet members.
Dr Mahathir said Malaysia was pulling all stops to not only remove the once described "kleptocracy" tag but also to remind all in Malaysia that corruption was not something to be  tolerated.
"It should be treated with disgust and anger," he said, adding that only by reducing corrupt practices can the government and nation move forward.
"It is about time for Malaysia to join this list of developed and capable countries and let the world  know that we are a strong nation that respects democracy and the rule of law," he said.
Dr Mahathir stressed that Malaysians must ensure efforts to improve governance and introduce anti-corruption initiatives are intended to bring an end to corrupt practices and the abuse of power.
He drove home the point that corruption was an awful thing that could bring irreparable damages to society and nation.
"Therefore, it is not the people who engage in corruption whom we should look up to, but instead, we should celebrate the people who are working to fight it every day, " he said.
Dr Mahathir also emphasised that Malaysia should uphold high regard for values of integrity and good governance in the country and in any organisations, as it is imperative to raise their values and standards.
On the event, Dr Mahathir said it was an important recognition from the international community on Malaysia's efforts to combat corruption, whereby every country must work together and learn from each other on issues of corruption and good governance.
"I hope this ceremony will empower members of both the public sector and the private sector to come to a realization that it is integrity and good governance that will allow a country to grow, to develop, to prosper and to keep moving forward," he said, in line with the committee's decision for choosing Putrajaya for this year's ceremony.
Putrajaya is the third city to host the event after Vienna (2016) and Geneva (2017).
Dr Mahathir also announced  that Malaysia pledged support of RM500,000 donation to the International Association of Anti Corruption Authorities (IAACA) fund as a way to show its support for the great work and commitment shown by many leaders of the Anti-Corruption Authority around the world.
"We hope this small gesture will start the ball rolling for the foundation to raise more funds, in order to help the families of the fallen heroes," he said.
Dr Mahathir and the Qatari Ruler then presented four categories of awards to nominees for championing the war on corruption in their respective countries.
The awards are Anti-Corruption Academic Research and Education, Anti-Corruption Youth Creativity and Engagement, Anti-Corruption Innovation, and Anti-Corruption Lifetime/Outstanding Achievement.