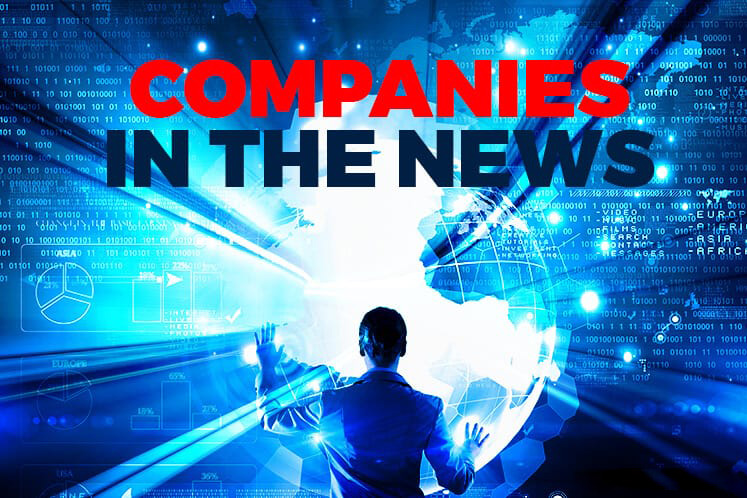 KUALA LUMPUR (Feb 9): Based on corporate announcements and newsflow today, companies in the spotlight on Monday (Feb 12) may include: MAHB, Salutica, RHB, Kuantan Flour Mills, AmProp, KKB Engineering, Bumi Armada and PUC.
Malaysia Airports Holdings Bhd (MAHB) is expecting to see a near 40% rise to 180,000 in daily passenger numbers passing through the Kuala Lumpur International Airport (KLIA) and klia2 in Sepang during the Chinese New Year period from Feb 14 to 18.
"In catering to this surge, we will be placing more resources on the ground — not just by us, but also by other agencies at the airport," KLIA head of operations Mohd Arif Jaafar said.
The airport operator is working closely with various authorities, including the police, to ensure passengers travelling through KLIA will experience a smooth journey during the upcoming festive season, it said.
Ipoh-based electronics manufacturing company Salutica Bhd's net profit for its second quarter ended Dec 31, 2017 (2QFY18) fell 43.3% to RM6.01 million from RM10.61 million a year ago, due to a change in product mix, and higher costs.
Quarterly revenue fell 3.6% to RM87.55 million from RM90.8 million in the prior year's corresponding quarter. Earnings per share stood at 1.55 sen compared with 2.73 sen in 2QFY17.
It declared a third interim single-tier dividend of 0.6 sen per share, payable on March 15.
In the first half of the financial year (1HFY18), Salutica turned in a net profit of RM12.47 million, down 22.7% from RM16.13 million previously, due to the same reasons for its quarterly earnings decline.
Cumulative revenue, however, was up 4.6% to RM171.35 million from RM163.86 million, contributed mainly by the sale of bluetooth headsets.
RHB Bank Bhd is acquiring the remaining 51% stake in Vietnam Securities Corp (VSEC) for VND121.63 billion (RM21.29 million) cash. The banking group currently has a 49% stake in VSEC, which it acquired in November 2008.
RHB Bank said its wholly-owned subsidiary RHB Investment Bank Bhd has entered into a conditional share purchase agreement (CSPA) with Chu Thi Phuong Dung, Truong Lan Anh and Viet Quoc Insurance Broker JSC for the proposed stake acquisition.
The proposed acquisition is subject to the approvals of Bank Negara Malaysia and the State Securities Commission of Vietnam (Vietnam SSC). The proposed acquisition is expected to be completed by the second quarter of 2018.
Kuantan Flour Mills Bhd (KFM) has inked a Memorandum of Understanding (MoU) with Shou Guang Chang Tai Economic And Trade Co Ltd (SGCT) to facilitate an expansion of the group's starch and premix flour trade in China.
Based in Shouguang City, Shandong province, SGCT is principally involved in the trading and retailing of corn, tapioca and food-related products. It has a stable import and export business with trading partners within China and Southeast Asian countries.
"The MoU is pertaining to a proposed collaboration through either a business collaboration arrangement between both parties or a direct acquisition of a majority equity interest in SGCT by KFM," KFM said.
Amcorp Properties Bhd (AmProp) saw a near 19 times rise in net profit for its third quarter ended Dec 31, 2017 (3QFY18) to RM75.21 million from RM4.01 million in the corresponding quarter last year, driven by stronger contribution from its joint ventures.
Revenue for the quarter under review, however, is 19% lower at RM36.11 million compared with RM44.52 million a year ago, as it saw lower sales achieved by Kayangan Heights in the quarter.
Its share of results from joint ventures, however, jumped to RM87.62 million from RM3.84 million, which the group attributed to profit recognition from progressive delivery of sold units in overseas projects.
In the first nine months of FY18, AmProp's net profit stood at RM102.65 million, about 10 times higher than the RM10.32 million it registered in the same period last year, despite revenue falling 25% to RM106.25 million from RM141.33 million.
KKB Engineering Bhd achieved a net profit of RM5.34 million in its fourth quarter ended Dec 31, 2017 (4QFY17), compared to a net loss of RM4.06 million a year ago, as it recorded higher revenue in the civil construction and steel pipe manufacturing divisions.
It was the second profitable quarter the group posted in a row, after reporting four straight quarters of net losses. Quarterly revenue jumped 2.7 times to RM70.17 million in 4QFY17, from RM26.12 million a year ago.
The group declared a first and final single tier dividend of 2 sen per share in respect of the financial year ended Dec 31, 2017 (FY17), payable on June 12.
For the full FY17, the group returned to the black with a net profit of RM1.64 million versus a net loss of RM5.78 million in FY16, after revenue grew 103% to RM209.27 million from RM103.11 million.
Bumi Armada Bhd executive director and head of offshore marine services (OMS) Shaharul Rezza Hassan is resigning from his role effective Feb 28, citing the pursuit of other interests outside the group as the reason.
Bumi Armada said it has identified an internal successor, Megat Zariman Abdul Rahim, to take over the role of head of OMS.
The offshore energy facilities and services provider said Rezza requested an early release from the group. Prior to his current role, Rezza, 46, was the chief financial officer of Bumi Armada.
PUC Bhd announced that Pictureworks (Hong Kong) Ltd has inked a four-year exclusive partnership with Hong Kong's theme park operator Ocean Park Corp to provide the latter end-to-end photo imaging products, services and systems.
Pictureworks HK is wholly-owned by Pictureworks Holdings Sdn Bhd.
Last December, PUC proposed to acquire 33% of Pictureworks Holdings shareholdings from a group of individuals, including PUC managing director and chief executive officer (CEO) Cheong Chia Chou.
The RM52.8 million acquisition, to be satisfied via a combination of cash and new share issuance, is still pending authority and shareholders' approvals.
In a statement that was shared by PUC, Pictureworks said the four-year partnership — to take effect from June 1 this year to May 31, 2022 — will see the provision of end-to-end digital imaging products, systems and services throughout the more than 915,000 sq m Ocean Park in Hong Kong.
"The exclusive partnership will see Pictureworks deploy its state-of-the-art imaging solutions with Ocean Park being the first partner to enjoy its new proprietary Facial Recognition technology as well as PictureAir solution," Pictureworks said.