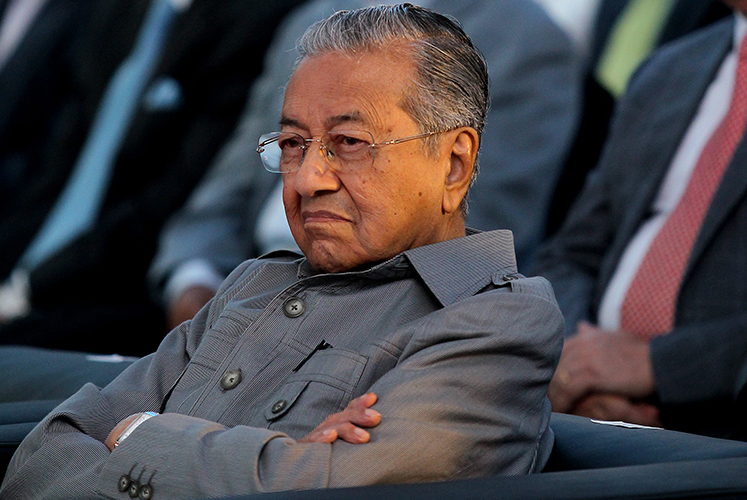 PUTRAJAYA (Sept 21): Prime Minister Tun Dr Mahathir Mohamad said today several UMNO leaders met him recently.
The chairman of Pakatan Harapan (PH) and Parti Pribumi Bersatu Malaysia (Bersatu) said anyone could come and meet him and UMNO leaders were free to meet anyone.
"They came to meet me; I meet everybody. After meeting me they meet PAS.
"We are free, not like before. Before, if you meet 'wrong' people, the income tax people will come after you," he said at a press conference after chairing a meeting of the Special Cabinet Committee on Anti-Corruption at Perdana Putra here.
Dr Mahathir was asked whether there had been talks to get UMNO MPs to join Bersatu.
Asked whether former UMNO vice-president Datuk Seri Hishammuddin Tun Hussein had stated his desire to join Bersatu at a recent meeting with him, Dr Mahathir said that matter was not discussed.
"He came to meet (me), nothing about joining PPBM (Bersatu). He has his own ideas. You'd better ask him," he said.
On another matter, Dr Mahathir dismissed allegations that he was using the Royal Malaysia Police and the Malaysian Anti-Corruption Commission to investigate UMNO leaders and members.
He said the investigations were being carried out based on the information received by those authorities.
"If UMNO members don't commit crimes they will not be investigated. The police know all about it. They are investigating many people who are living beyond their means, where the public have made accusations against them," he said.
Asked about the perception of certain quarters that the 25 charges against former Prime Minister Datuk Seri Najib Tun Razak were excessive, Dr Mahathir said the decision to prosecute rested with the authorities.
"I'm not interested. But we know he did a lot of things which are wrong. Now there are 25 (charges) and I'm told there are many more," he said.
Najib, 65, claimed trial in the Kuala Lumpur Sessions Court yesterday to four counts of corruption in which he was alleged to have used his position to obtain gratification totalling RM2,282,937,678.41 involving 1MDB funds, and 21 charges of money laundering of the same amount.
He was also slapped with seven criminal charges in July and August.