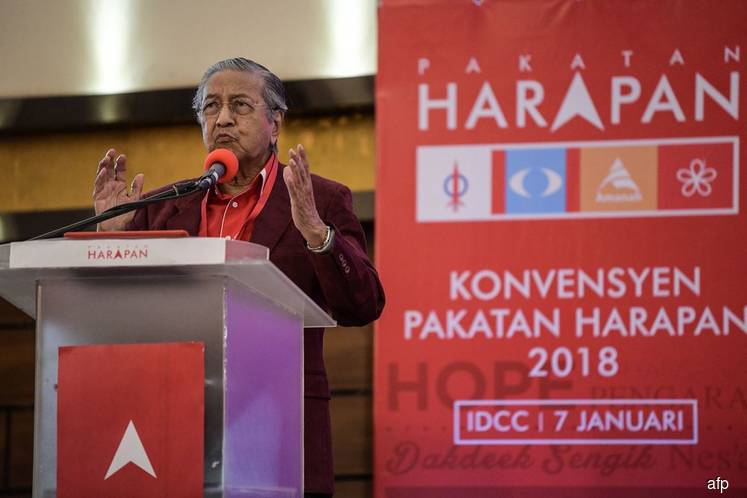 LANGKAWI (April 16): Opposition coalition Pakatan Harapan's fight for Putrajaya will begin with its Prime Minister candidate Tun Dr Mahathir Mohamad contesting the Langkawi parliamentary seat this May 9, confirming widespread speculations.
"Mahathir has a sentimental spot for Langkawi. He poured his love into this island," said PKR president Datuk Seri Wan Azizah Wan Ibrahim in a poem as she announced Mahathir, the Pribumi Bersatu Malaysia (PPBM) chairman's candidacy in a heat-infused ceramah in Padang Matsirat here.
About 5,000 people attended the talk that also named PPBM's candidates for all the 14 state and six Parliament seats it is contesting in Kedah.
Mahathir, 93, will be contesting Langkawi for the first time after retiring from politics in 2004 and holding the Kubang Pasu parliament seat for seven terms till 2004 since its creation in 1974. He is expected to go against one-term incumbent Datuk Nawawi Ahmad who won with a majority of 11,861 votes against PKR's Ahmad Abdullah in 2013.
But Mahathir's legacy in Langkawi is strong as locals remember his deeds in the past to transform agriculture-based economy into tourism-driven by giving it free port status in 1987, and pumping in investment for infrastructure, entrepreneurship and development.
His son, Mukhriz Mahathir, 54, who will be gunning for the Jitra state seat (instead of defending his Ayer Hitam seat) and re-contesting the Jerlun Parliament seat, hopes that Kedah would swing back to the opposition coalition since Mahathir is standing in Langkawi.
"But not only Kedah, we hope this would bode well for Perlis, Penang and Perak, and maybe the whole country," the PPBM deputy president and former Kedah menteri besar told reporters later.
The political talk held in an open field was attended by a cross section of young and old locals, and although they clapped and responded intermittently to issues of high cost of living, lack of subsidies and 1Malaysia Development Bhd (1MDB), they listened intently to the speeches.
During his speech, Mahathir said he was glad to spend time with them, thankful there was no rain but just after his candidacy was announced, it rained heavily prompting comments like 'hujan keramat' (blessed rain).
"I am so happy that many Langkawi residents have come to attend this talk here. I believe even the residents have not seen this number of people gathering in one place to listen to speeches. We the people should be responsible to ensure that our country is governed well," he said in colloquial Kedah language while quipping that he was sure Langkawi voters would know who to pick to replace the Prime Minister post in the coming general elections.
The state seats in the Parliament - Ayer Hangat and Kuah would be challenged by locals Johari Bulat, and Mohd Firdaus Ahmad, respectively.
Mukhriz said PPBM candidates in Kedah represented a good mixture of new politicians, businessmen and non-governmental organisation (NGO) leaders which is a good package for voters to consider in Kedah.
However, he continued to dismiss talks of him becoming Kedah MB and that a suitable candidate will be chosen if the coalition wins the state but he promised to keep track of both local and policy issues if he wins both seats.
Meanwhile, former Institute for Democracy and Economic Affairs (IDEAS) chief executive officer Wan Saiful Wan Jan, who is contesting the Pendang parlimentary seat, a BN and PAS seat, said there are lots of challenging issues there.
"It is a community including Felda settlers who are living mainly on agriculture, and they are affected by the price of rubber, cost of living, and quality of life. In the past, hardly any issue was raised in the Parliament and I think that is unfair to them," he told thedgemarkets.com.
The 43-year-old Kedahan who was born in Alor Setar concedes that PAS is relatively strong in Tokai, the same with BN in Sungai Tiang, the two state constituencies in Pendang, but he is willing to work hard to persuade the voters that a 'vote for PAS is a vote for BN to remain in power'.
"I have been active in Pendang for the past few weeks now. It is like my second home and I can definitely feel the sentiment on the ground. Realistically speaking, I am a newbie and I don't have much experience but if the party was not confident, they would not have fielded me there," he added.
"The majority in the last general election was only 2,600 which we consider as marginal. It is definitely a winnable seat for us," said Wan Saiful. BN's Datuk Othman Abdul is expected to defend the seat after holding it for four terms.