This article first appeared in The Edge Financial Daily, on February 5, 2018.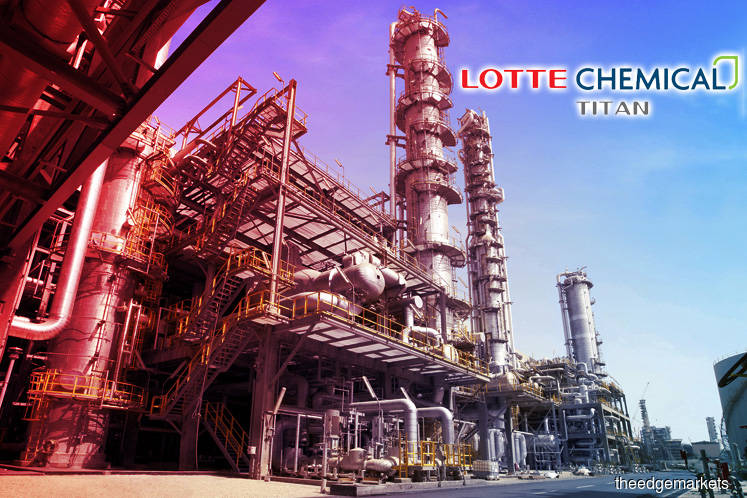 Lotte Chemical Titan Holding Bhd
(Feb 2, RM5.50)
Maintain buy with a lower target price (TP) of RM 6.10: Lotte Chemical Titan Holding Bhd's (LCT) core net profit for financial year 2017 (FY17) of RM1.1 billion (-21% year to date [YTD]) exceeded our expectations but was within consensus forecast at 112% and 102% of full-year forecasts respectively.
FY17 dividend per share (DPS) of 23 sen surprised on the upside as it exceeded management's initial guidance of 50% payout after deduction of plant maintenance cost (FY17 estimate: RM300 million to RM400 million). Moving forward, management was tight-lipped about the sustainability of this bumper payout. Nevertheless, we note that the group's net cash position of RM3.6 billion (with zero borrowings) translates into a strong dividend capacity.
Quarter-on-quarter (q-o-q) earnings momentum (fourth quarter FY17 [4QFY17]: +56%, 3QFY17: +35%) sustained its sterling recovery, after a disappointing 2QFY17 (-41% q-o-q). This was on the back of progressive improvement in plant utilisation (PU) rate to 86% (3QFY17: 77%, 2QFY17: 71%). As a result, pre-tax profit received a boost of RM110 milllion. Additionally, 4QFY17 profit growth was also catalysed by: higher product prices, gain on interest swap at associate, and 3QFY17 included a write-off of its first naphtha cracker's turnaround.
Recall that 2QFY17 was impacted by a water-supply-interruption incident that resulted in a production loss of 75,000 tonnes. On top of that, 4QFY17 PU recovery was also due to the absence of a major statutory turnaround at LCT's naphtha crackers. To recap, both crackers were shut down for maintenance in 1QFY17-3QFY17 for more than 80 days collectively. Nevertheless, cracker loads normalised to full capacity in 4QFY17. Additionally, PU would have been higher, if not for the group's decision to temporarily halt production at Indonesian polyethylene plants in second half of FY17 (2HFY17).
All in all, YTD earnings weakness was attributed to: i) water supply interruption; ii) statutory turnaround at naphtha crackers; iii) expensive inventory in 2QFY17 being carried forward from 1QFY17; iv) lagged product and feedstock effect in 2Q17; and v) write-down on inventories in 2QFY17.
Following the earnings revisions, our TP for LCT is lowered to RM6.10 (previous: RM6.34) based on unchanged seven times FY18 enterprise value against earnings before interest, taxes, depreciation and amortisation. We remain as buyer of LCT, premised on multi-year capacity expansion, strong balance sheet, attractive valuations, and robust margins due to the subdued oil price. Furthermore, we believe LCT has now regained investor confidence after 2QFY17's water blunder. This is following sustainable and stable operations achieved in 2HFY17. — TA Research, Feb 2