This article first appeared in The Edge Malaysia Weekly, on August 20, 2018 - August 26, 2018.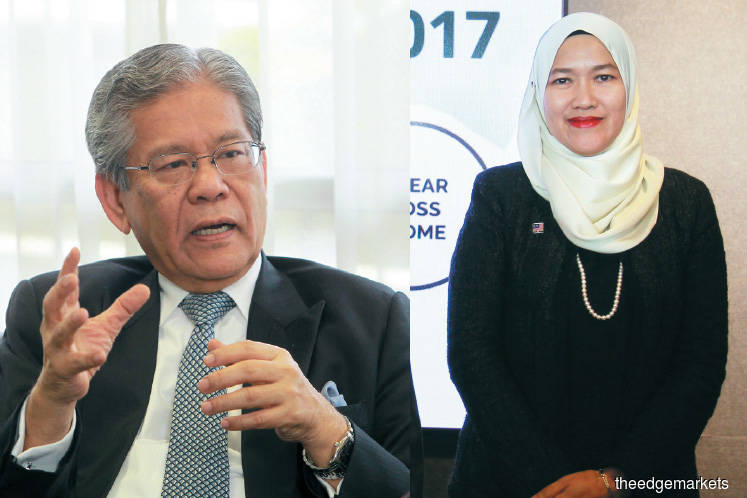 LEMBAGA Tabung Angkatan Tentera (LTAT) chief executive Tan Sri Lodin Wok Kamaruddin could leave the fund as early as Monday (Aug 20).
According to sources privy to the matter, the government has decided to appoint the current chief investment officer of Kumpulan Wang Persaraan (Diperbadankan) (KWAP), Nik Amlizan Mohamed, to replace Lodin on the board of the armed forces fund.
"The replacement has been discussed by the Council of Eminent Persons and it has been decided that Nik Amlizan will start her duty on Monday," says one of the sources who is connected to KWAP's top management.
However, Nik Amlizan may not be able to report for duty at her new position on that day, says a source with knowledge of the situation. This is because Lodin is still the CEO of LTAT as he has not resigned from the position; nor has the government terminated his contract.
"It seems like the government wants Lodin to resign first, before making the announcement of the appointment of Nik Amlizan to the hot seat. They do not want to have to remove him from the position," says the source.
When contacted by The Edge last Thursday, Lodin declined to comment on the matter.
Questions sent to LTAT went unanswered at press time. KWAP declined to comment on the matter, saying that it "stands guided by the directions of the government pertaining to the matter".
Another source says Nik Amlizan has reservations about the appointment to head LTAT. This is because after being the chief investment officer of KWAP since September 2014, she has been groomed to take over from the fund's CEO, Datuk Wan Kamaruzaman Wan Ahmad, when the latter's contract expires next April.
"Nik Amlizan was supposed to be succeeding Wan Kamaruzaman. She was looking forward to that, and now, she is being moved to head LTAT, which is a foreign environment to her," says the source who has connections within KWAP.
The reason for Lodin's removal from LTAT is not known. However, it is worth noting that he was the chairman of 1Malaysia Development Bhd (1MDB), before resigning in April 2016 following the release of the Public Accounts Committee report on the beleaguered fund.
During his time as chairman of 1MDB, Affin Bank Bhd — of which LTAT is the largest shareholder — bought a parcel of land measuring 54,266 sq ft in the Tun Razak Exchange development for RM255 million in August 2015.
The acquisition was criticised by many as it took place at the height of the 1MDB scandal when The Wall Street Journal disclosed that the then prime minister Datuk Seri Najib Razak had received US$700 million in his private account — money allegedly laundered from 1MDB.
At the time, Lodin was chairman of 1MDB and CEO of LTAT as well as deputy chairman of Affin.
The bank maintained that Lodin had abstained from making any deliberations regarding the transaction.
The purchase was also criticised for being expensive, as the price translates into RM4,699 per sq ft, which is higher than comparable transactions in TRX and Jalan Ampang.
Malaysian Resources Corp Bhd acquired the German embassy land in Jalan Ampang for RM3,182 psf in April 2015 while Lembaga Tabung Haji bought a parcel in TRX for RM2,780 psf in May 2015.
It seems that Lodin's involvement with 1MDB may have cost him his position at LTAT. Even after resigning from 1MDB's board in 2016, he is still being linked to the fund, which is under investigation in Malaysia, Singapore, Switzerland and the US.
In June, in defending himself over the 1MDB fiasco, Najib said the board should have informed him — he was its chairman back then — if they had known of any wrongdoings involving the fund.
In an interview with Reuters in June, Najib said he knew nothing about the money from 1MDB appearing in his personal account as the management and the board of the company had kept the alleged embezzlement of funds a secret from him.
Many top leaders of government-linked investment companies (GLICs) have resigned since Pakatan Harapan won the 14th general election (GE14) in May.
Tan Sri Abdul Wahid Omar, Tan Sri Azman Mokhtar and Tan Sri Shahrir Abdul Samad resigned from their respective positions after the Pakatan Harapan government made known its intention to reform the GLICs.
Wahid was chairman of Permodalan Nasional Bhd between August 2016 and June 2018, while Shahrir was chairman of the Federal Land Development Authority between January 2017 and May 2018.
Meanwhile, the entire board of Khazanah Nasional Bhd, led by Azman, resigned on July 26. The company said the en bloc resignation was to ensure an orderly and smooth transition under the new federal government.
Azman was the managing director of Khazanah between June 2004 and July 2018.
Formed under the Tabung Angkatan Tentera Act 1973, LTAT is responsible for providing retirement and other benefits to its members. It funds these benefits by growing its members' contributions to the fund.
"Under Lodin, LTAT's assets under management have grown. In the past three years, LTAT has delivered average yearly dividend and bonuses of 12.1%," says an observer.
"He has delivered a lot for LTAT in the last couple of decades and he never put his hand in the till. I suppose his greatest sin was to be a good soldier," he added.
As at Dec 31, 2016, LTAT's total assets stood at RM9.6 billion, an increase of 2.1% from RM9.4 billion in 2015. However, its members' contribution account had a balance of RM8.62 billion, which was 4.84% lower compared with the year before.
Apart from Affin, LTAT is also the largest shareholder of Boustead Holdings Bhd. Furthermore, the fund is the largest shareholder of Boustead Heavy Industries Corp Bhd (BHIC) and Boustead Plantations Bhd (BPlant) through a direct stake as well as its stake in Boustead Holdings.
Since the opening of the stock market on May 14 after GE14, the share price of Boustead Holdings has declined 8.82% to RM2.32 last Thursday, while BHIC has fallen 30.27% to RM1.29. Meanwhile, BPlant has edged up 1.92% to RM1.25, and Affin has increased 1.61% to RM2.53.
Save by subscribing to us for your print and/or digital copy.
P/S: The Edge is also available on Apple's AppStore and Androids' Google Play.