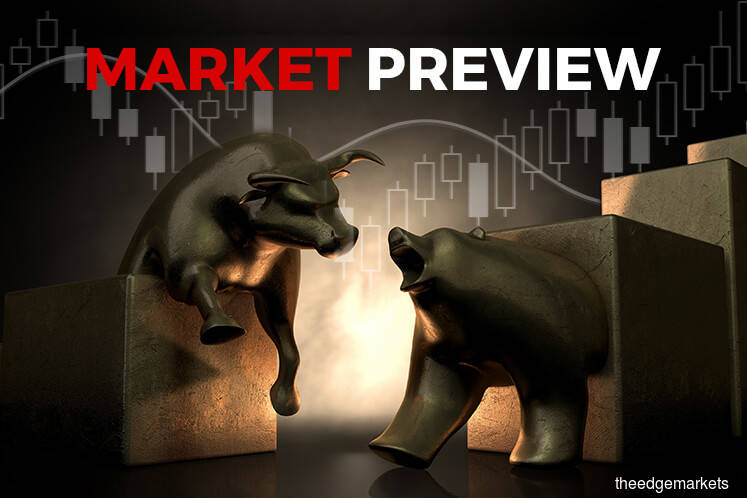 KUALA LUMPUR (Nov 22): The FBM KLCI is expected to tick higher today in line with the overnight gains at most global markets, with immediate support seen at 1,713.
Major world stock markets rose and government bond yields fell on Tuesday as a combination of strong corporate profits, steady global growth and low inflation provide scant alternatives for investors other than equities, according to Reuters.
Stocks markets from Asia to Europe to the Americas rose, while the three top gauges of Wall Street performance hit record intraday highs, lifted by technology and healthcare shares, it said.
The Dow Jones Industrial Average rose 167.23 points, or 0.71 percent, to 23,597.56. The S&P 500 gained 17.46 points, or 0.68 percent, to 2,599.6 and the Nasdaq Composite added 68.56 points, or 1.01 percent, to 6,859.27, said Reuters.
AllianceDBS Research in its evening edition Tuesday said the FBM KLCI had on Nov 21 traded marginally lower to 1,716.45 as some market participants continued to play on the selling side in anticipation of a lower market.
However, it said weak follow through selling pressure in the area of 1,716.45 prompted supportive buying interest to chip in.
It said this lifted the benchmark index to 1,722.73 before settling at 1,720.68 (up 2.32 points or 0.14%).
"In the broader market, losers outnumbered gainers with 684 stocks ending lower and 240 stocks finishing higher. That gave a market breadth of 0.35 indicating the bears were in control," it said.
AllianceDBS Research the market saw selling activity again on Nov 21 with the benchmark index making a marginal lower low. 
"This suggested that market participants were unwilling to play a more aggressive selling pressure on an immediate basis despite the losing streak in recent days.
"With the day's low of 1,716.45 on Nov 21, there seemed to be a general fear for sudden market reversal after the recent sell-off which broke the 1,740 and 1,730 support levels on the downside because 1,716.45 was only 1 point lower than the previous day's low of 1,717.45.
"While the way this market carried itself on 21 Nov 2017 may have provided a sigh of relief to many market participants,  it remained pre-mature to confirm anything at this juncture," it said.
The research house said following the up close on Nov 21, there should be buying attempt with immediate support at 1,713.
"The analysis of overall market action on Nov 21 revealed that buying power was stronger than selling pressure.
"As such, the FBM KLCI would likely trade above the 1,722.73 level on Nov 22," said AllianceDBS Research.
Based on corporate announcements and news flow yesterday, companies in focus today may include: Boustead Plantations Bhd, Sime Darby Bhd, IJM Corp Bhd, Hock Seng Lee Bhd, Gabungan AQRS Bhd, Dialog Group Bhd, UOA Development Bhd, Press Metal Aluminium Holdings Bhd, Heineken Malaysia Bhd and Serba Dinamik Holdings Bhd.