This article first appeared in The Edge Malaysia Weekly, on May 21, 2018 - May 27, 2018.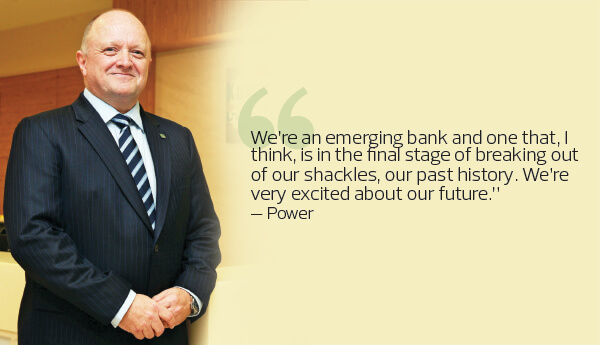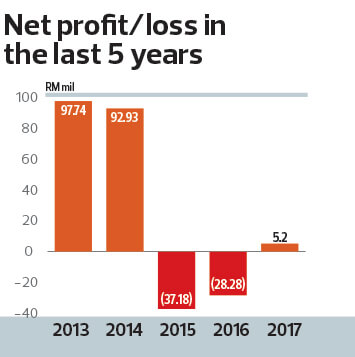 THINGS are looking up for Kuwait Finance House Malaysia Bhd (KFHM).
A year ago, there was a great deal of scepticism in the industry over whether KFHM would be able to make good on a plan to turn around sustainably, having been in and out of losses over the years due to legacy bad financing.
While it is still early days, the country's first foreign Islamic lender has certainly had a promising start — it recently posted its first annual profit in two years.
It made a net profit of RM5.2 million in the financial year ended Dec 31, 2017 (FY2017), compared with a net loss of RM28.28 million a year ago. This was achieved on the back of a 4.2% improvement in operating revenue to RM509.44 million.
"It's a much more positive story today than a year ago," CEO David Power tells The Edge in an interview. "For me, 2017 was a critical year. We were either going to make it or not — and we made it. We exceeded the profit number that we promised our shareholder, so that was a good sign."
What excites Power, though, is that the positive momentum is continuing. "We've had a good first quarter this year (1Q2018) as well — our results will be out in June — and the second quarter is looking better, so insya-Allah, at the end of the year, we'll exceed our target again," he says.
It took a lot of work getting KFHM, a wholly-owned subsidiary of Middle East lender Kuwait Finance House KSC, back on the road to profitability.
Last year, it filled several key positions that were vacant — some with senior executives from the parent company — and employed over 100 people in all, made a concerted effort to drive the retail banking business in a bid to ease its dependence on corporate banking and rebuilt its entire risk management framework.
These were steps taken with the aim of addressing its past weaknesses. Recall that it was a lack of strong leadership and lax risk management that led to its problems with bad corporate financing in the past.
"One of the things we did last year was rebalance our balance sheet, to look very carefully at asset quality. There was a refocused drive to remove assets of concern off our books. We relooked at what segments we want to be playing in. Assets that were on the higher-risk side, we felt we didn't want to be involved in, so we've stepped away from those. Hence, there was a contraction in our balance sheet, but that was part of the plan," Power says.
The group now has a strong focus on infrastructure financing, healthcare and education. According to Power, KFHM has reduced its exposure in property development.
Its focus on infrastructure comes at a time when Malaysia's new government is reviewing major projects in the country, but Power is not overly concerned. "Fortunately, we're not a big player in that space at the moment. We've only really entered it towards the end of last year and the beginning of this year, so we're still small. And, the projects we're involved in initially are relatively low level. So, what we're trying to do is make sure that the deals that we do are rock solid. We'll also be looking at the new opportunities that come up," he says.
KFHM's total assets fell 15.3% to RM9.14 billion as at end-2017 while its total gross financing contracted 12.8% to RM5.98 billion.
Its impairment allowance on financing dropped sharply to RM12.07 million from RM78.44 million a year ago. While KFHM's gross non-performing financing (NPF) ratio stayed largely the same at 6.99% from 6.97% a year ago due to the contraction in assets, on a net level, it improved to 2.7% from 3.7% before.
"The way things are looking at the moment, we should see a further contraction in the NPF ratios," Power says.
Retail resurgence
One of the key reasons for the bank's turnaround last year was a resurgence in its retail banking business.
"Retail has become a key provider of revenue for the bank. At one stage, it was a very small, non-functional unit within the bank. Now, it accounts for 48% of our total assets. It's probably a little bit high now — given our focus on reducing the non-core assets from corporate — and we would prefer to get it down to 40% and have 60% in corporate. The corporate book is certainly building up and we've got some fairly large assets coming in over the next couple of months," says Power.
The aim is to get the corporate-retail balance in assets to 60:40 by FY2020.
Personal financing accounted for 19.6% of its gross financing last year, followed by house financing (15.8%) and automotive financing (11.3%).
With the new government announcing that the Goods and Services Tax will be zero-rated from June 1, effectively scrapping it, there may be a temporary slowdown in some loan segments.
"We're expecting a [small] slowdown in the car industry, certainly. I think people are going to hold back and wait and see if prices get lower. And on the property side, we know there's a large overhang, especially high-end developments at the moment, but we're not in that area of financing. In the past, we did some very large property deals, but not anymore," Power says.
KFHM has also made a concerted effort to reduce its cost of funding. Previously, there was a large reliance on interbank funding. "Now, just 19% of our funding comes from interbank, compared with as high as 70% to 80% at one stage, so it's far less costly now."
A drive on retail and corporate deposits has also helped the group improve revenue.
Now that it is on a more stable footing, KFHM's focus this year will be on driving growth. This is part of its three-year transformation plan, which it embarked on last year.
"2017 was a year of rebuilding and stabilisation. 2018 will be focusing on gearing up the bank from a growth perspective. Core to that is the rebirth of the corporate book, the retail book and digital [transformation]. And 2019, the focus will be more on digitising the bank totally in terms of our engagement with customers as well as internal and back office," says Power.
Inorganic growth is not high on its agenda for now. Power says KFHM will not actively seek out a bank to acquire in Malaysia, but will be interested "if the right opportunity presents itself at the right price".
The group hopes to launch a small and medium enterprise segment later this year. "Our sister company in Turkey currently has about 30% of its book in SMEs and it has shown about 10 to 12 years of very strong earnings. So, we're leveraging their expertise. We're hoping to go live with our SME strategy in the third quarter, if all approvals are in place on time," says Power.
Other banks too are increasingly looking at SMEs to drive growth, but he says KFHM's niche will be the services and halal sectors, where it feels it can add value.
He expects the bank's overall financing to grow by a low-teen percentage this year, following the 12.8% contraction last year.
Meanwhile, the bank is investing heavily on a digital strategy, to be carried out in three phases, to carry it into the future.
"Phase 1 for us is around customer acquisition, KYC (know-your-customer) and an onboarding process for those customers. That phase will be launched, hopefully, next month, depending on regulatory approvals. Phase 2 is more around the business acquisition ... so, the whole concept of QR codes and bringing in our SME customers into the ecosystem. Then, Phase 3 will be on the whole trade finance supply chain," Power shares.
The bank will, however, continue to grow branches even as it goes digital. It currently has 14 and will look to take it up to 20 in the next two to three years. According to Power, the decision was made based on the bank's research, which showed that it has five generations of customers, from baby boomers to digital natives. "So, if you shut down branches, you alienate a large percentage of people whom you should actually want to keep," he points out.
An area that KFHM is keeping a close watch on is its high cost-to-income ratio, which stood at about 83% as at end-2017.
"It's something we're working very hard on. Based on our forecast, we hope to bring it down to around 60% by FY2020," says Power.
No exit
KFHM's turnaround comes at a time when other Middle-Eastern-owned banks have stepped back in Malaysia. Asian Finance Bank Bhd was recently acquired by Malaysia Building Society Bhd. And, the National Bank of Abu Dhabi Malaysia Bhd, which is owned by First Abu Dhabi Bank, is expected to close operations by year end, The Edge reported last month, citing sources.
According to Power, these are exciting times for KFHM, and its shareholder has no plans to sell or exit Malaysia.
"It pumped well over RM13 million into building a core banking system last year and are putting another RM11 million to RM12 million this year into digital and cards. These are significant amounts, so it is probably more committed than it has ever been," he says.
At the end of the day, he adds, KFHM has no plans to become one of the biggest Islamic financial service providers here.
"However, we certainly want to be viewed as the best. We're an emerging bank and one that, I think, is in the final stage of breaking out of our shackles, our past history. We're very excited about our future," Power says.
It will certainly be interesting to see how much stride it makes in an increasingly challenging market.
Save by subscribing to us for your print and/or digital copy.
P/S: The Edge is also available on Apple's AppStore and Androids' Google Play.