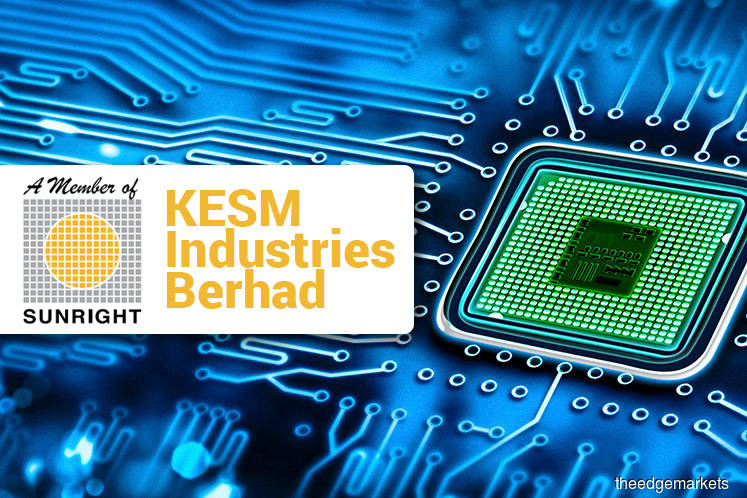 KUALA LUMPUR (March 8): Chip testing company KESM Industries Bhd said strong demand for its services pushed up its net profit by 12% year-on-year to RM11.18 million for the second quarter ended Jan 31, 2018 (2QFY18), from RM9.98 million in the previous year.
Quarterly revenue grew 10% y-o-y to RM91.47 million, from RM83.12 million in 2QFY17. 
In a statement, KESM executive chairman and chief executive officer Sam Lim said changes in the car industry have created strong demand for automative semiconductors, and this benefitted KESM, having its focus on this market.
"We enjoyed strong growth in volumes for our burn-in and test. Our customers continue to offer more advanced devices, with more functions to car manufacturers racing to produce driverless cars.
"New vehicle safety regulations require carmakers to ensure vehicle data are more secure from remote hacking and malfunctioning, which in turn is increasing the demand for connected cars. Various digital systems such as Global Positioning System (GPS) tracking systems, fuel management systems and driver information systems are becoming a standard feature, not only in premium cars but in other cars as well. These requirements are driving the demand for more semiconductors," said Lim.
For the first half of FY18 (1HFY18), KESM's net profit rose 13% y-o-y to RM22.55 million from RM19.99 million, while revenue grew 12% y-o-y to RM182.18 million from RM163.23 million.
Moving forward, the group said it is intensifying its efforts to improve production efficiencies, in light of recent capacity expansion.
KESM Industries' shares closed 34 sen or 1.77% higher to RM19.5 today, for a market value of RM825.02 million.