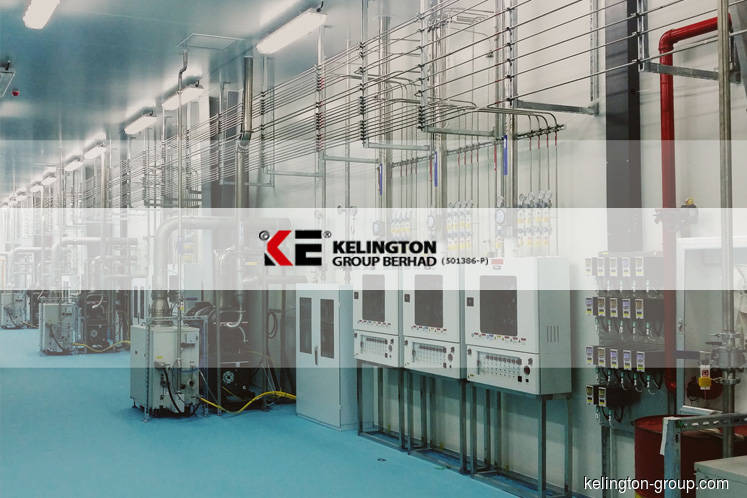 KUALA LUMPUR (Aug 8): Main Market-listed Kelington Group Bhd has bagged several new orders worth RM55 million, boosting total new orders secured to RM236 million year-to-date, from RM181 million previously.
In a statement today, the integrated engineering solutions provider said among the notable new orders is a RM21 million (equivalent to S$7 million) contract in Singapore to supply and provide installation, commissioning and maintenance works for an exhaust duct system.
In addition, Kelington has secured a contract to carry out equipment supply and civil engineering works for the expansion of a bulk liquid storage terminal project in the country.
The two contracts are expected to be completed by the second and fourth quarter of 2019 respectively.
Its chief executive officer Raymond Gan noted that the group's Ultra High Purity (UHP) and process engineering (PE) segments continue to achieve a strong replenishment rate across their key operating markets.
"These new contract wins further strengthen and add credence to our track record in the industry. We will continue to leverage on our core competencies to bid for more contracts in both the domestic and international markets," he said.
Currently, the group's total outstanding order book stands at RM341 million including projects carried forward from the previous year.
Of that, the UHP segment makes up 56%, followed by PE at 29%, and general contracting at 14%.
"Most of these contracts are expected to be completed and recognised in the financial year ending 2018 and 2019," Kelington said.
The group's tender book value has increased to RM1 billion; a large portion of the bids are in China.
"We intend to expand our presence in the fast-growing semiconductor market there," Gan said.
On June 25, the company secured new orders worth RM104 million primarily from the UHP segment to provide specialised engineering services for the semiconductor and electronics companies.
Kelington closed four sen or 4.38% higher to 83 sen, for a market capitalisation of RM210.58 million.