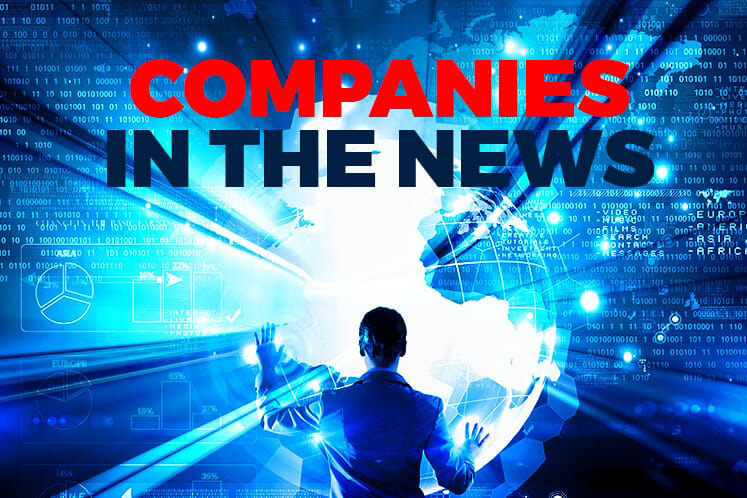 KUALA LUMPUR (Nov 17): Based on corporate announcements and news flow today, stocks in focus on Monday (Nov 20) may include: Kejuruteraan Asastera Bhd, Axiata Group Bhd, MRCB-Quill REIT, Petronas Dagangan Bhd, Tenaga Nasional Bhd, Far East Holdings Bhd, IOI Corp Bhd, OSK Ventures International Bhd, Heng Huat Resources Group Bhd and GuocoLand (Malaysia) Bhd.
Newly-listed electrical and mechanical engineering firm Kejuruteraan Asastera Bhd (KAB) is targeting an order book value of RM250 million by year end.
The company's current order book stands at RM210 million and is expected to last till 2019. It is also tendering for projects worth RM250 million.
It debuted on the ACE Market of Bursa Malaysia today with an opening price of 33 sen, a premium of eight sen or 32% from its initial public offering (IPO) price of 25 sen. It pared some of the gains to settle at 30 sen, still up 20% or 5 sen.
Axiata Group Bhd's wholly-owned subsidiary Axiata Digital Services Sdn Bhd (ADSSB) has incorporated PT Axiata Digital Services Indonesia (PTADSI) to provide digital financial services in Indonesia.
"The intended principal activity of the company (PTADSI) is to carry out the business of digital financial services of ADSSB in Indonesia," Axiata said.
MRCB-Quill REIT (MQReit)'s net profit for the third quarter ended Sept 30, 2017 (3QFY17) rose 38.1% to RM21.38 million from RM15.23 million a year earlier, on the back of higher realised revenue.
Revenue for the quarter rose to RM44.88 million from RM32.83 million a year earlier.
Earnings per share dipped to 2 sen from 2.3 sen previously.
For the nine months ended Sept 30, MQReit's net profit rose to RM66.59 million from RM45.85 million on the back of revenue of RM135.06 million versus RM97.77 million a year earlier.
Petronas Dagangan Bhd (PetDag) has added Sabah and Sarawak into the list of states that offer its Euro 5-compliant diesel, ahead of its full roll-out in 2020.
The extended availability of the product — now at 58 stations nationwide — was announced in conjunction with the launch of its latest diesel product, the Petronas Dynamic Diesel Euro 5 with Pro-Drive, here in Bukit Jalil today.
PetDag chief executive officer Datuk Mohd Ibrahimnuddin Mohd Yunus said the product will be available in 115 stations in 2018, and that by 2020, all of PetDag's diesel will be Euro 5 compliant as gazetted by the government.
Tenaga Nasional Bhd (TNB) announced today it has formed a joint venture (JV) to jointly build a 4MW mini hydropower station in Sungai Tersat, Kuala Berang, Terengganu.
The JV also plans to seek further potential sites for small hydropower development in Malaysia, subject to obtaining a favourable Feed-in Tariff (FiT) scheme, TNB said.
Its wholly-owned unit TNB Energy Services Sdn Bhd (TNBES) has inked a shareholders' agreement with Metrosphere Sdn Bhd to form the JV.
TNBES will hold 49% stake in the JV company, Syarikat Metrosphere Hydro Tersat Sdn Bhd, while Metrosphere — which TNB described as an investment holding company with particular interest in renewable energy projects — will hold the remaining 51%.
The hydropower station is expected to be completed by the end of 2019 and will raise TNB's small hydropower installed capacity from 17.96MW to 21.96MW.
Far East Holdings Bhd's net profit dropped 27% year-on-year to RM50.4 million in 3QFY17, from RM69.42 million, mainly due to higher operating expenses and lower share of profit from associates.
As such, the group's earnings per share for the quarter fell to 35.69 sen from 49.10 sen.
Nevertheless, the group declared a single interim dividend of 10 sen per share — comparable to the sum it announced in the same quarter last year — payable on Dec 19, bringing its year-to-date payout to 35 sen versus 25 sen a year ago.
For its cumulative nine months (9MFY17), net profit rose 26% y-o-y to RM107.89 million from RM85.36 million, as revenue grew 40% to RM336.19 million from RM240.07 million.
Plantation group IOI Corp Bhd's net profit for 1QFY18 jumped 3.4 times to RM360 million from RM104.8 million in the same quarter last year.
The company said the improvement is mainly due to net foreign currency translation gain on foreign currency denominated borrowings and lower fair value loss on derivative financial instruments from its resource-based manufacturing segment.
This was despite a 5.3% year-on-year decline in quarterly revenue to RM2.21 billion from RM2.33 billion. Also partly offsetting the quarter's profit gains was lower fair value gain on biological assets in its plantation segment, the group said.
OSK Ventures International Bhd (OSKVI) posted a net loss of RM15.06 million in 3QFY17 compared with a net profit of RM5.52 million recorded in the same quarter a year ago, mainly attributable to the decrease in income earned and net fair value loss on its financial instruments.
OSKVI said there was a net fair value loss of RM15.26 million on its financial instruments compared to a net fair value gain on financial instruments of RM4.18 million in 3QFY16.
However, quarterly revenue was at RM22.83 million, which is more than double the RM9.59 million it recorded in the same quarter last year.
For 9MFY17, the group's net profit jumped more than nine times to RM29.23 million, from RM3.07 million it registered in the previous nine-month period, while revenue almost tripled to RM73.96 million from RM27.23 million.
Heng Huat Resources Group Bhd said a fire has occurred at its production plant in Gua Musang, Kelantan, but gave assurance that the assets are covered by insurance.
Heng Huat estimated that operations can fully resume within two weeks.
It noted that the fire department and insurance representatives are still conducting investigations to ascertain the cause of the fire. As such, the company has yet to determine the full financial impact and consequences of the incident.
The plant belongs to its wholly-owned subsidiary HK Gua Musang Sdn Bhd.
Debt-laden GuocoLand (Malaysia) Bhd said its 70%-owned Guoman Hotel & Resort Holdings Sdn Bhd (GNHR) is disposing of equity interests in PD Resort Sdn Bhd and JB Parade Sdn Bhd to its Singaporean counterpart, for RM223.89 million cash.
GuocoLand Malaysia said GNHR today signed the two conditional share sale agreements with GuocoLand Hotels Pte Ltd (GLH), to dispose of the entire issued share capital of PD Resort, and a 70% stake in JB Parade.