This article first appeared in The Edge Financial Daily, on January 5, 2018.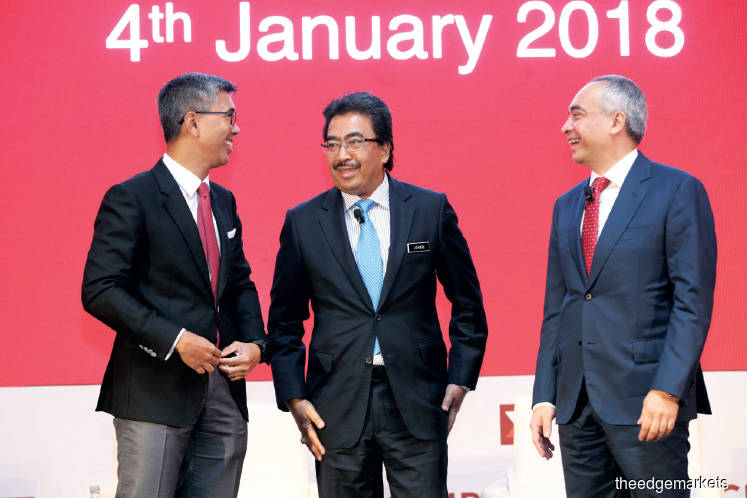 KUALA LUMPUR: Malaysia is expected to see jumbo initial public offerings (IPOs) in 2018 that could bring in more than RM10 billion by the first half (1H18), and a stronger loan growth of 4% to 5%, said CIMB Group Holdings Bhd.
The company's group chief executive officer Tengku Datuk Seri Zafrul Aziz said the country's second largest lender hopes to be involved in most of the large IPOs this year.
"We can't name the companies, but if you look at the sectors, for equities the jumbo IPOs in 2018 are [expected to come] from the infrastructure, financial services and consumer sectors," Tengku Zafrul said at a media briefing in conjunction with CIMB's 10th Annual Malaysia Corporate Day yesterday.
CIMB head of equity capital markets and syndicate Asia, Derek Lim, said the jumbo IPOs could raise up to RM10 billion in 1H18.
"Depending on the timing of these transactions we do expect that in 1H18 we should see more than RM10 billion raised from the jumbo IPOs," said Lim. "There is of course the ACE Market, LEAP Market as well as small-cap and mid-cap fundraising which are expected to be quite robust this year as well given that liquidity has been positive in both capital and equity markets."
Potential IPOs for 2018 that have been reported include QSR Brands (M) Holdings Bhd, which is expected to raise up to RM2 billion; the ports division of MMC Corp Bhd that is expected to fetch up to RM4 billion; Bank Islam Brunei Darussalam Bhd which could bring in up to RM2 billion; and the listing of Axiata Group Bhd's tower unit edotco Group Sdn Bhd which could raise up to RM2 billion.
Foreign insurers such as Tokio Marine Holdings Inc were also reported to be seeking a listing for its local unit in Malaysia this year in order to meet the local shareholding requirement of 30%.
Tengku Zafrul added that the outlook for the fixed income market is positive in 2018, with the bond market seen to remain resilient with expectations of RM90 billion in infrastructure bond and sukuk issuances.
As for loan growth in 2018, CIMB is looking at a higher range of 4% to 5% for the banking sector as a whole compared with 2017. Annualised loan growth for the banking sector came in at 3.3% for the first 11 months of 2017.
"We will only reveal CIMB's targets for loan growth at the end of February when we announce our results. But our house view for the industry is around 4% to 5%. Given the size of [the CIMB] group in Malaysia, we would not be too far off from the industry target," said Tengku Zafrul.
He answered in the affirmative when asked if the robust gross domestic product (GDP) growth in 2017, which averaged at 5.9% for the first three quarters, would translate into better loan growth in 2018.
"GDP growth last year was above expectations which is positive, and we believe this will translate into stronger loan growth for 2018 compared with 2017. Last year's loan growth was low due to corporates but this year we foresee that loan growth from corporates would be stronger," he said.
Most economists are expecting a hike in the overnight policy rate (OPR) by 25 basis points in 2018, which would make loans more expensive. However, CIMB head of treasury, markets and wholesale banking Chu Kok Wei opined that a rate hike would not have a major impact on loan growth for banks.
"We don't expect the pricing of loans due to OPR [hike] to have a big impact on loan growth.
"It boils down to the fundamental strength of the economy, like last year [when] GDP growth came in better than expected. Also the [general] election has to happen this year so that the overhang issue would be over, hence we do see an upside in corporate investment activities which hopefully translates into fundraising from both loans and also capital markets," he said.
Tengku Zafrul noted that CIMB was the best-performing banking stock in 2017, and the second best-performing stock on the FBM KLCI, yielding total shareholders a return of 51.2%.
"Thanks to the excellent execution of our Target 2018 (T18) strategy, the group recalibrated quickly and is now on a sustainable growth path, underpinned by our emphasis on the 5C's which are capital, cost, compliance, customer and culture.
"I am happy to say that we are on track to meet all our T18 targets by the end of 2018," he said.